Fixed Jaw Crusher
Fixed Jaw Crusher
As we all know, the fixed jaw crusher(also called stationary jaw crusher) is widely used in primary crushing for the purpose of crushing bulk and large-sized material into a smaller shape for secondary crushing. In general, a jaw rock crusher for sale can be divided into single toggle jaw crusher and double toggle jaw crusher. The fixed jaw crusher can be also installed on the mobile crushing plant, and then it is called mobile jaw crusher and helpful to such as underground mining and mobile crushing applications. There are different types of fixed jaw crushers such as CJ Euro jaw crusher, HD German jaw crusher, PEX jaw crusher and PE jaw crushers.

Click and roll the mouse for a full view of panorama




Reliable and Versatile Fixed Jaw Crusher
-Unparalleled reliability
Fixed Jaw Crusher is a pinned and bolted, non-welded frame construction that provides wonderful fatigue strength. That structure overcomes the inconvenience that the welding rack is prone to stress concentration and is more solid and reliable.
-Excellent performance
Compared with the previous fixed jaw crushers of the same specification, the bearing size is enlarged and the service life is prolonged. The 4 bearing sizes of the movable jaw and the frame are the same, which are universal cruhser parts reducing the type of spare parts. The discharge port adjustment is different from the traditional plug-in type adjustment method, using wedges to adjust the discharge port, reducing the labor intensity or workers and downtime.
-Safe Operation and Maintenance
A Fixed Jaw Crusher for sale adopts modularization design to save time and jaw crushers' installation costs and improve safety. It can be installed just in a few days, which minimizing on-site engineering and fabrication. Being the most important part of the crushing process, a Fixed Jaw Crusher for sale can realize automation that enables monitoring and adjusting the settings of a feeder, crusher, and conveyor remotely. In this way, the jaw crusher for sale can be controlled from a distance, making the operation easier and safer.
The user can optionally install the hydraulic adjustment discharge port device to make jaw adjustment and maintenance easier.
-Easy Installation & Transportation
The detachable structure is convenient for transportation and installation, especially for underground installation.
The integrated structure of the motor base and the host machine makes installation easier and saves spaces. The whole fixed jaw crusher machines are placed on the base of the steel fabricated subframe, and the main machine and the base are connected through a short-absorbing pad, which have little influence on the foundation.
Three advantages of the Fixed Jaw Crusher
-Environmental protection
Nowadays, due to eco-friendly and low-carbon requirements in many countries, more and more fixed jaw crusher manufacturers in China even in the world turn to make energy-saving and eco-friendly crushers.
And actually, they did make great contributions to the world economy, resources conservation, recycling and environmental protection. For example, CJ Euro jaw crusher, a new type of fixed jaw crusher, when porcessing mineral ores, aggregates and coal, etc., adopts advanced dust-removing technology to create a green environment without any floating dust.
-Efficiency and energy conservation
The reason why Fixed Jaw Crusher is so efficient is that the structural design of each jaw crusher parts are more scientific, and the operation is very stable and reliable. So, it can meet the user's demand for production in a relatively short time. Thanks for reasonable design with smaller energy consumption, the recycled reasonable use of the remaining force can achieve the perfect crushing effect, thus achieving the goal of energy saving.
-High yield
The time production is 315-500t/h and the production range can be flexibly adjusted according to the actual production demand. The production capacity can be 315t/h under the conventional production state and 500t/h under the ideal state, which is higher than the output of ordinary machines.
Materials and Application
A Fixed Jaw Crusher for sale is used for coarsely crushing the hardest rocks like limestone, pebble, basalt, granite, quartz, tailings, slag and ores. It is also applied in the mining industry, building materials, infrastructure engineering, metallurgy, cement, water conservancy, hydropower, expressway, high-speed railway, passenger transport line, bridge, airfield runway, municipal engineering.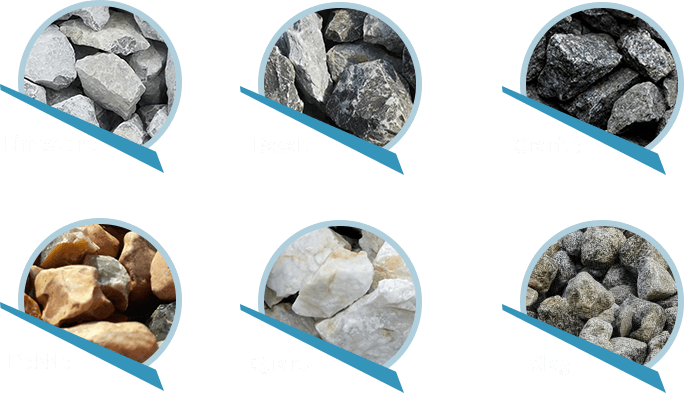 Fixed Jaw Crusher Technical Specifications
| | | | | |
| --- | --- | --- | --- | --- |
| Type | Feeding opening size (mm) | Capacity (t/h) | Total power(kw) | Discharging size |
| CJ Euro Jaw Crusher | 930*580-1500*1300 | 120-1160 | 90-200 | 60-300 |
| HD German Type Jaw Crusher | 460*720-950*1250 | 50-750 | 55-160 | 45-225 |
| PEX Jaw Crusher | 150*750-300*1300 | 8-105 | 15-55 | 18-90 |
| PE Jaw Crusher | 150*250-1500*1800 | 1-1000 | 5.5-355 | 10-350 |
Differences between usually Fixed Jaw Crusher and CJ Series of Euro Jaw Crusher
General fixed Jaw crushers for sale and CJ Series of Euro jaw crushers both belong to compound swinging fixed jaw crushers. The former, researched and developed earlier, is widely used for its simple structure and relatively low price; the latter is also popular for it is highly efficient, energy-saving and environmentally-friendly and easy to operate and maintain.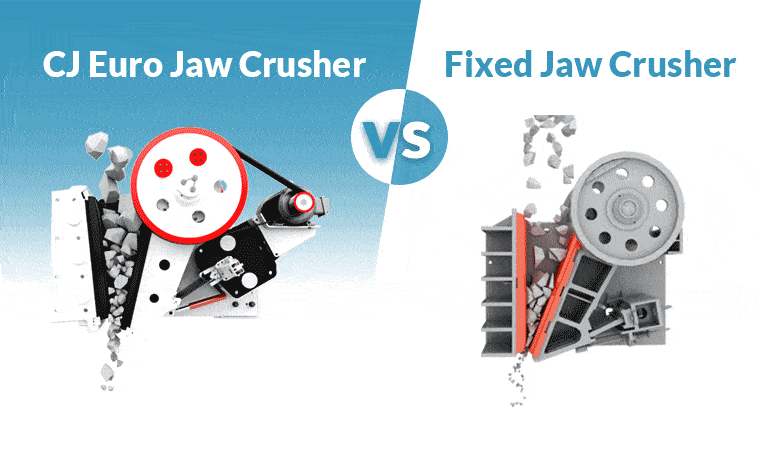 -Lubricating Devices
Jaw crusher adopts the way of manual lubricating while the device of Euro jaw crusher is centralized hydraulic lubrication. As a standard device of Euro jaw crusher, the centralized hydraulic lubricating device makes lubrication of bearing more convenient and highly efficient. So based on the customers' demands and oustanding capacity itself, a lot of jaw crusher manufacturers choose to produce more CJ Euro jaw crushers for sale.
-Adjustment Methods
The two stationary jaw crushers working in two different ways. For example, the Jaw crusher machines adopt the adjustment method of dash adjusting and CJ Series of Euro Jaw Crusher uses wedges to adjust the discharge opening of crusher. In the jaw crusher, a set of dashes of the same thickness are placed between the adjustment sent and the back wall of the frame to adjust the size of discharging outlet by increasing or decreasing the number of dash layers. This method can achieve multi-levels of adjustment and the compact structure of equipment and reduce its weight to make sure that the equipment can not run during the adjusting process.
CJ Series Euro Jaw Crusher makes use of the relative motion of two wedges on each side between the adjustment sent and the back wall of the frame to realize the adjustment discharge port. The front wedge can move back and forth and combines the toggle plate to form the adjustment sent. The back wedge can be seen as the adjusting wedge and it can move up and down. The surfaces of these two wedges are connected opposite and the size of discharge port can be adjusted by using the screw stem to move the wedges up and down. Since this design can help customer adjust once and it is unnecessary to stop the equipment, this kind of crusher is simple, convenient, intelligent, time-saving and highly-efficient.
-Ways to Fix Bearing Sent
Jaw crusher connects the bearing sent and the frame by welding and its service life is short; for CJ Series of Euro Jaw Crusher, the whole steel frame of bearing sent and the frame are connected through the screw bolt to ensure them work well with each other, increasing the radial strength of bearing and extending the service life. Besiides, this kind of concrete jaw crushers are the most advanced jaw crushers nowadays.
-All of them called jaw crusher machines, so what's the differences among them?
Now, the power and advantage of the CJ Euro jaw crushers has been familiar with. But what the differences among others like HD German jaw crushers, PEX jaw crushers and PE jaw crushers. Firstly, the different level of technology adopted by these jaw crusher machines. The most advanced is CJ Euro jaw crusher then HD, PEX, PE. There are the most important thing people may not know is that PEX can be use in fine crushing process, so the function of which is equal to the impact rock crushers or gold cone crushers. PE is the oldest type of jaw crushes, which can only be used in the primary crushing process, and HD German jaw crushers are more advanced than the PE jaw crushers but it is still used in primary crushing process.
Why Fixed Jaw Crusher
Customers may be not sure whether Fixed Jaw Crusher is a good product for them. It is widely used in different areas such as gold mining, concrete processing, construction waste recycling so that people also call it concrete jaw crusher and gold jaw crusher. Besides, to a certain extent, fixed jaw crusher attracts people by its low price and different models such as mini or small jaw crushers, middle-sized and large-sized stationary jaw crushers. Moreover, it can be customized by manufacturers according to actual demands even suitable for homemade. In light of the rock crusher machines with low price, small crusher plants are suitable for those production lines with little investment and low requirements for production. For those energy-saving and environmentally-friendly production lines with a large scale and high production capacity, Fixed Jaw Crusher is a good choice for it is highly-efficient, environmentally-friendly and easy to operate and maintain.
Need Some Help?
Our customer service team is here to help you 24/7. We can ship you parts, send field service technicians to your site and answer any questions you have. Whatever you need, we are here for you.
Contact Support