Cone Crusher
Cone Crusher
Cone crusher is a kind of hydraulic crushing machine for crushing aggregates, which is widely used in many industries such as mining, metallurgy, building materials, and chemical field. The machine is often applied in the sand and stone production line as the secondary crushing equipment. Cone crusher of HXJQ Machinery has many advantages, such as large crushing force, long service life of vulnerable parts including rock crusher cone, cone crusher liners, high production efficiency, uniform products size and so on.

Click and roll the mouse for a full view of panorama




What is the cone crusher?
It is a type of crushing machine suitable for raw materials in the metallurgy, construction, road construction, chemical, and silicate industries. According to different crushing principle and particle sizes of different products, the cone crusher is divided into many models. The cone crusher is widely used in many industries such as mining, smelting, building materials, roads, railways, water conservancy, and chemical industries.The cone stone crusher has a large crushing ratio, high efficiency, low energy consumption and uniform product size. It is suitable for medium and fine and rocks crushing.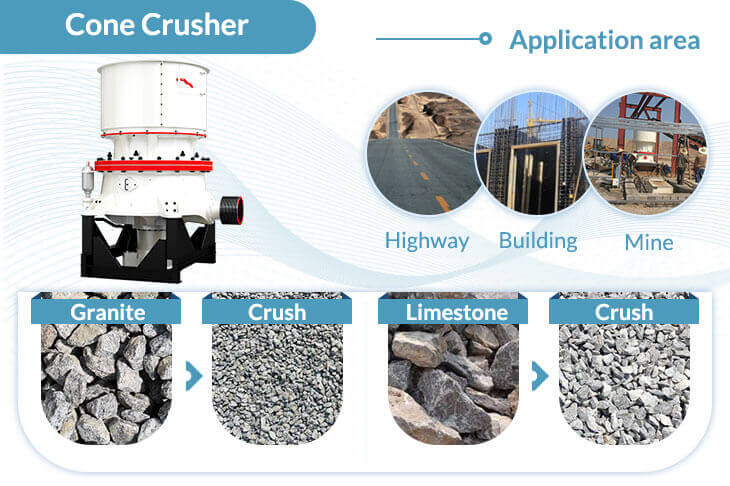 China Hongxing cone stone crusher
-Welcome to the world of cone crusher equipment
As we all know, HXJQ series cone crusher are the equipment by introducing and absorbing advanced foreign technology, combining with market demand, and developing the cone crushers on the basis of production practice.
The equipment has a simple and smooth shape, small size, lightweight, and greatly improved production capacity. Besides, it has features of rugged and durable maintenance, hydraulic adjustment and strong safety, convenient and reliable automatic control, simple operation, convenient maintenance, low wear, and be of cost-saving. For crushing plant, in addition to its high production capacity, easy operation and huge productivity, the cone crusher's biggest characteristic is that it can process materials with excellent grain type while reducing its price.
Our hydraulic cone crusher is a newly developed crushing equipment with advanced high power, high productivity and large crushing ratio.
Output: 12-1000t/h
Feeding granularity: 35-300mm
Discharge size: 3-60mm
The crushing machine has a wide range of features with great crushing capacity, stable operation, uniform grain size, automatic hydraulic cleaning, high treatment capacity and the like. In short, the single-cylinder hydraulic cone crusher is a type of ideal equipment suitable for medium and fine rock crushing.
Materials and Application for Hydraulic Cone Crushers
The singe-cylinder hydraulic cone crusher can process materials with hard strength and the above, such as the iron ore, limestone, granite, etc.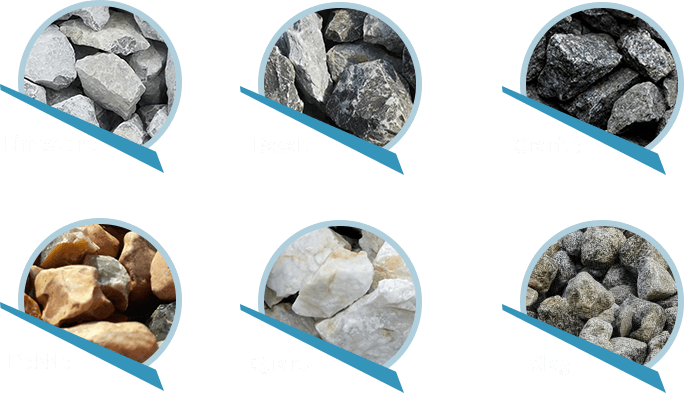 Cone Crusher Technical Specifications
| | | | | |
| --- | --- | --- | --- | --- |
| Type | Maximum Feeding Size (mm) | Capacity (t/h) | Power(kw) | Adjustment range of discharge port(mm) |
| Singe-cylinder Hydraulic Cone Crusher | 200-560 | 70-1050 | 90-315 | 10-25 |
| Multi-cylinder Hydraulic Cone Crusher | 60-326 | 72-1100 | 160-630 | 8-51 |
| Full Hydraulic Cone Crusher | 35-228 | 36-450 | 90-280 | 3-64 |
| Compound Cone Crusher | 35-228 | 27-635 | 75-250 | 3-64 |
The setting parts of single-cylinder hydraulic cone crusher
The settings of the single-cylinder hydraulic cone are mainly divided into six parts: (1) Upper frame assembly; (2) Lower frame assembly; (3) Mobile cone assembly; (4) Transmission shaft assembly; (5) Eccentric sleeve assembly; (6) Hydraulic cylinder assembly. The auxiliary part is composed of the electrical system and the dilute oil lubrication system.
The head spindle of singe-cylinder hydraulic cone crusher can rotate. Under the function of the hydraulic cylinder, if the spindle is lifting or falling, and then adjust the size of the discharging port. In contrast, the requirements of singe-cylinder hydraulic cone crusher for technology and material type are more advanced and strict.
Cone crusher working process:
When the portable cone crusher is working, the motor drives the eccentric shaft sleeve to rotate through a horizontal shaft and a pair of bevel gears.
The shaft line of the single-hydraulic cone stone crusher does the rotary movement under the force of eccentric shaft sleeve, so that the surface of the crushing wall is sometimes close to or off the surface of the rolling wall. Therefore, the material is constantly squeezed and crushed in the crushing cavity.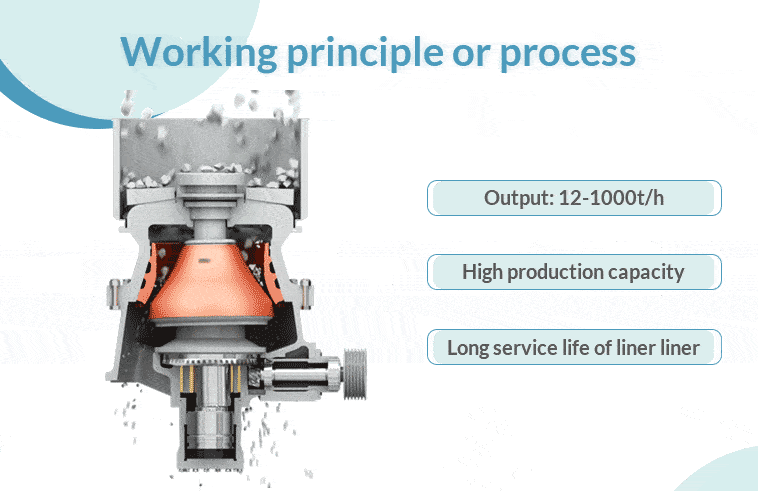 An example of Hongxing cone crusher Application of SCS type
-Application of SC(S) type
The example shows that Hongxing series SCS single-cylinder hydraulic cone crusher enjoys the feature with simple maintenance and convenient operation, and the equipment adopts advanced hydraulic metal, which realizes a better effect of overload protection and the discharging port of hydraulic adjustment. At the same time, SCS single-cylinder hydraulic cone crusher adopts the dilute oil for lubrication, which is both reliable and advanced, and improves the service life of the equipment, suitable for medium crushing and fine crushing of all kinds of ores. In short, the equipment of Hongxing Machinery cone crusher manufacturer can be attained by direct sales, which is different from many cone crusher manufacturers, HXJQ Company has complete models and products for sale and fast delivery, then if you are interested, you can leave a message or contact our salesman to get the latest price quote. You can also launch a investigation at the China Hongxing enterprise and help yourselves.
Contact information:
Tel : 0086-0371-63313738 / 0086-18039114854
Office Add : No.8, Tanxiang Road, Zhengzhou, Henan, China.
E-mail:query@hxjq.com
Need Some Help?
Our customer service team is here to help you 24/7. We can ship you parts, send field service technicians to your site and answer any questions you have. Whatever you need, we are here for you.
Contact us