Limestone, a kind of natural mineral resource, is a sedimentary rock formed by inorganic remains such as shells or bones. And people always see it in warm and shallow water fields.
We all know that the main ingredient of limestone is calcium carbonate but sometimes it may also contain magnesium, iron or manganese affecting the whiteness and hardness of limestone. Nowadays, people like to use high-quality limestone to make powder by different crushing machines and ball mills.
The reason why limestone powder is so popular is that it can be used in various fields including construction materials, industrial raw materials, papermaking, coatings, inks, plastics, metallurgy, glass, organic synthesis, etc..
What are the uses of limestone powder?
Limestone powder can be used in the production of quicklime, which is calcium oxide and slate lime, which is calcium hydroxide. There are many uses to limestone powder than simply producing quicklime and slaked lime.
It can be used to make other building materials, such as cement, mortar, and concrete. When limestone is crushed and heated with clay in a rotary kiln, cement is made. Cement can be mixed with sand and water to produce mortar which is used to glue bricks together.
Cement can also be mixed with sand gravel and water to produce concrete. Concrete when hardened is very strong. Pouring concrete on the steel bar structures creates reinforced concrete, which is even stronger.
limestone powder can be widely used in various fields
Limestone can even be crushed and used as an aggregate when paving roads. The term aggregate simply refers to the crushed stones and materials for construction or road building purposes.
When limestone is heated with sand and sodium carbonate certain types of glass can be made. Finally, as limestone is white, it can be crushed into a powder and used in paints and toothpaste as a coloring agent.
Also, it can be used for remineralizing and increasing the alkalinity of purified water to prevent pipe corrosion and to restore essential nutrient levels. Except for the above, it is often found in medicines and cosmetics. Purified, it is added to bread and cereals as a source of calcium.
In summary, there are many real-life applications and usages for limestone including but not limited to construction materials, limestone can be used to help pave roads and used as a component in the information of certain types of glass and even to neutralize acidic waters in soils.
The following table introduces in detail the uses of different sizes of limestone powder:
| | |
| --- | --- |
| Particle Size | Uses |
| ≤200mesh | It can be used in various feed additives, with a calcium content of more than 55.6% and no harmful ingredients. |
| 250-300mesh | It can be used as raw material for plastic factory, rubber factory, paint factory, waterproof material factory, and internal and external wall painting. |
| 350-400mesh | It can be used in the manufacture of gussets, downspouts and other chemical fields. |
| 400-600mesh | It can be used to make toothpaste paste, soap and other daily necessities. |
| 800-1250mesh | It can be used in rubber, plastic, cable, PVC filler, paper primer, paint as well as a calcium supplement, acid soil improver, etc. |
What is the price of limestone powder in Bangladesh/Pakistan/India?
Due to its extensive use in the market, the mature production process and the low cost of raw materials, the market price of limestone powder in many areas is dozens of dollars per cubic meter. The prices of limestone powder in Bangladesh, Pakistan, India, Philippines and Vietnam are listed below for your reference.
| | |
| --- | --- |
| Price/ Metric Ton | Country |
| $30.00 – $70.00 | Bangladesh |
| $50.00 – $80.00 | Pakistan |
| $30.00 – $88.00 | Chennai and Tamilnadu(India) |
| $35.00 – $68.00 | Philippines |
| $40.00 – $99.00 | Vietnam |
Limestone powder is widely used in sewage treatment, waste incineration, building materials, desulfurization of power plants and ceramic plants, etc., especially in more and more self-dense concrete, so the usage is increasing, and the price continues to rise.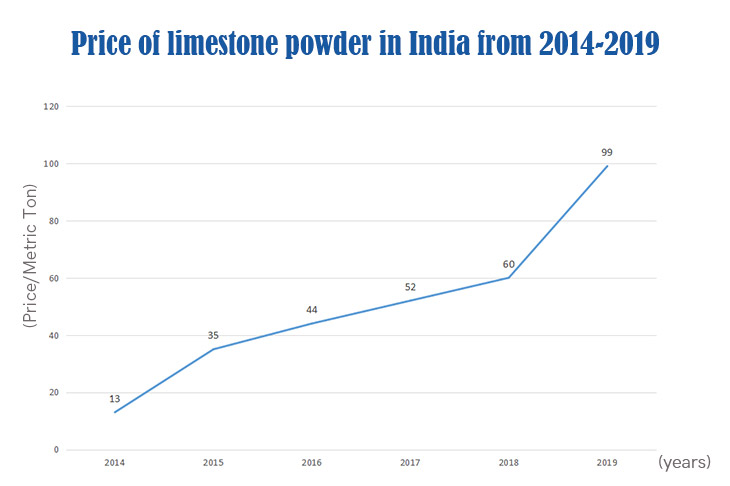 the bright price trends from 2014-2019
From the chart, we can know that from 2014 to 2019, India's limestone has been risen by more than 300 percent, which indicates the bright investment future on limestone powder.
How is limestone powder produced?
The increasing market demand for limestone products and the rising price of limestone powder have driven the development of limestone production equipment. After years of experience of Hongxing Machinery, we recommend the following production line:
The first stage: coarse crushing
Limestone, which is relatively brittle with a Mohs hardness of 3, can be broken initially by a jaw crusher. After the bulk limestone of 0-750mm is conveyed to the jaw crusher, limestone with a particle size of about 70mm will be generated, and the phenomenon of over-crushing will not occur. The coarsely crushed material will be screened by a vibrating screen and then conveyed to the medium and fine crushing equipment by a belt conveyor.
Different types of jaw crushers have their own advantages and disadvantages, as shown in the following table: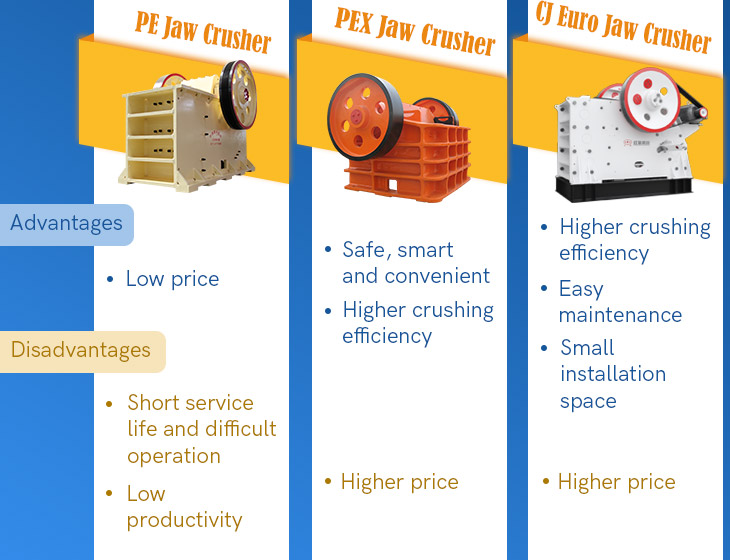 Each crushing machine has its advantages and disadvantages
From the table above, if you have relatively lower requirements for production efficiency and tight budgets, then choose a PE jaw crusher. Conversely, PEX or CJ jaw crusher will be suitable for you.
The second stage: medium and fine crushing
In the medium and fine crushing stage of limestone, various crushers such as cone crusher, hammer crusher, roller crusher and impact crusher can all be selected. However, due to the high investment of the cone crusher and the small capacity of the roller crusher, a hammer crusher or an impact crusher will be a more appropriate choice.
After the limestone is crushed by the hammer crusher or impact rock crusher, the particle size of the limestone produced will be less than 25mm, and the material larger than 25mm will be returned to the crusher by a vibrating screen to be crushed again;
The third stage: grinding
The small pieces of limestone(≤30mm) will be sent to the silo by the bucket elevator, and then they can be evenly and quantitatively sent into the grinding mill by the vibrating feeder, which can produce ultrafine limestone powder.
The following is the introduction of various types of mills:
Model
Raymond Mill
Ball mill
Vertical roller mill
Feeding size (mm)
≤30
≤25
<20
Discharging size (mm)
0.173-0.044
0.075-0.89
0.173-0.044
Material humidity
<6%
None required
<6%
Capacity (t/h)
≤20
≥40
≤35
Price
$2-$50
≥$10
≥$10
Advantages
1.Easy operation
2.Wide range of product granularity
1.High yield
2.Easy to transport and install
1.Energy saving
2.Small floor space
From the table above, if you have higher requirements for output, you can choose a ball mill or a vertical roller mill. If the material humidity is low and the budget is not high, Raymond mill will be a good option.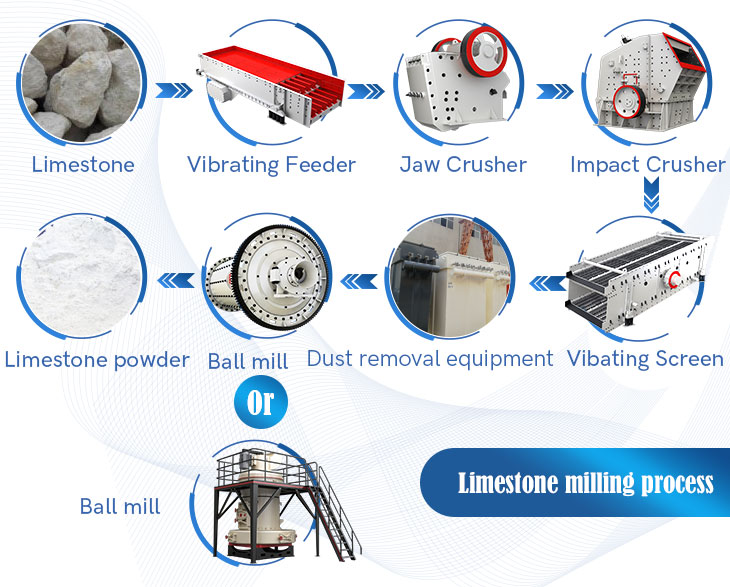 The complete limestone powder production line
Successful cases:
1.  3-16tph limestone powder in Pakistan
Material: limestone
Feeding size:0-30mm
Discharging granularity:200 mesh
Use for: Road ore powder and asphalt mixing station
Needed machines: PE jaw crusher, PF impact rock crusher, Φ1500*5700 ball mill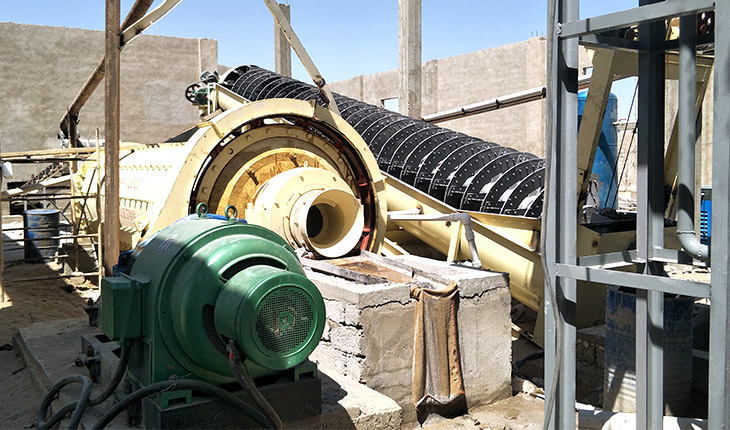 This ball mill greatly increases the productivity
2. 30tph production line in India
Machine weight: 109t
Feeding size:<20mm
Production: 10-12tph
Discharging granularity: 200mesh
Use for: Desulfurization for power plants
Needed Equipment: 3 Φ2.2×11 vertical mills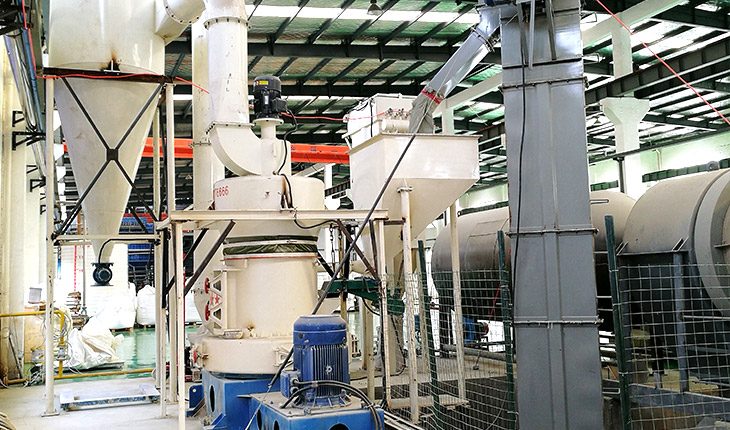 Vertical mill is also a good choice to process limestone powder
Conclusion
There is no doubt that investing in the limestone market is a wise choice. If you want to get maximum profit, please leaving your project information on the message board so that our company HXJQ can customize a perfect production line for you.