Fixed Crusher
Fixed Crusher
Generally, fixed crusher(also called stone pulverizer) is a type of rock equipment breaking material like granite, gold mine, construction waste and so on. There are different types of fixed crusher which all should be installed at the fixed worksite to reduce materials into small size products.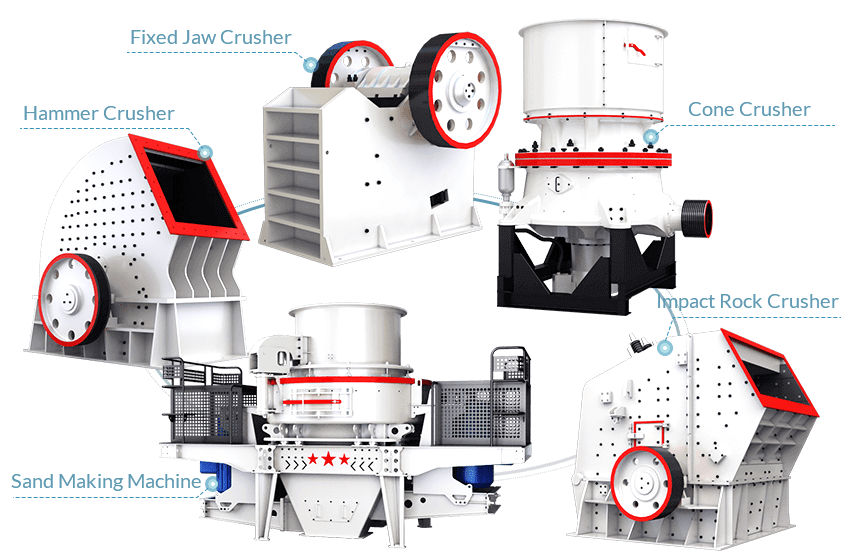 Materials Application
A fixed crusher is designed to crush series of materials including aggreate, gravel and mine ores. It is widely used in many fields like mineral industry, building material, highway, hydro project and chemistry industry.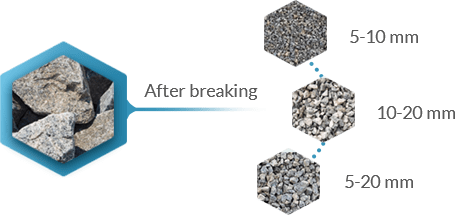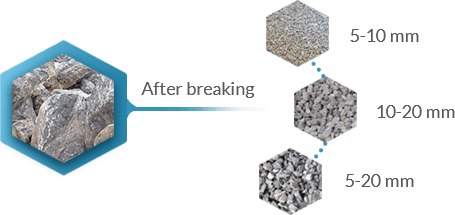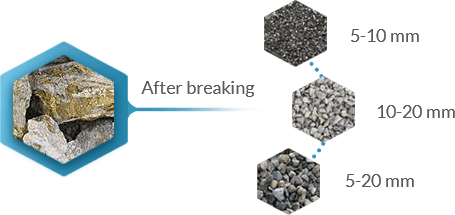 When it comes to investing a fixed crusher machine, it often refers to the following factors: power supply and freight and maintenance cost, how much it will take on a stone crushing machine.
-Power supply and freight
Out of safety and performance, it's necessary to drive a pile which is an engineering project depending on the soil condition, the number of piles, construction expertise, rock crushing machines and labors needed. It commonly takes 6-10 days to drive a pile with 10m in depth. And several workers are required to make regular inspections on a fixed crusher during the operating work, its aim is to eliminate unanticipated glitches and save its operating time, which we call manpower cost on a fixed crusher machine. Here comes a more specific chart regarding the total cost of driving a 10m*10m*10m (length*width*depth) pile as bellow:
Pile driver
Material (concrete)
Manpower
Total amount
300RMB/m³
Number of workers*day*day's wage
Pile drive +material +manpower
18,000RMB
300*1000=300000RMB
6*10*120RMB/d=7200RMB
325,200RMB (48508 Dollar)
Freight cost refers to the capital required for transporting raw materials by trucks with cranes to the operating site for crushing and the end products generated from a series of process including crushing and screening to another spot for transaction.
-Factories influencing the price of a fixed crusher
How much is a fixed crusher? Whether rock crusher mining equipment is cheap or not depends on its capacity, model, performance and manufacturer. Before you get started, you'd better learn more information about a stone crushing machine. For example, what's the best materials making fixed blade of a fixed crusher so that its service life of can be prolonged.
Product: Fixed crusher is a kind of versatile rocks machine with large series of models. The more premium and larger a fixed crusher is, the more it will take. Thus it's wise to figure out the exact requirements on end products and the features such as type and size of raw material needing crushing before purchasing a fixed crushing machine.
Supplier: Other than retailers who are dedicated to supplying crushing equipment which is also called mining crushers, almost small-scale and large-scale stone crusher manufacturers also join the big party to make profits.
Market: To some degree, market always regulates the selling situation of any kind of commodities through the demand and supply rule, so is the fixed crusher. When the demand for fixed crushers is greater than its supply, an obvious increase in the price will be noticed soon, and vice versa.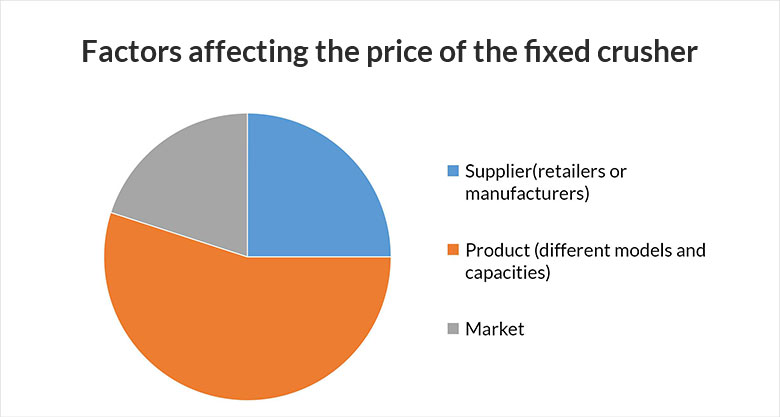 -Side-equipment
A fixed crusher is usually teamed up with a series of side equipment to improve the efficiency and reliability of productivity, thus they are made up the whole rock crusher plant, and what are these side equipment?
Take a stationary stone crushing line with the capacity of 100t/h as an example, it consists of more than fixed crushers and several kinds of side equipment like cone crusher machine is also needed. This stone crushing plant could be deployed through the following configurations:
Section 1 includes vibrating feeder, a fixed jaw crusher, cone stone crushers, vibrating screen and sand washer. This section is a perfect option for processing relatively moist materials, for the feeding chute and impact plate could be equipped with heating machine to avoid materials from caking and clogging effectively.

Section 2 contains vibrating feeder, a fixed jaw crusher, hammer crusher, vibrating screen and sand washer. This option is capable of having materials shaped once for good, for the hammer crusher in this line contains rotors with hammer head that could be driven by the rotors rotating at a high speed to crush and reshape the materials crushed by the fixed jaw crusher.

Section 3 Hydraulic cone crusher is mainly composed of many parts, such as: feeder, chute, magnetic separator, cone crusher, wheels or crawlers, etc. Hydraulic cone crusher is the host part of crusher plant and it can be freely matched with single-cylinder cone, multi-cylinder hydraulic cone, full hydraulic cone and spring machines. Based on that, hydraulic cone crusher is featured in integrated design, compact structure, best quality and good performance, etc.

-Maintenance
No matter what kind of mining machine it is, it is supposed to get inspected and maintained after serving in an engineering project for as long as 20 hours, which means that each kind of crushing machine should be maintained once every 20 hours. In the case of a fixed crusher, its maintenance is mainly about overall maintaining and changeable wearing parts, including the purchase of several new pairs of wearing part backups, which constitute the main part of maintenance cost. So, if you want to purchase a fixed plant crusher, apart from the after-market services that the manufacturer provide, you have to master some simple and easy maintenance skills about your stone crusher machine.
In order to ensure a fixed crusher machine to work smoothly all the time, the maintenance plans are recommended as following:
Light maintaining: light maintaining mainly refers to inspecting and adjusting, for example, adjusting the clearance of discharging opening and lubrication system of the fixed crusher, as well as changing worn-off wear parts such as liner plate.
Light maintenance should be done once half month or once monthly.
Regular maintaining: regular maintaining of the fixed crusher not only includes all the work of light maintaining, but also refers to getting pull rod, axle bush, toggle plate and other worn-off parts changed on the basis of a regular period.
Regular maintaining is supposed to be fulfilled once one year.
Super maintaining: super maintaining (thorough maintaining) is primarily regarding inspecting and maintaining the fixed crusher as a whole so as to update each of spare parts even achieve the technological innovation of a fixed crushing machine.
How often a super maintenance should be done depends on the daily performance and inspection of the fixed crusher, which says there is not a certain frequency on deploying a thorough maintenance.
How to Make a Fixed Crusher Friendly to Environment?
Environmental law, also known as environmental and natural resources law, is a collective term describing the network of treaties, statutes, regulations, common and customary laws addressing the effects of human activity on the natural environment. The core environmental law regimes address environmental pollution. A related but distinct set of regulatory regimes, now strongly influenced by environmental legal principles, focusing on the management of specific natural resources, such as forests, minerals, or fisheries. --Wikipedia
The issue of environment protection in mineral industry has been on the table. And more and more companies engaged sandstone business have been shut down owing to severe environmental pollution, which reveals that a fixed stone crusher could bring users long-term benefits one the basis of eco-friendly. Then how to make a fixed crusher machine friendly to environment? The code could be cracked in terms of keeping down dust and noise.
Strengthening the tightness of the machine itself.

There are two methods of drying oil and water to enhance the tightness of a fixed crusher to prevent dust from entering. These ways ensure the lubricating oil to remain clean and extend service life of the sliding bearing to enable the machine to demonstrate a reliable performance.

Generator-driven power supply

, which is a great way to avoid air pollution generated from diesel fuel consumption of the fixed crusher.

Dust-removal device.

The devices equipped in a fixed crusher hardly cause any kind of damage and pollution to the environment without affecting the whole crushing processing.

Humidifier and sprayer adoption.

After a long-period operating of a fixed crusher, a great amount of fine dust is flying around, whilst adding several humidifiers and sprays does minimize the dust concentration.

Noise-isolation cover.

It's not impossible to turn down the noise to 20-30dB(A), if the noise-isolation cover is reasonably designed and implemented in the overall structure of a fixed crusher.

Combination of ventilator and muffler.

In order to guarantee a proportionate temperature inside the noise-isolation cover and not to influence the service life of a fixed crusher, it is designed with a ventilator of which the air vent is equipped with a muffler to avert noise leaking.

Vibrating-proof base.

The noise could be kept down by 15-25dB(A) for a fixed crusher assembled on a vibrating-proof base.
All in all, these products are designed to increase the service life of the fixed crusher produced by Hongxing manufacturers and to enhance after-sales service.
How about the Process and Installation of a Fixed Crusher?
The complete installation of a fixed crusher mainly contains: preparing site—site design—equipment delivery—locating a spot for machine—pile driving—installation—soft operating (without materials) —soft operating (with materials).
Construction site

Site design

Ship

Select location

Pile

Installation

Test machine debugging

Feed material
Before purchasing a fixed crusher, a series of paperwork needs to be applied from local government to make the mining project legitimate, then locating a right place for that mining project, which is also followed by confirming final requirements and making a good budget according to budget lists shared above. Finally comes the trading part of selecting a worthwhile crusher supplier to cooperate with. After everything related to purchase is settled down, it's time to install the fixed crusher and test the machine, if none of glitches even breakdown happen during the processing of the machine, this mining project is technically setting up.
Regarding of how long it will take to get a fixed crusher installed, a small fixed crusher is going to take approximately a whole week, a medium one is about a half month and a big one calls for around 1-2 months, thus running some real tests on the product you are going to buy in advance is undeniably a wise decision.
Recommendation of Fixed Crusher Types
It is a kind of primary crushing machine widely applied to breaking gold mine, non-metallic ores and aggregate. With the maximum capacity of 2200 t/ph and large feeding opening, it is qualified to massively process fresh raw ore even in the size of 1500mm.
Besides, its jaw plate is made of high manganese steel with great wearing resistance and reliability, thus enabling it to continuously crush coarse tough materials within 20 hours. A fixed jaw crusher commonly consists of three main parts, frame, jaw plate and side guard plate, and plays a crucial role in stone crushing plant and sand production line.
Materials: It is mainly used to crush all series of tough and soft minerals with compressive strength (Compressive Strength refers to the capacity of a material or structure to withstand loads tending to reduce size) of lower than 320Mpa including rocks and ores such as concrete, gold mine, river stone, blue stone, coal, granite, quartz and limestone. So, there is funny thing that people sometimes name the crushers according to different materials, such as concrete crushers, coal crushers, lime crushers, granite crusher machine, gold mining stone crusher, ore crushers, rock crushers, etc. The maximal feeding size of the fixed jaw crusher machine could reach 1500mm and its discharging size could be adjusted between 10-400mm. There are different types of stone crusher machine, some of them are used in primary crushing, some are in secondary crushing and others are in tertiary crushing. The general differences of functions among these pulverizer are processing materials with differernt hardness, size, length and producing the various degree of partical shapes.
Pre-startup Checklist for a Fixed Jaw Crusher
Pre-startup Checklist
Condition
Solution
Whether gear plates are worn off badly
Replace them with new ones
Whether discharging opening is fitting
Adjust it in time
Whether some gold or non-metallic ores are left in crushing chamber
Remove them out immediately
Whether link toggle is loosing
Tighten it up
Whether boot caps on belt wheel and flying wheel remain intact
Replace the boot caps with new ones
Whether the tightness of triangle belt and pull rod springs is appropriate
Adjust them accordingly
Whether oil tank is full
Refill it
Whether electrical equipment and signal systems are working properly
Get them fixed prior to operate is a must-have
Jaw plate of the Primary Crushing Equipement
Jaw plates of the fixed crusher include fixed jaw plate and movable jaw plate. The fixed jaw plate is fasten to the frame, while the top of movable jaw plate is connected with eccentric shaft and the bottom is supported by thrust plate. As the easiest worn part, the quality of jaw plate has a lot to do with users' operating sale and long-term return on investment. And it's suggested to replace the jaw plate when its wear loss makes it by 3/5, according to which, at least a pair of jaw plate backups should be prepared in case, because the average operating life of a jaw plate is about 4 months.
Because the average operating life of a jaw plate is about 4 months. What kind of materials should be selected to build jaw plates of the fixed crusher? High manganese steel could be regarded as the most ideal material candidate, due to its great reliability and tenacity.
Technical Data
| | |
| --- | --- |
| Capacity | 1-2200t/h |
| Feed Size | 120-1500mm |
| Discharge Size | 10-350mm |
| Motor Power | 5.5-355kw |
| Total Weight | 0.8-139t |
| Rotation Speed of Eccentric Shaft | 180-330r/min |
Impact Rock Crusher is a type of crushing machine applied to metallurgy, gold mine, chemistry, building material and hydro project industry. With the capacity of 30-800t/h and maximal feeding size of 800mm, and it is more suitable for secondary crushing on various materials, compared with a fixed jaw crusher with a bigger productivity and feeding size.
Additionally, this kind of stone pulverizer is mainly made up of frame, drive mechanism, rotor, toggle, hammer and others and could be divided into two variations: single-rotor type and dual-rotor type, based on the number of rotors.
Material: apart from many types of tough and soft materials, it is capable of reducing relatively moist materials such as river stone and coal.
Checklist for Soft Operating on an Impact Rock Crusher
Checklist for Soft Operating on Impact Crushers
Condition
Solution
Whether some debris is left inside the machine
Clean it up timely
Whether all of the spare parts are bolted well
Fasten them up immediately
Whether bearing shaft is in good lubricating condition
Rub more grease on it
Whether the clearance between liner plate and rotor reaches standard level
Adjust it accordingly
Rotor of Impact Rock Crusher
It's mainly the rotor with hammed head that runs at a high speed to drive the stone pulverizer to work, thus the rotor has to be heavy enough to crush materials in large size and remain a stable performance, which is why the rotor is commonly made of high chromium gold with great impact resistance. It is also good at crushing materials like pebble, quartz, marble and other ores and these stone crushering equipment perform pertectly to produce various size of particle shape.
Unstable working condition of rotor could result in unsteady performance of machine out of strong inertia and cause overload inside the machine with huge vibration, leading to overheat the shaft bearing, which definitely influences the uptime and service life.
Therefore, implementing the checklist thoroughly and taking a reasonable control of material feeding are both effective methods to make rotor perform well.
Technical Data
| | |
| --- | --- |
| Capacity | 30-550t/h |
| Feed Size | 300-700mm |
| Max Feed Opening | 1260*2040mm |
| Motor Power | 37-710kw |
| Total Weight | 12-83t |
The Hongxing cone crusher can be divided into a spring cone crusher, a single cylinder hydraulic cone crusher, a spring hydraulic cone crusher(also known as the Symons cone crusher), a full hydraulic cone crusher, a multi-cylinder hydraulic cone crusher, etc.
According to the structure, it is widely applied in the industries such as sand stone material yard, concrete sand making, dry powder mortar, construction waste, mechanism sand, power plant desulfurization and other industries, and is used for crushing various ores and rocks of medium and medium hardness (below 350 MPa), such as calcite, limestone, granite, river cobble, dolomite, green stone, glass, cement clinker, iron ore, etc.
Technical Data
| | |
| --- | --- |
| Maximum Capacity | 349-1050t/h |
| Maximum Feed Size | 560mm |
| Maximum Discharge Size | 41mm |
| Maximum Install Power | 315kw |
| Total Weight | 0.8-139t |
| Rotation Speed of Eccentric Shaft | 180-330r/min |
Fixed crushers for Sale in China Hongxing
In general, how much you will spend on fixed crusher is affected by many factors, such as mining equipment manufacturers, specifications of the crusher, quality, technology, processing capacity, market demand, etc. Different crusher manufacturers have different performance and quality, therefore, customers must purchase at regular manufacturer when purchasing mining equipment. There are many types of crushers, including some star products like hydraulic cone crusher, fixed jaw crusher, rock jaw crusher, impact stone crusher, etc. In addition, Hongxing Machinery is known as sophisticated technology, best quality, and good reputation. Come on and you'll see that we have different types of crushing equipment.
Need Some Help?
Our customer service team is here to help you 24/7. We can ship you parts, send field service technicians to your site and answer any questions you have. Whatever you need, we are here for you.
Contact us