Portable Rock Crusher
Portable Rock Crusher
Technically, portable rock crusher is a set of flexible, easily-transferred and self-contained equipment. It is a combination of devices installed in stone crushing plants and sand making plants for material feeding, crushing and screening. Besides, this kind of mobile rock crushers is widely used in gold mining and construction waste processing. It could be classified into two variations: semi-portable stone crusher and tracked crusher, according to the way it moves down roads.

Click and roll the mouse for a full view of panorama
Materials Application
Portable rock crusher is designed to mainly crush coarse minerals like gold and copper ore, metals like steel and iron, glass, coal, asphalt, gravel, concrete to name but a few.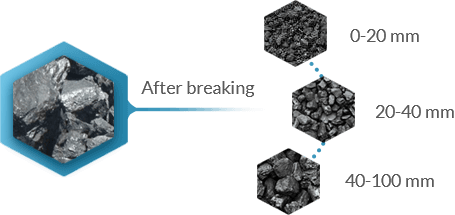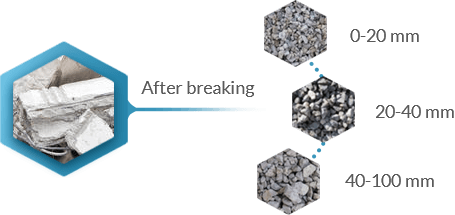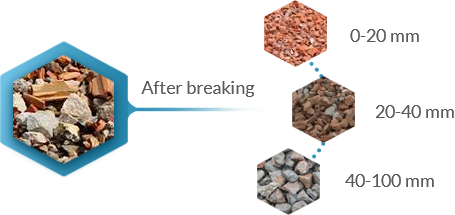 Do We Have to Drive a Pile for a Portable Rock Crusher?
Portable rock crusher is a kind of crushing equipment which could move down roads over wheels or crawler to operation site for processing materials without a pile driven and prepared (Pile driving is to sink piles into deep ground to offer an extremely stable foundation for the building above). A complete mobile crusher plant commonly consists of wheels/crawler, a fixed crusher, sometimes grinder or pulverizer, vibrating screen, movable crusher frame, which not only perfectly demonstrates a self-contained and agile structure, but also unveils the versatility of crushing and screening. So, the portable concrete crusher is the most advanced crushers among all crushing equipment.
Flexibility highlights and separates portable rock crushers from the stationary machine. A portable rock crusher is available for various terrains and could be driven by both diesel fuel and electric generator, which implies that power supply won't be such a challenge for the places where a mobile stone crusher machine is launched. (Analysis of investment on power supply will be elaborated on later) Besides, according to the real project demands, the portable concrete crusher can also be customized to a small scale rock crusher or big ones, which totally depends on how many materials you have and productions you want.
Budget on a Portable Rock Crusher
How much it will take to invest in a mobile rock crusher? Hongxing Machinery portable rock crushers provide different models of rock crushing machine to meet customers' needs whether hatever you use it to process gold or process construction waste. And there are also very cute mini rock crusher machines for your small-scale crushing project.
-Manpower and freight cost
The workers and facilities assigned on pile driving could be cut down because there is no need to prepare one for a portable rock crusher. In addition, a portable rock crusher usually comes with a PLC controlling system to offer a simple operation, and three men could get it under control at site—one takes charge of maintaining, one is the loader driver, and the last is in charge of real-time supervision, which explains why it's said that a mobile rock crusher is a money saver. A mobile rock crusher could be driven to operation site and gotten in production immediately, not to mention that it could deliver end products to where they are wanted to be.
According to research, it needs 70 RMB (11 dollar) to truck a ton of granite in China. That's to say, approximately 11000 dollar needs to be spent only in delivering 1000 tons of materials, let it alone adding the end products freight cost. While a portable rock crusher will spare users from such kind of worry, compared with a fixed crusher, as in what's shown in the chart below.
Portabel Rock Crusher
Fixed Crusher
Workers required at site
3
More than three
Feright of materials
None
11/t*1000t=11000 dollar
Summary
A large sum of freight spending could be saved through a portable rock crusher with great flexibility
-Factors influencing the price of a portable rock crusher
Product Quality: It's often said that how much you'll spend depends on quality, so is in the case of a portable rock crusher. More importantly, only a manufacturer pulls more advanced technology and high-quality materials as well as more senior engineers on researching and designing such high-end product can an unrivalled mobile stone crusher come into being. So, to ensure a long term stable working, people have to purchase the high-quality cruhshers installed on the portable rock framwork no matter it is jaw crusher or impact crusher, which can bring you the largest working capacity and profits.
Supplier: there are agents and mobile stone crusher manufacturers who both supply portable rock crusher in the domestic and foreign market. The agents usually refer to those people who buy products from manufacturers and sell them to end buyers to withdraw a sum of commission during the whole transaction, while the portable crusher manufacturers are those people who make products and directly sell them to end buyers. Nowadays, many people choose buy rock crushers whatever it is portable rock crusher or fixed rock crusher from manufactures not agents because the former can offer best service, product quality gurantee, and free operation trainning while the other just sale it out and then responsible for nothing.
Market: With the booming development of construction, cement and chemistry industry, this kind of more flexible and mobile rock crusher is in greater and greater demand in the market, which has created a stage where some of manufacturers play a villain role in lifting the price of portable rock crusher to a new bar to squeeze as many profits as possible.
Lots of people might be wondering how a portable crusher could be driven to move, is diesel fuel, generator, or both of them? The answer obviously turns out to be both of them.
Diesel engine: the engine which is usually affiliated with the equipment is started with diesel fuel consumption to generate power used for a portable rock crusher to move and crush. From Google, a database penetrating every walk of life, it is easy to learn that about 210 grams of diesel fuels has to be consumed for per kilowatt of electricity and 800 grams of them make a liter even. Then in China, each liter of diesel fuel is sold for 6RMB (1 dollar), a number almost coinciding with that in the international market.
Generator-driven pattern: in China, a 100kw generator could produce 1 kilowatt of electricity per hour, and 1 KWh industrial electricity needs to be paid approximately 1 RMB(0.6 Dollar) for, as well as a 100kw generator sold for 40,000-50,000RMB (5,953-7,400 Dollar). It should be noticed that if the generator-driven pattern is more suitable for an operation site, getting generator backups prepared ahead is definitely an awesome action.
Diesel Engine
Generator
Electricity Bill
1.575RMB/kwh
1RMB/kwh
Extra Charge
None(a complete machine commonly has its own diesel engine )
6,000USD-7,500USD required on a single generator of 100kw
Summary
Diesel Enginer is the best choice for short-term projects while generator is for long-term ones
From the diagram, it could be seen that the former pattern is more fitting for short-term projects, and the latter one is better used in long-term projects. Actually, each of power supply patterns has its own two sides. Generator-driven pattern proves to be friendly to environment where human reply on and could help users skip some trivial procedures, but raises a higher standard on operating cost; while diesel engine turns out to be more economical, but inevitably causes air pollution to environment. So which kind of method to take is determined by the final requirements.
-Portable crusher price and rock crusher machine maintenance cost
As one of key parts of investing, the portable rock crusher machine maintenance cost mainly lies in turning the old and worn-off wearing parts into new ones. As a matter of fact, when it comes to maintaining some kind of crushing equipment, it's all about changing the worn-off spare parts. The only difference is that each kind of machine gets its own wearing parts with different qualities. For example, it does take more investment to maintain a portable cone crusher than a portable jaw crusher, because the cone crusher wearing parts comes with higher quality and longer service life than those of a jaw crusher.
All in all, purchasing a portable rock crusher is just as important as choosing the right crusher manufacturer. So, you have to take all things into consideration like the respons of its customers, the price of the rock crushing equipment, the shipping money, the service.
Where Does a Portable Rock Crusher Work Best?
How does a portable rock crusher work? In general, it can work alone and also can team up with another crushing equipment. A portable rock crusher is a combination of crushing machines like feeder, crushers, transportation and screening equipment, just like a complete production line with large capacity stone feeding bin and stone screening equipment.
Besides making a good budget prior to buy a portable rock crusher, it is relatively important to figure out where the best part of a portable rock crusher could be shown thoroughly.
Compared with the other ordinary crushing machines, a mobile impact crusher plant could not only show a good performance under the environment better for a stationary crusher, but also play an irreplaceable role in the short-term project that is operated in a complicated and terrible environment, or needs to be occasionally transferred from one location into another one for processing purpose. A portable rock crushing machine is a better choice for the people who are planning to make a higher bid, as currently advanced technology and premium materials have to be adopted to make it such a flexible rock crusher. What's more, there are many mobile crusher manufacturers who can draft the plans for you.
Portable rock crusher has excellent mobility and adaptability of the working site, and it does not need much pre-preparation before the installation of the portable rock crushing station. Except that, the mobile rock crusher also has many remarkable advantages, such as high crushing efficiency, strong bearing capacity, stable operation, convenient maintenance and so on.
China Hongxing is a professional mobile crushing station manufacturer. The crusher equipment includes cone crusher, jaw crusher, impact crusher equipment, etc. There are many cheap and affordable rock crushing machines for sale. You can have a look at the product center where manufactures all kinds of rock crushing machines, such as crushing equipment, mobile crushing plants; construction waste disposal equipment; sand washing equipment; conveying screening equipment.
A portable rock crusher machine is more of a qualified helper for recycling construction waste and concrete in cities, especially for some small operation sites where construction waste piles up dispersedly, which could be explained through three easy-understanding reasons.
A portable rock crusher could move flexibly with the help of wheels or movable frame;
With a self-contained structure, a mobile crusher machine is capable of crushing and screening materials at the same time, which effectively simplifies the procedures of processing wastes;
A portable rock crusher could directly march into operation site to turn construction waste into something valuable due to its great agility, which significantly avoids dust pollution during the course of waste delivery.
A mobile rock crushing machine with screen greatly improves safety and efficiency.
Moreover, a portable rock crushing machine is able to effectively ease industrial sand shortage through offering abundant premium manufactured sand and has been playing a chief role in current infrastructure construction industry.
Today, environmental issues are deeply rooted in the hearts of the people. The stacking and burying of construction waste will cause serious pollution to the surface and underground. In this way, it is very convenient for a portable rock crusher machine to handle construction waste. Due to the complex terrain of some construction waste dumping sites, the mobility of the portable rock crusher tends to be an excellent stone crusher machine to solve this problem. The construction waste processed by portable rock crusher can be recycled, and some recycled materials can replace the aggregate of sand and gravel, which reduces the exploitation of river sand and plays a major role in protecting the environment. Nowadays, the portable concrete crusher has effectively solved the problems on of management and protection of rivers and lakes. For example, in the past, we always saw construction waste occupied the road disorderly but now the portable construction waste can crush them efficiently in short time.
How to Make a Portable Rock Crusher Eco-friendly?
Environmental protection is the practice of protecting the natural environment by individuals, organizations and governments. Its objectives are to conserve natural resources and the existing natural environment and, where possible, to repair damage and reverse trends. --Wikipedia
It reveals that taking prompt actions to protect environment has been the mainstream. Then how to make a portable rock crusher eco-friendly?
With the increasing attention paid to environment protection, stricter and stricter requirements have been put on a variety of enterprises supplying mining machines. In order to keep down dust and noise level of a portable rock crusher in the middle of running, some methods could be implemented as below:
Dust-proof measures: An amount of dust mainly appears and flies around a portable rock crusher doing crushing. In order to avert such phenomenon causing severe air pollution to environment, a new cavity design offering great sealing performance, with addition of sprayer, has been adopted in making the advanced movable crusher to effectively prevent dust from snapping out and put restraints on dust rising separately during the whole processing, which successfully illustrates how eco-friendly a portable rock crusher could be.
Noise-proof methods: noise proofing for a portable rock crusher equipment is mainly reflected on turning down the noise source and adding noise-isolation cover. Take a portable impact crusher for example, it's feasible for engineers to optimize manufacturing technique and adopt materials making lower noise when researching and developing the portable impact crusher to keep down the noise source through relieving machines' vibration and friction. Besides, with the help of noise-isolation cover assembled on the impact rock crusher, noise could be significantly turned down when the machine is crushing and processing materials.
Apart from all of these ways to control dust and noise, a mobile rock crusher equipment also unveils good eco-friendly feature, which could be illustrated from two aspects: natural resources conservation and high efficiency. The former is attributed to its self-contained structure that takes less space to conserve land resource, and the latter is thanks to that it could move along routines to make it to the operation site where raw materials could gets crushed then. This could save adequate investment on transporting materials to the site for users and do little harm to environment, not to mention its convenient maintenance, powering saving and great return on investment.
How to Choose a Portable Rock Crusher in Terms of Capacity?
A portable rock crusher could be at its most effective condition when the capacity is arranged at 80-400t/h, for its space-limited frame for containing and supporting other equipment pulls certain standard on the fixed crusher used with it, which indicates that a fixed crusher is not fitting for the carrying frame if its biggest capacity is under 80t/h or above 400t/h. A small or mini fixed crusher cannot take too much more of vibration and friction, while a big one fails to fit in the frame of a portable rock crusher. Therefore, if some projects such as coal mining, gold mining are located in the terrible environment, a 80-400t/h portable rock crusher equipment will be the best choice because of its flexibility and great efficiency.
What Kind of Material does a Portable Rock Crusher Serve Best?
As opposed to a fixed crusher, a portable rock crusher is not perfect for processing a large number of materials in large size. Because it happens to team up with a stationary crushing equipment to work together, like portable jaw crusher and portable impact crusher, portable cone crusher(used in secondary crushing) and the feeding opening designed for material entry is supposed to coincide with the feeding size of the stationary crusher whose total weight and dimension need staying in accordance with the frame, otherwise, numerously oversize materials fed into the machine will result in severe clogging condition even unexpected downtime.
Take the portable jaw crusher as an example, this kind of stone crushing plant can be applied to some materials with hardness less than 9 and humidity below 6%. In addition, the non-flammable and explosive materials are also suitable for processing with portable jaw crushers. And different models of the crushers suit for differet project scales. Apart from the generla big ones, there is also mini rock crushers which is mostly used to reduce very small materials at a limited space.
How about the Process and Installation of a Portable Rock Crusher?
Actually, the installation of a portable rock crusher primarily follows several simple steps: delivering the machine to site—installation—soft operating (without materials)—soft operating(with materials), and it could be literally put into operation if each of steps proves nothing abnormal. Sometimes, with the help of some manufacturers who is known for free one-stop service including product delivery, installation and personnel training and etc, it won't take more than a week before getting a portable rock crusher mining machine into mass production. Just like a fixed crusher, a mobile rock crusher equipment should be maintained every 20 hours in order to guarantee its uptime.
Delivering the machine to site

Installation

Soft operating (without materials)

Soft operating (with materials)
Recommendation of Portable Rock Crusher Types
Semi-portable crusher (also for semi-mobile crusher) consists of two main parts: moving parts and working parts. The moving part includes chassis, legs and oil tank, and the working part is fixed on the former part and contains a fixed crusher and power units such as electronic control system. Only with the help of a tractor can a semi-portable crusher move flexibly.
According to research, the biggest semi-mobile crusher with capacity of 300-400t/h could extend to 17-18m in length, while the smallest one with capacity of 50t/h can only do to 12-13m.
Unique Features
Unique Features of Semi-portable Crusher
Mobility
Only with the help of a tractor could a semi-portable crusher move
Working Efficiency
Fixed legs under the frame guarantee its reliable working condition and enable it to team up with large fixed crushing equipment to improve efficiency as a whole
Equipment Performance
With short wheelbase (wheelbase is the distance between the centers of the front and rear wheels), and small turning radius (the turning radius of semi-portable stone crusher is the radius of the circular turn that it is capable of making), it doesn't do harm to roads
End Product
With fine size and premium quality, it's end products are easier to get recycled
Technical Data
Transportation

length

12600-15200mm
Transportation width
2600-2900mm

Transportation height



3870-4500mm
Weight
39-65t
Tire Configuration
Dualaxial, Triaxial
Tracked Crusher is literally a kind of portable rock crusher or mobile stone crusher. With a tracked chassis, tacked crusher could move even make a turn flexibly under the remote control of PLC system touchpad. Like a semi-portable crusher, a tracked crusher could process 50-400tons of materials per hour as well.
Even though tracked crusher is not as good as a semi-portable crusher in terms of stability and efficiency, it could move freely without traction force and demonstrates greater mobility and agility than semi-portable stone crusher.
Secondly, tracked/portable stone crusher is more easily-transferred because it takes advantage of crawler to move flexibly and only needs the least time and manpower to get delivered to operation site with the remote control of intelligent PLC system touchpad.
Lastly, the chassis of tracked crusher is designed in a fully rigid tracked structure looking like a ship and reveals the following characteristics: good rigidness, unrivaled flexibility and great acclimation for mountains and wetlands. All of these features enable a tracked crusher to climb mountain to reach operation site, which makes it more perfect for mountain stone mining and open coal processing.
Respective Features of Main Drive Modes of a Tracked Crusher
| | | | |
| --- | --- | --- | --- |
| Drive Mode | Power Source | Pros | Cons |
| Direct drive plus hydraulic drive | Diesel engine | Compact structure and high efficiency | It takes much more operating cost than power dive mode |
| Direct drive plus power drive | Diesel engine | Convenient maintenance | High operating cost |
| Full-hydraulic drive | Diesel engine | Simple layout and easy operation | Mainly works well for small tracked crushers due to relatively higher running speed |
| Power drive | Diesel engine drives hydraulic pump sets to drive motor to generate power for movement | Low operating cost and simple maintenance | Urban power supply is not widely available |
| Urban power supply is not widely available | Urban power supply or diesel fuel | urban power supply could be adopted in big projects, while more flexible diesel engine is for small projects | Complicated structure causes high manufacturing cost and leads to difficult maintenance |
Technical Data
Genset
120kw
Transportation l

ength

12000-13500mm
Transportation Width
2700-3150mm
Transportation Height
3600-3900mm
Transportation Weight
28-35t
What Could a Portable Rock Crusher Bring to Society?
With the development of technology and society, portable rock crusher has being more and more popular and playing a crucial part in society. An oil-electric dual-purpose crusher is equipped with a dual-purpose sifter – the portable rock crusher uses the best innovative design to set a new benchmark for communication and collaboration between crushing equipment and other ore dressing equipment.
· Its intelligent PLC control system spares much manpower and provides operators with safer operation.
· Impact rock crushers could move on wheels or crawler, do little harm to roads, and protect natural resource in its own way.
· Mobile rock crusher is capable of recycling and turning construction waste into valuable raw materials, which clearly shows how friendly it could be to environment, society and human.
More importantly, people and government attach much importance to the environmental protection, especially the heavy mining machine industry. The portable rock crusher machine manufactured adopts environmental protection design, reducing dust pollution and noise, which is a stone crusher with economic and environmental protection properties. Lead a new lifestyle starts with a flexible, agile and eco-friendly portable rock crusher equipment.
Need Some Help?
Our customer service team is here to help you 24/7. We can ship you parts, send field service technicians to your site and answer any questions you have. Whatever you need, we are here for you.
Contact us