Various types of rock crushers for sale have been applied for a long time in the field of the mining machinery industry, which has played a very important role in the construction of large-scale infrastructure and mine development and utilization in various countries (especially in Africa).
The stone crushing machine is mainly used for crushing large materials into small particles and small-sized materials to meet the requirements for the use of graded gravel in engineering. For example, in the process of making asphalt concrete, it is necessary to add stones of different particle sizes as a "skeleton" structure, which plays a role in supporting the road surface.
Most of the asphalt concrete aggregates are made by crushing a rolling natural stone through a crusher machine. After screening and pulverizing processes at all levels, the natural stone can meet the engineering requirements.
According to the production needs of different users and the site conditions, HXJQ has developed fixed crushers for sale and portable rock crushers for sale. The two types of stone crushing machines have their own advantages and characteristics. So what are the differences between the two crushing machines? Let's first look at a customer case:
Mark is a customer from India who wants a portable rock crusher for gold mining, but the gold mines mined by Mularck were not enough for the stone crusher site. After knowing about his production spot, the Hongxing Machinery sales manager suggested establishing a portable rock crusher production line. This production plan made the customer from India very satisfied, not only saved him a lot of budgets but also solved the problem of his small production site.
The advantages of this program:
The body structure of the portable hammer rock crusher is compact, whose floor space can be reduced by 1/5. In addition, the finished product can be formed once, so the subsequent secondary crushing is eliminated, and the process tends to be simpler.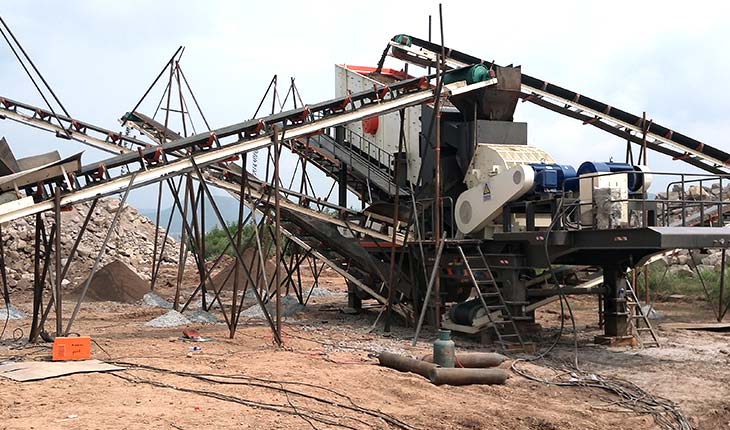 The portable hammer crusher is on the Indian production spot
The portable rock crusher is more durable.
Car tires, steel frames, mainframes, and other systems are all made of wear-resistant materials, ensuring the crushing equipment quality tends to be more stable and the service life is longer.
The noise of this crushing equipment is only 80-85DB, and the closed crushing method is adopted. In this way, the pulverized coal pollution and resource will be reduced, and the green emission standard can be achieved.
The portable crushing plant can be installed in the open air, which can be reached 300TPH. At the same time, the coal particles crushed and formed in one molding are uniform, and the climbing operation can be realized.
A high degree of automation.
Fully automatic crushing operation mode, equipped with thin oil lubrication station, using oil-electric hybrid operation mode, freely selecting energy supply form, ensuring long-term stable operation; setting operation room, remotely controlling the portable rock crusher operation.
This customer case shows that portable rock crusher for gold mining is suitable for some uneven grounds, and it is more convenient and quick to walk freely, saving manpower and material resources. In addition, there are two types of portable crushing plants, namely, semi-portable crusher, and tracked crusher, which gives users a variety of options.
Mohammed is a customer from Zimbabwe who wants to process iron ore and his yield requirement tends to be 500 tons per hour. In addition, the iron ore that the customer wants to crush is lean iron ore with a hardness of 5.5-6.5, which is not easy to crush. While the fixed jaw crusher can process this kind of material with excellent performance.
The coarse effect of a fixed jaw crusher is suitable for crushing iron ore, and the output of the fixed jaw crusher can reach 800 tons per hour.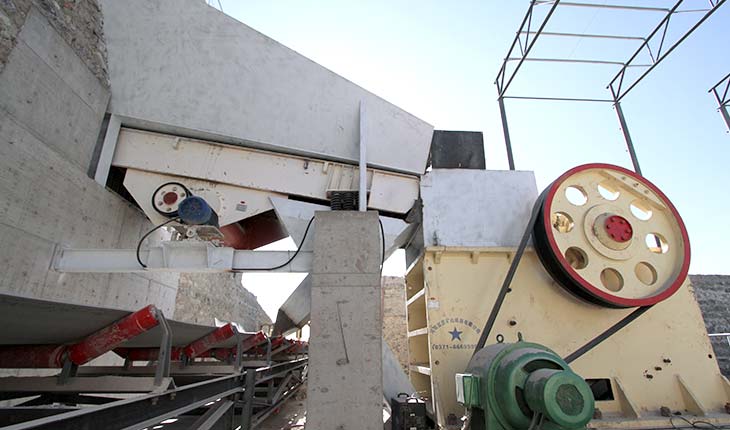 From the above two customer cases, it can be seen that different types of crushers are suitable for different sites and materials. In order to maximize the crushing efficiency, the most suitable crusher must be selected. So what is the fundamental difference between a portable rock crusher for sale and a fixed crusher for sale?
The characteristics of portable rock crusher
The portable crushing plant is mainly used for metallurgical, chemical, building materials, hydropower and other materials that need to be relocated, especially for the operation of mobile materials such as highways, railways, hydropower projects, etc. Different configurations are required for the finished material. Hongxing Machinery portable rock crusher machine for sale has two types of crawler breaks and tire breaks. There are also some differences between the two mobile crushing stations.
The tracked portable crusher integrates feeding, crushing and conveying with one part, which has an advanced design, excellent performance, high production efficiency, convenient maintenance, stable and reliable work, etc. Tracked mobile crushing stations are widely used in many fields such as construction waste, rock, ore, and block road old asphalt concrete.
In conclusion, the portable rock crusher machine is like a small and medium-sized crushing processing plant, and its working efficiency and operating cost are better than the fixed crusher machines. The main crushers used in tracked portable rock crushers are mainly portable jaw crushers and portable impact crushers. The semi-portable crusher uses on-board traction, which enables the portable crushing plant to meet the mobility requirements both at the job site and on the road.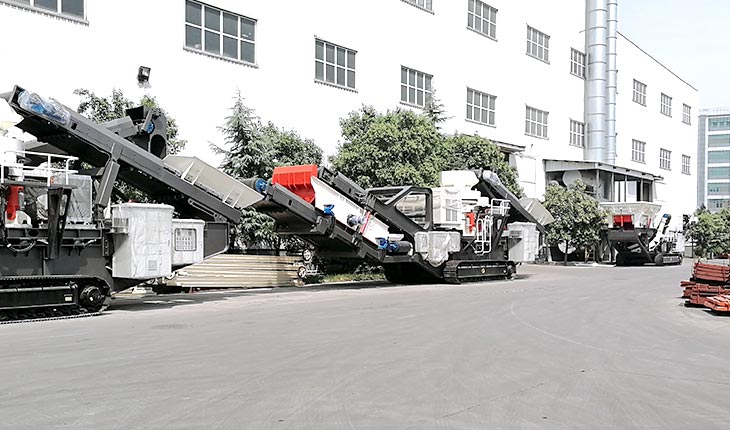 Different modes of HXJQ fixed crusher machine for sale
There are also many models of fixed crushers, mainly including fixed jaw crushers, fixed impact crushers, fixed hydraulic cone crushers.
The fixed jaw crusher is commonly known as the tiger's mouth, which indicates that this kind of stone crushing machine has a large production capacity. The crushing chamber of the fixed jaw crusher is composed of two jaws, which simulate the two movements of the animals to complete the crushing operation. The fixed jaw crusher machine for sale is widely used in the crushing of various ores and bulk materials in the industries of mining, building materials, roads, railways, chemical industry, etc. The highest compressive strength of the raw materials tends to be 320Mpa
Fixed impact rock crusher is mainly used for metallurgical, chemical, building materials, hydropower and other materials that need to be relocated, especially for the operation of mobile materials such as highways, railways, hydropower projects, etc. The fixed impact rock crusher can process materials with a side length of 100-500 mm and a compressive strength of up to 350 MPa. It has a large crushing ratio and a cubic particle after crushing. The size of the discharge material can be adjusted, and the crushing specifications are diversified.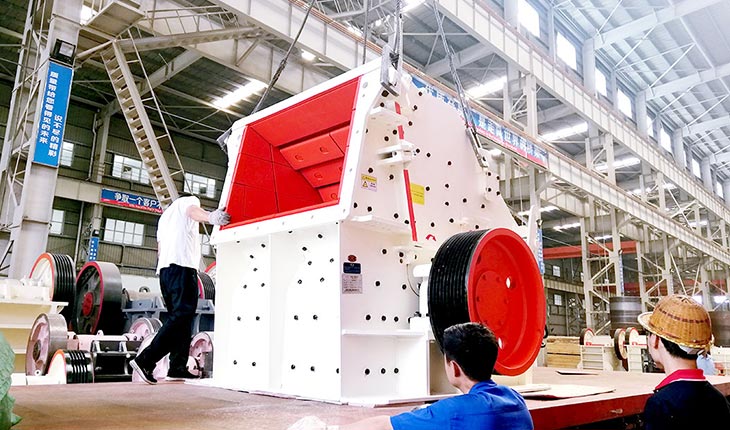 The hydraulic fixed cone crusher is suitable for the crushing of raw materials in the metallurgy, construction, road construction, chemical, and silicate industries. According to the different crushing principle and different product particle size, the hydraulic fixed cone crusher machine can be divided into many models, namely, single-cylinder hydraulic cone crusher, full hydraulic cone crusher, etc.
The cone crusher has a large crushing ratio, high efficiency, low energy consumption, and uniform product size. It is suitable for crushing medium and fine ores and rocks. HXJQ hydraulic cone crusher machine is developed on the basis of digesting and absorbing various types of cone crushers with international advanced level in various countries. It is clearly different in design from the structure of a conventional spring cone crusher and concentrates on the main advantages of the various types of cone crushers known to date.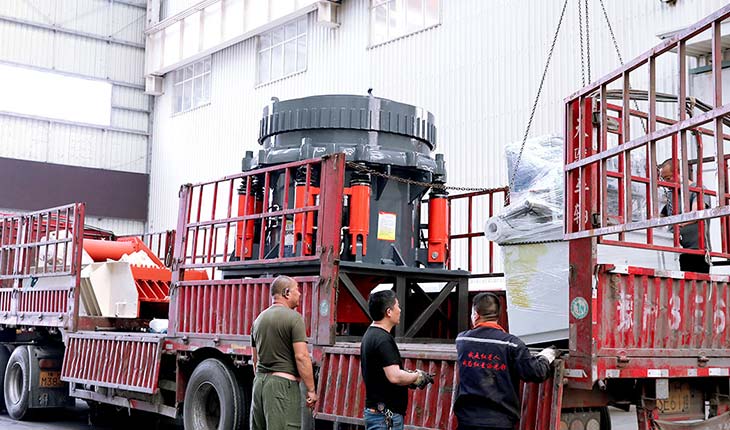 What's the price of the two rock crushers for sale?
Whether it is a fixed crusher or portable rock crusher, it has its own advantages. The portable crushing plant can reduce the production cost more effectively for customers. It is an economical and integrated choice, so it is more and more popular among users, and its performance advantage can be fully demonstrated in actual production.
In addition, the special design concept completely eliminates the obstacles of crushing sites, complicated basic configuration, truly providing customers with efficient and low-cost hardware facilities for project operation. If you want to build a complete crushing line, then a portable rock crusher machine is a good choice, which saves time, money and effort. While the fixed crusher is suitable for handling materials with high hardness and large block size.
Regarding the price of the two types of stone crushing machines, the output of different types of crushers is different, so the price will, of course, be different. Therefore, in order to obtain a quotation, it is necessary to select the most suitable crusher according to the production needs of each customer and the crushing materials. Contact us, we will design the most suitable stone crushing machine for you!