Mobile Jaw Crusher
Mobile Jaw Crusher
In order to meet the needs of the market and efficient, environmentally friendly and fast-paced times, mobile jaw crushing stations have emerged. Mobile jaw crushing station is popular in the market because of its good performance in the production efficiency of rough crushing. Besides, mobile jaw crushers' flexible movement can save lots of manpower and material resources, improving the crushing efficiency. Hongxing mobile jaw crusher has achieved lots of good comments because of its excellent mining properties.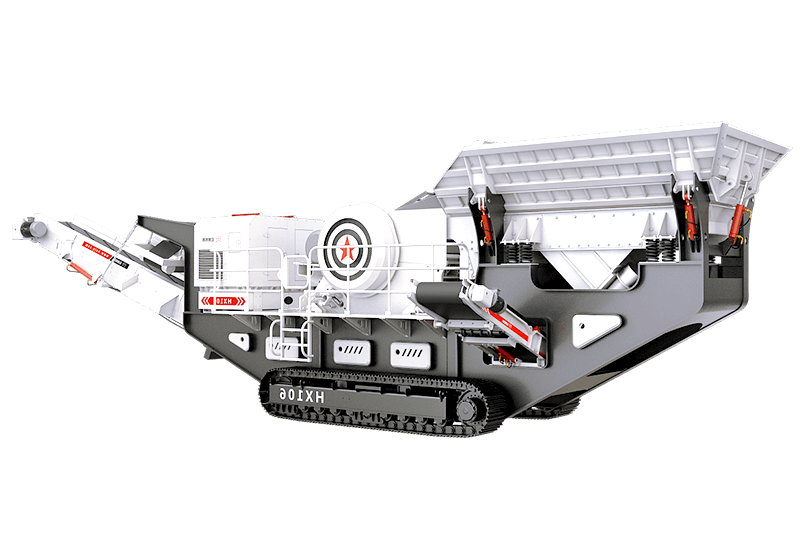 Hongxing crawler mobile jaw crushing equipment
The mobile jaw crusher is also called the portable jaw crusher, tracked mobile jaw crusher. Because of its simple structure, excellent performance, and easy maintenance, as well as less production and construction cost, mobile jaw crusher is still widely used in aggregate quarries, products recycling processing, building materials, electricity, transportation and other industries.
Mobile jaw crusher is developed on the basis of the previous jaw crushers, so there is same function between. This mining and crushing equipment is also applied in breaking thick, medium, and fine ores and rocks with compressive strength in 147-245mpa. In order to meet the needs of high strength and hardness of final products, the mobile jaw crusher equipment has been investing a lot of manpower, and financial resources in the research and development of a new type of mobile jaw crusher with high efficiency and energy saving. More and more new German mobile jaw crusher, CJ European mobile jaw crusher and other series of mining products have been launched.
The working principle of crawler mobile jaw crusher
The crawler mobile jaw crushing equipment runs in the way of curved extrusion. The working principle is that the motor drives the belt and pulley, and moves the mobile jaw up and down through the eccentric shaft. When the mobile jaw rises, the angle between the elbow plate and the mobile jaw becomes larger, so that the mobile jaw plate is close to the fixed jaw plate.
At the same time, the material is crushed or chopped to achieve the purpose of crushing. When the mobile jaw goes down, the angle between the elbow plate and the mobile jaw becomes smaller, and the movable jaw leaves the fixed jaw under the action of the pull rod and the spring, and then the crushed materials come out of the lower opening of the crushing chamber. In general, the output of the mobile jaw crusher is 85-650 tons per hour. And it adopts an integrated group operation mode, which can work separately, eliminating the complex site infrastructure and auxiliary facilities installation work of the split components, and reducing the labor consumption. So, the mobile jaw crusher equipment is suitable for construction waste processing and recycling.
Materials and Application of Hongxing Machinery crushing machine
Hongxing mobile jaw crushing and mining equipment is widely used in the crushing of mine rock and ore, stone processing, peeling crushing of cement concrete, crushing of asphalt concrete before regeneration, and crushing of cement concrete construction waste, and so on.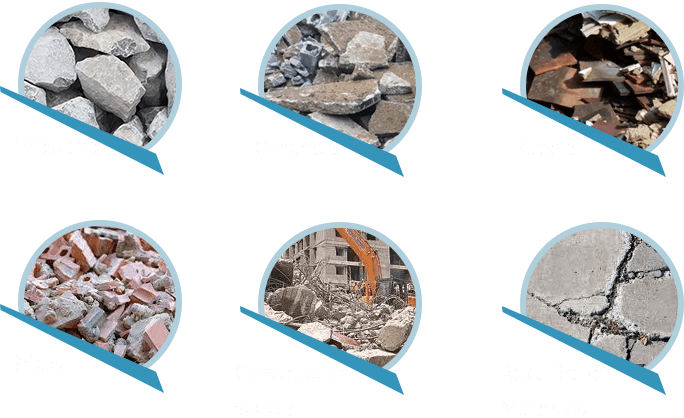 Mobile Jaw Crusher Technical Specifications
| | | | | |
| --- | --- | --- | --- | --- |
| Models | Jaw Crusher | Climbing Ability | Capacity (t/h) | Total Power(kw) |
| HXC96 | CJ96 | +(-)20° | 300 | 112.9 |
| HXC106 | CJ106 | +(-)20° | 450 | 141.4 |
Mobile jaw crusher characteristics:
The hydraulic drive of mobile jaw crusher is strong, featuring with high-performance single-elbow jaw crushing machine, large crushing ratio, and high output.
The automatic speed regulation of its vibrating feeder with strong-type can keep the host engine running at full load in order to achieve the ideal productivity.
The high-power hydraulic transmission of the mobile jaw crusher fully ensures the accurate control and reverse operation of the crusher to remove blockage when the construction waste and solid waste are broken.
Being of hydraulic adjustment outlet, mobile jaw crusher can quickly adjust the opening of the discharging port, and shorten the shutdown time of adjustment.
Crawler mobile crushing equipment is composed of receiving system, feeding system, crushing system, power system, transportation system, walking system, hydraulic system and so on. Among them, the power system is the "heart" of crawler mobile stone crusher plant, which mainly has five driving modes: direct drive+ hydraulic drive, direct drive+electric drive, full hydraulic drive, municipal electric drive, diesel electric drive and so on.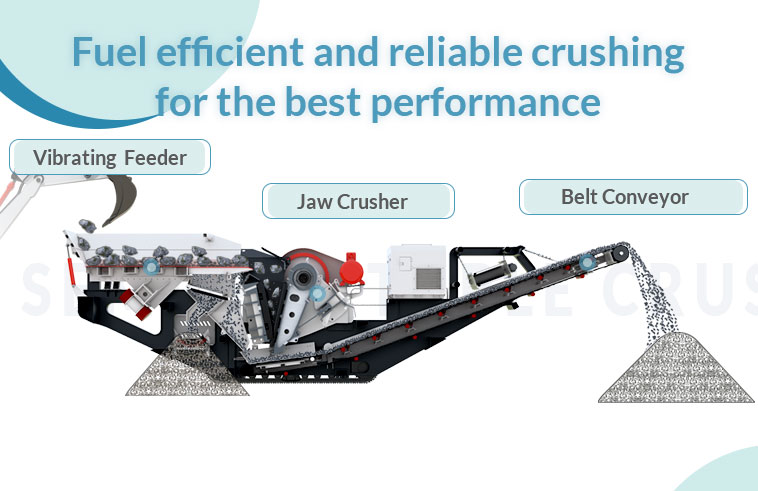 The crushing machine has the characteristics of free movement, flexible transition, convenient operation,small covering area and so on with no damage to the road surface and no need of raw materials transportation. Besides, the portable jaw stone crusher plant doesn't slip even in winter, it doesn't have to hit a pile, and it's not demanding in the workplace.
-The five driving modes for crawler-type mobile jaw crushing plant
Mobile jaw crusher can use both electricity and oil to drive the equipment, and it can work normally even in bad weather. The mobile jaw crusher is equipped with a market-leading hydraulic jaw crusher, which as the host crusher on the crawler chassis. The unit is integrated and the combination is reasonable and compact.
Diesel electric drive mode is like plug-in hybrid drive of automobile, which is the development direction of crawler mobile crushing plant. This kind of driving crawler mobile crushing plant can be connected to the market in large projects to reduce the cost of use, and diesel engines can be used in small projects, which is flexible and convenient to use.
-Welcome to the mobile jaw crushing world of HXJQ Machinery
HXJQ Machinery only focuses on the research and manufacture of crawler mobile jaw crushing and screening equipment. After many years of efforts, it has successfully developed many kinds of models! The product line includes crawler mobile crushing plant, crawler portable rock jaw crushing plant, crawler portable impact crushing plant, crawler mobile hammer crushing plant, crawler mobile sand making machine, crawler mobile screening plant, crawler mobile horizontal screening plant and so on. At the same time, if you are interested in our mobile jaw crusher machine, we can provide the best production solutions according to the needs of customers.
Mobile Jaw Crusher For Sale
All these mobile jaw crushers sale in wordwide countries like India, South Africa, Australia, Philippines, etc and we also have different types of it from big to mini mobile jaw crushers. If you are satisfied with series of mobile jaw crusher, you can leave a message or write an email at any time. Our salesmen can provide you with detailed information and price, and customer service staff are waiting for you forever! Besides, HXJQ Machinery always welcome everyone to visit our factory, you can compare different types of crusher machine because there are not only mobile jaw crushers, you can choose the crusher machine according to your requirements.
Need Some Help?
Our customer service team is here to help you 24/7. We can ship you parts, send field service technicians to your site and answer any questions you have. Whatever you need, we are here for you.
Contact us