We all know that with the development of modern society, there are more and more construction and demolition (C&D) materials are left over at a construction, renovation or demolition site. They are usually abandoned but are actually valuable things that can be reused to make new products or applied in another field.
Why should construction materials be recycled?

Recycling construction waste is becoming more and more important because of the limit spaces and environmental protection demands. Current estimates show that if we can recycle all concrete and asphalts produced annually in America, we'll save the energy equivalent of 1 billion gallons of gasoline or the removal of more than 1 million cars from the road.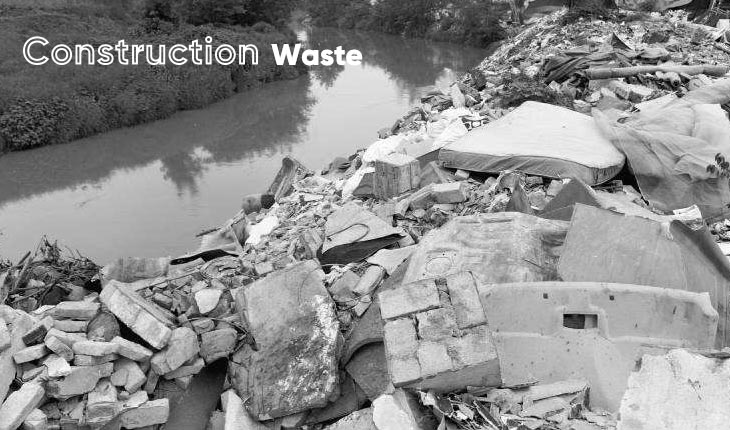 How does the construction waste pollute the environment
Apart from the energy saving, the construction waste recycling can greatly reduce the landfill of those materials and the consumption of natural resources through crushing, extracting and refining petroleum. Landfills through a common way of treating construction waste would be considered safe when giving the state-level oversight.
What's more, inappropriate disposal of the construction waste would cause operational problems and groundwater contamination thus becoming costly in the future. So, we have to focus on construction and demolition waste recycling if we want to get rid of this dilemma.
What construction materials can be recycled?

We'll see a lot of materials that can be recycled from construction waste. The ways for handling these materials are various, depending on the type of them and how easy and profitable it is to recycle and reuse it.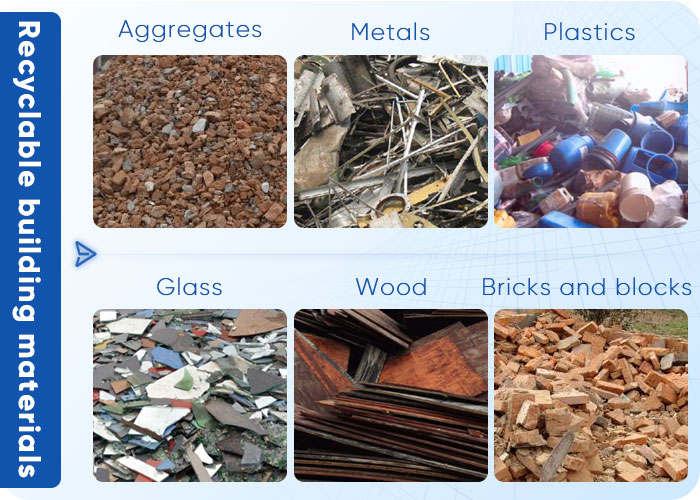 common types of construction waste
3 common material handling methods

British every year reuse around 275 million tons of constriction waste for raw construction materials. Of this, over 70 million tonnes are already derived from recycled or secondary sources. What's more the UK also the major user of the materials during the European market. Every year, there is potential to recycle more aggregates from construction, demolition and excavation wastes that are being sent to landfills.
3 levels of recycling aggregates

According to the countries which are successful in better recycling of construction waste, it can be roughly divided into three levels:
(1) Low-level use: The broken concrete is used as the building foundation or road base, and this is the simplest method of using waste concrete.
(2) Intermediate use: crushed waste concrete to produce concrete block bricks, paving bricks and other products.
(3) Advanced use: The waste concrete is crushed, sieved, sorted, and cleaned to be used as a recycled aggregate instead of some natural sandstone aggregate to make recycled aggregate concrete. Relevant research shows that it can be directly added to commercial concrete as aggregate to replace 10% ~ 30% of natural aggregate. This is the most valuable method for waste concrete, and0 recycled concrete made with recycled aggregate is a kind of green concrete.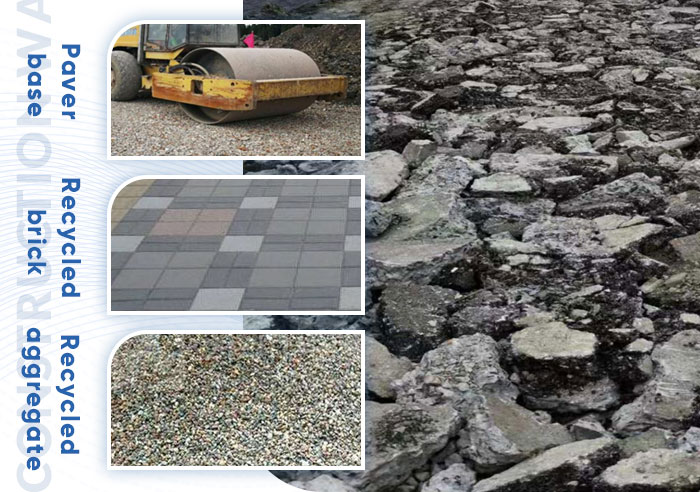 the waste concrete is recycled for the application three-level
The best way to treat waste glass is recycling

The main components of ordinary glass are silicon dioxide, calcium silicate, and sodium silicate, which are very stable in chemical properties. The silica is difficult to decompose naturally. Compared with white pollution like plastic garbage, waste glass products are more difficult to decompose in the natural environment and cannot be degraded in landfills.
Even some of them contain heavy metals such as zinc and copper, which will pollute soil and groundwater. In addition, glass is a non-combustible substance. Once it enters the garbage incinerator, it will soften and adhere to the furnace wall, affecting the incineration efficiency. Therefore, the best way to treat waste glass is by recycling.
Waste glass recycling can generate huge economic and environmental benefits

In China, the amount of waste glass is considerable, and about 50 million tons of waste glass will be produced in a year. By recycling and utilizing waste glass, it will not only have economic benefits but also significant environmental benefits.
According to statistics, the use of recycled glass to regenerate glass can save coal and electricity energy by 10% -30%, reduce air pollution by 20% and waste gas from mining by 80%.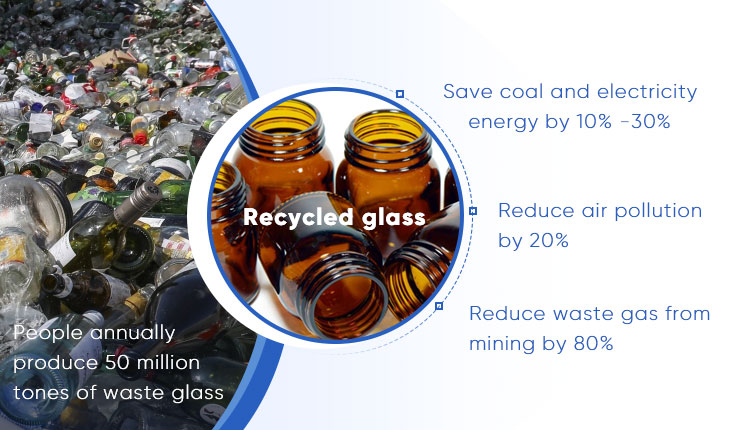 50millilon tonnes of waste glass can save a lot of energy
Calculated by one ton, recycling one ton of waste glass can save 720 kg quartz sand, 250 kg soda ash, 60 kg feldspar powder, 10 tons of coal, and 400 degrees of electricity. One ton of waste glass can be recycled into 20,000 500-gram wine bottles after the furnace is returned, which saves 20% of the cost compared with the use of new raw materials.
One tone of waste glass can save 20% cost compared with the new material
The energy saved by recycling a glass bottle can light a 100-watt light bulb for 4 hours, allow a computer to run for 30 minutes, and watch 20 minutes of television.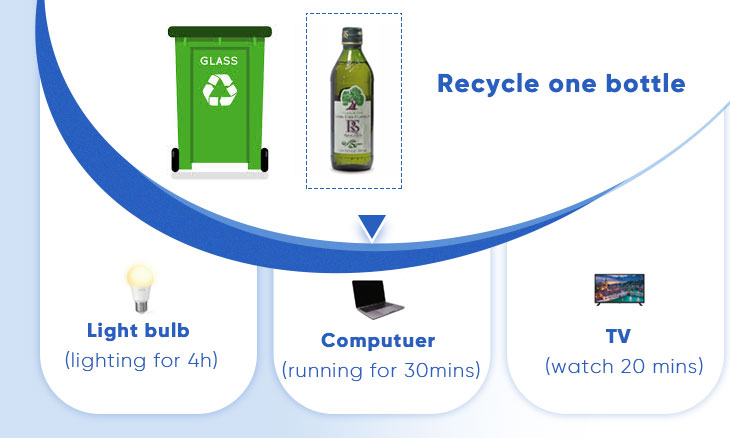 Recycling one bottle is equal to creating a lot of  electricity
Recycling bricks and blocks

People love to do their projects by bricks because bricks have a lifespan of more than 200 years. So that if we can recycle the bricks and blocks which have been used in the construction of buildings, we'll save a lot of costs and still can implement high-quality projects. Waste bricks mainly include:
clay bricks
concrete precast
aerated blocks
stone blocks
What to do with these bricks and blocks

If they are undamaged, you can use them in new building projects or sell them to the other business.
If they are damaged, you can recycle them by mining machines like tracked crushers which are powerful to process construction waste. Because the tracked mobile crusher can move easily even to the place which is really hard to get in. Then you can use them :
to make aggregate for use as general fill or highway sub-base
in landscaping
to produce new bricks and blocks
to make sports surfaces such as tennis courts and athletics tracks
as plant substrate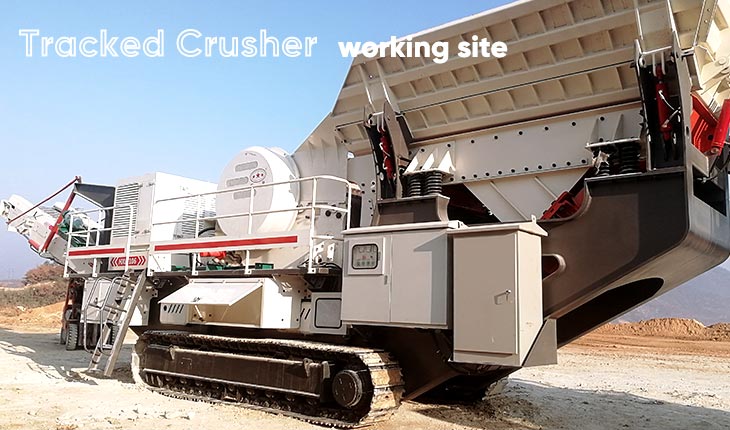 portable rock crusher processing the construction waste
What are examples of recycled materials?

Germany performs the best for recycling the construction waste

Germany is the first country in the world to carry out circular economy legislation. According to German law, each responsible person in the construction waste generation chain needs to contribute to reducing waste and recycling, forming a set of principles for waste management. According to this principle, garbage management can be divided into different levels: the best level is to avoid generating garbage, followed by recycling and recycling garbage, and finally only treating garbage.
Only when the recycling of waste is too expensive can the waste be treated simply, and a processing fee of 500 Euro per ton is levied on unprocessed construction waste. The price of recycled building materials is relatively low, while the cost of simply treating construction waste is very expensive. Therefore, developers are happy to use recycled building materials, and demolition contractors are highly motivated to recycle construction waste, so as not to pay high waste disposal costs.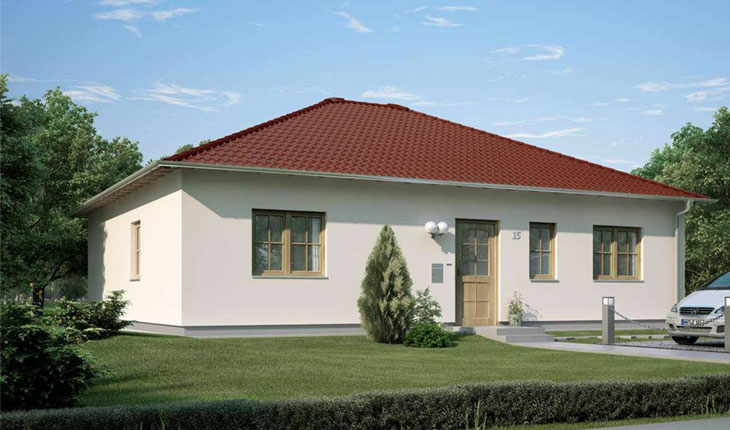 The house is made of the crushed construction waste
Since 1955, the construction waste recycling plant in Germany has processed about 11.5 million cubic meters of recycled aggregates and used them to build 175,000 homes. There are about 200 construction waste disposal companies in Germany with an annual turnover of 2 billion euros. It is reported that Germany has the world's largest production construction waste treatment plant, which can produce 1,200 tons of recycled construction waste per hour.
Cases of the utilization of construction waste in China

It is necessary to consider not only the issue of construction waste but also its related treatment and subsequent operations so that it can be handled well in this process. It is also necessary to consider the corresponding hidden dangers and environmental pollution in the process of construction waste generation, and then achieve the desired effect. "Xu Chang Model" Significant Effect Under the guidance of the Rules and Laws, Henan Province has adopted a series of specific measures: the competent departments of housing and urban-rural construction at all levels have incorporated construction waste into the special urban domestic waste planning, and based on urban development, predicting the waste production and resource utilization.
The government vigorously supports the construction waste disposal facilities and give priority to project approval and land approval. Carry out pilot demonstrations, relying on leading enterprises to develop a number of high-tech, large-scale construction waste comprehensive utilization demonstration bases, and cooperate with the provincial department of finance to pilot cities (counties), companies and projects.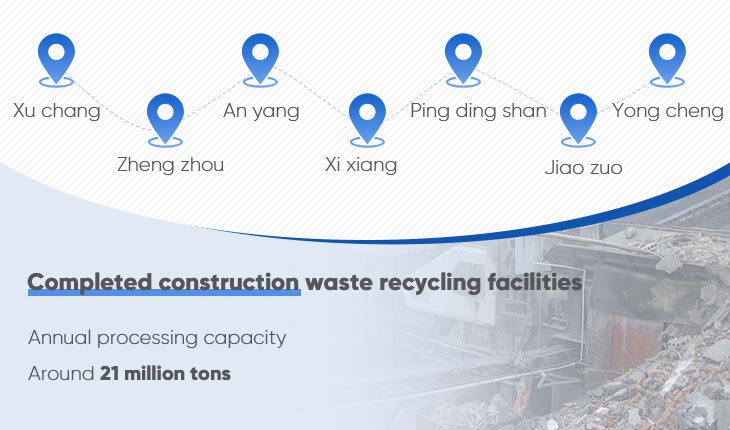 Seven cities of He Nan Province have made great progress in construction waste recycling
Besides, they have established a strategic alliance of construction waste resource utilization enterprises, carried out resource utilization technology innovation, equipment research, and development, promotion and application of recycled aggregates, and formulate the Henan Province standard system to provide technical support for the production and application of construction waste recycling products with annual processing capacity of about 21 million tons.
Among them, a company of Xu Chang has actively expanded outwards and has established branches or holding subsidiaries in Xinyang, Suzhou, Guangzhou, Anhui Huainan, and Suzhou, becoming well-known construction waste resource utilization enterprises in the country, forming characteristics. The distinctive "Xuchang Model" has been promoted and applied throughout the country.