Crushed concrete, manually or mechanically in specified size and quality usually around 20 millimeters to 50 millimeters by mobile crushing plant or fixed stone crushing plant, has a variety of uses in the field of construction industry like bulk fills, riverbank protection, base fill for drainage structures, aggregate for driveway, structural works in bridges, pavements, aggregate in lean-concrete, aggregate in bituminous concrete, construction of shoulders, median barriers, sidewalks, curbs and gutters, etc. so, of course, you can use crushed concrete for paver base.
Types of crushed concrete
| | |
| --- | --- |
| Type | Size |
| Crushed 8 | Equivalent to Gap 8, 8 millimeters |
| Crushed 20 | Equivalent to Gap 20, 20 millimeters |
| Crushed 40 | Equivalent to Gap 40, 40 millimeters, Most popular choice for construction |
| Crushed 65 | Size of 65 millimeters |
Is crushed concrete good for drainage?
Compared with natural crushed concrete aggregates, recycled aggregates have higher water absorption rate, more pores, higher surface roughness and dosage of pulp, which results in lower slump and poor fluidity, but enhanced water retention and cohesiveness. Due to the large porosity of recycled aggregates, their water absorption rate is large, the resistance to deformation is poor, and the drying shrinkage of the recycled concrete is greatly increased. So, crushed concrete is enough good for drainage of a paver base and can be used. Besides, Crushed concrete is cheaper than other crushed stone, but is also just as durable. And because the material can be purposed for such a large variety of projects, nearly everyone can enjoy the advantages of crushed concrete.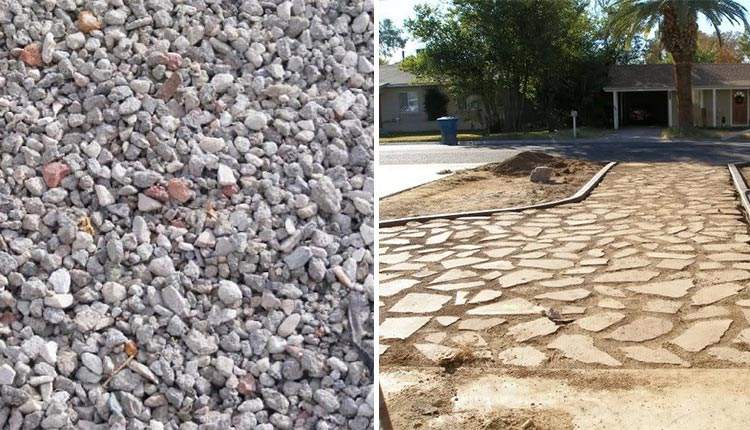 crushed concrete used for paver base at the town of America
How to compact crushed concrete for paver base?
Step 1.  Paver base is essentially reclaimed concrete that's been crushed and pulverized mixed with a little bit brand-new concrete and it's going to go down as the underlayment.
Step 2. It is being delivered down to the ground about three to four inches thick then you should scrape it down and grade it with a landscape rake.
Step3. When the paver base installed it's time to do one final grading before we compress it into the ground.  After the quick spritz , it's time to compact the paver into the ground.
Step4. Border pieces are put up against the house the chalk line is snapped then do the same thing on the other side of the yard.
Step5. With a four-foot level, we should scuff up the first half-inch or so of the paver base.
Step6.  Use bricks with different sizes cover the paver base and trying to make it nice looking.
Step7. Mix up concrete to cover the gap at the edge of the paver patio.
Step8. Take some of this polymeric sand then glaze it over the entire surface of the paver patio. At this point, you should take the compactor again and then going to compress those pavers down into that paver base on top of the same.
Step9. Flood the surface with the sand on it and to glue or brush the sand into all those nooks and crannies.
a video shows how to install pavers at our backyard