Can we recycle glass from a hammer mill?
The hammer crusher mainly reduces the glass by the striking force by which the glass is struck and cracked under the high speed. The hammerhead is made by new workmanship, which has the strong abrasion resistance and strong anti-strike force and is not easy to be destroyed. Besides, its maintenance and repair protection is very convenient; the purging space of the discharge port can be adjusted so that you can adjust the discharge according to the user's production requirements such as granularity, wide adaptability; mature structural design, low noise during production, low pollution, efficient production process, etc.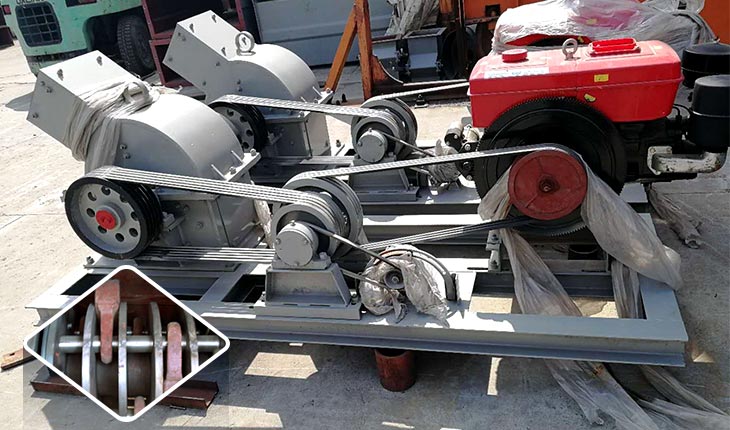 hammer crushers are suitable for glass breaking
What do the final products look like?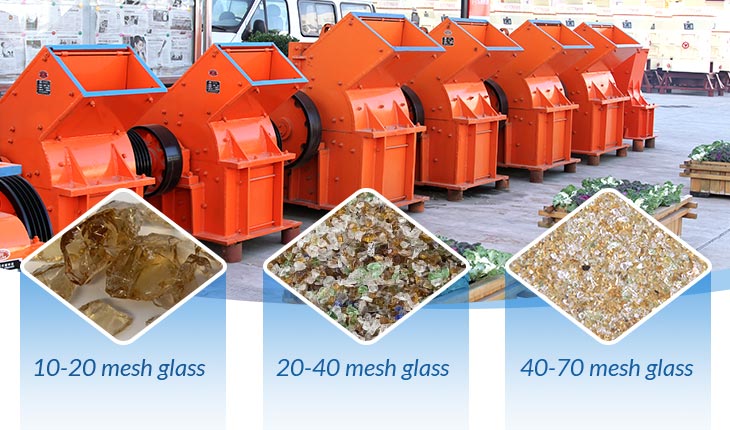 glass can be crushed in various sizes
case1: 24by 16 hammer mill, 30 horsepower, 3 phase motor, it's got a hopper on it for conveyor. The screen shot in this mill is a 3-8 slot and has 3 rows of them. The screen goes 180 degrees all the way across the bottom of the mill. Besides,  we can custom cut any size hole you want, so if you wanna 3 inches by 3 inches or one inch by four inches, we can do any sides you need.  Different size screens will produce different results depending on whats your needs are.
| | |
| --- | --- |
| Passing rate | Screen mash |
| 60% | 20mesh |
| 35% | 8-20mesh |
| 5% | 8mesh |
Case2: 16 by 12 hammer crusher with no screen material: lenses  3/4'' down to 3/16'' even 1/8'' smaller ones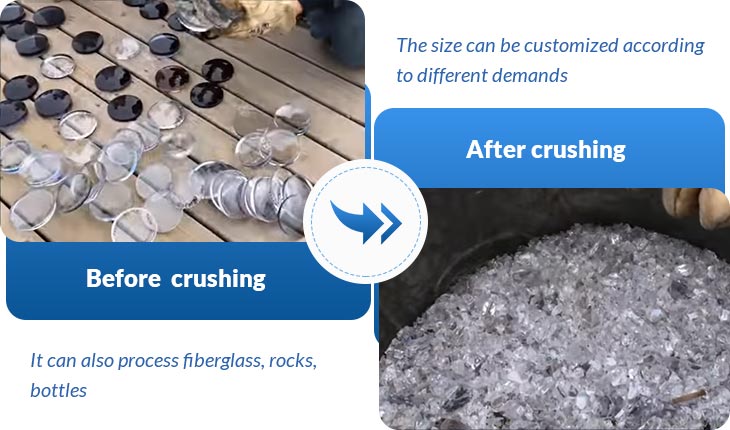 glass crushed by hammer mill
What reuse of the glass crushed by hammer crusher?
Glass is a commonly used substance in modern human life. It can be made into various utensils, flat glass, and other things, which cause many wastes. For the sustainable use of resources, it is possible to collect discarded glass and reuse it again. At present, there are several types of recycling of glass products: as a flux for casting, transformation, and utilization, re-refining and recycling of raw materials. Crushed glass can be used as a flux for casting steel and copper alloy through covering the melt to prevent oxidation.
Transformation and utilization
Transformation and utilization is a recycling method that needs to be developed urgently. In the future, there will be many new technologies that can bring value-added for transformation and utilization. After the pretreated cullet is processed into small granules of glass, it has the following uses:
(1) The use of glass shards as a combination of pavements has been proven in the United States and Canada for several years. The use of shards of glass as a filler for roads has the effect of reducing the lateral slip of the vehicle compared to other materials and the reflection of light is appropriate. What's more, good wear condition established by the material including glass makes the snow melt quickly so that the crushes glass is suitable for a place with low temperatures.
(2) Mix the pulverized glass with building materials to make architectural products such as building prefabricated parts and building bricks. It has been proved that the products which are formed by press molding with organic materials as binders have high dimensional accuracy and strength, and low production cost.
| | | | | | |
| --- | --- | --- | --- | --- | --- |
| Mesh | Hardness | Profile | Formula | Application | Price/ lbs |
| 40 – 70 | 6 | 1 – 2 mil | Med/Finne | Automotive, fiberglass & hobby | 28.99$/50lbs |
| 30 – 70 | 6 | 1.5 – 2 mil | Medium | bridges, tanks, steel | 27$/50lbs |
| 20 – 40 | 6 | 2 – 3 mil | Medium/Course | construction and fabrication | 9.5$/50lbs |
| 10 – 20 | 6 | 3+mil | Coarse | paint and heavy rust, shipyards and steel beams | 15.95$/50lbs |
(3) The pulverized glass is used to make building surface decorations, reflector materials, arts and crafts and clothing accessories, which have beautiful visual effects.
(4) Mixtures of glass and plastic waste with building materials can be made into synthetic building products.
Re-construction of the furnace
After pre-treating the recovered glass, it is returned to the furnace to produce a glass container, glass fiber, and the like.
Recycling of raw materials
The recovered cullet is used as a raw material for adding glass products because the proper amount of cullet is added to help the glass melt at a lower temperature.
At present, the recycling range of glass bottle packaging is mainly for low-value large-volume packaging glass bottles. Such as beer bottles, soda bottles, soy sauce bottles, etc.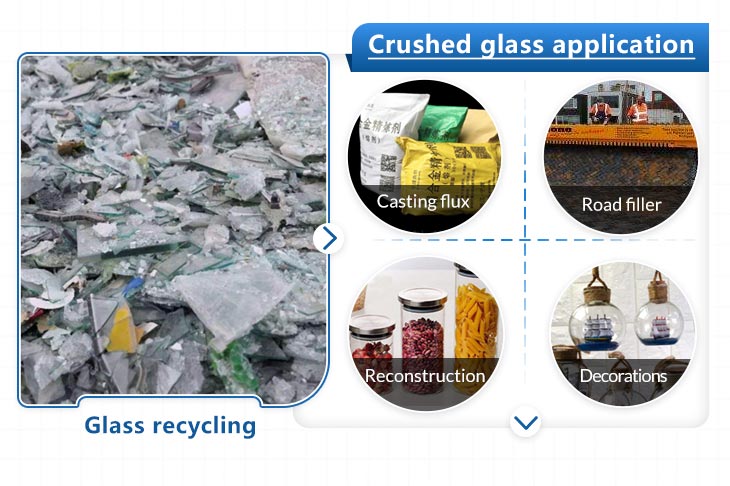 many fields need different glass products
If I want to crush glass, where to buy a hammer mill?
16″x12″ hammer mills breaking up hard fiberglass shower stalls for recycling. The unit is powered by a 15 hp 3 phase motor. Bar discharge grate spaced at 2 mm. If you want to buy one of them, China HXJQ has different kinds of hammer crusher for selling. The machine discharge a screen can be adjusted so that it can give you the various sizes of materials that you want.