With the continuous development of the economy, the development of China's crusher machine industry has also been driven by domestic and foreign crusher demand. Among them, hammer crusher is one of the widely used crushing equipment in the mining industry.
With excellent improvement and advanced structural design, the portable hammer crusher can realize coarse, medium and fine crushing conversion. This kind of crusher machine has strong flexibility and high production efficiency, constantly integrating into new technical concepts and processing techniques.
In the construction of large sand and gravel aggregate production lines, the heavy hammer crusher for sale is widely used because it can easily handle various medium hardness and building materials. More than 40 years of crushing experience in the production of various stone has enabled HXJQ Machine to accumulate a wealth of market research and development and technical experience, laying a solid foundation for the development and manufacture of the hammer crusher series.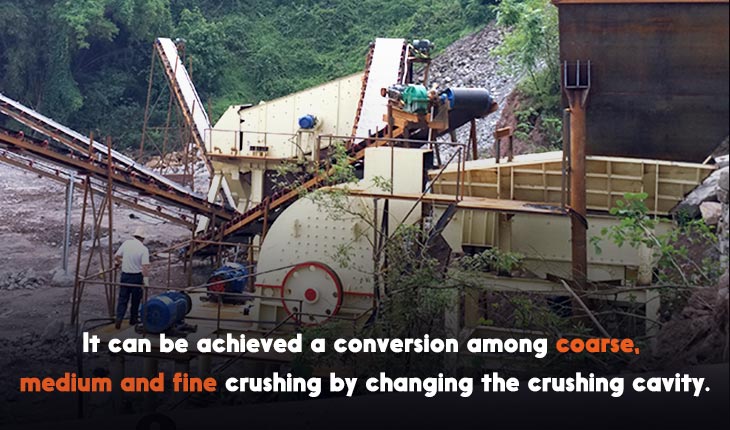 On this basis, HXJQ Machine combines the actual demands of customers and the characteristics of materials, independently developing the PCZ series hammer crusher equipment with unremitting efforts, which achieves good market response in practical applications.
Once the crushed stone is formed, there is no need for two-stage crushing. This is the PCZ heavy hammer crusher. Based on the original hammer crusher, it has absorbed foreign innovative crushing technology and combined with the production needs of customers at home and aboard. HXJQ PCZ heavy hammer crusher can achieve a production capacity of 3,200 tons one hour.
The application of this PCZ heavy hammer crusher is even better. All medium-hardness stone materials with compressive strength ≤200MPa such as limestone, bluestone, marble, granite, sandstone, and pebbles can be crushed with its large crushing ratio, which is a good choice for a rock crushing in industrial sectors such as mines mining, metallurgical industry, chemical industry, and highway construction.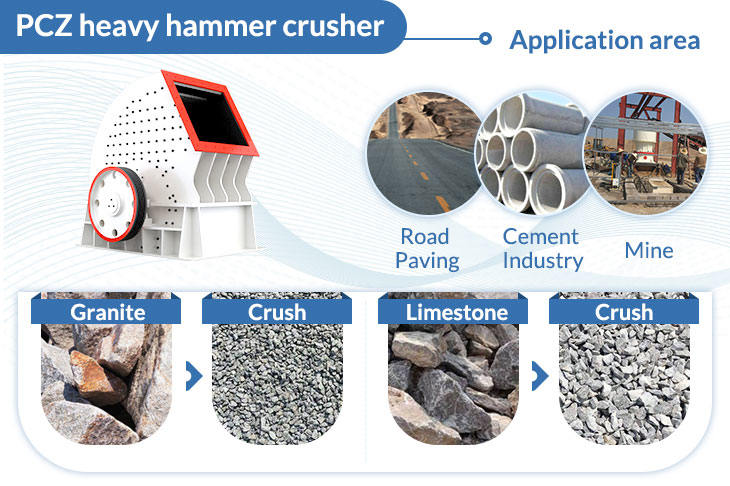 PCZ heavy hammer crusher has a wide range of material processing
Advantages of HXJQ PCZ heavy hammer crusher
Reduce equipment investment: with a large production capacity,  the PCZ heavy hammer crusher can crush more than 3000tons one hour, which can replace two crushing machines with low production capacity.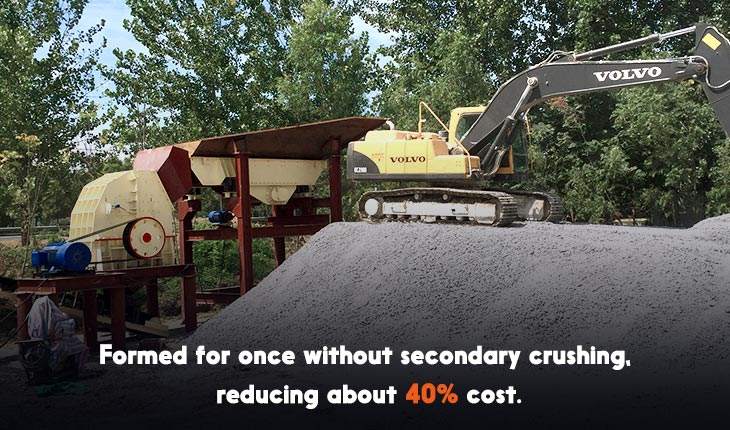 Production advantage of heavy hammer crusher 
Ultra-low energy consumption: The energy consumption of the PCZ heavy hammer crusher can save 30% energy compared to the common crusher machine with the same production capacity is reduced by 30% compared with the normal crushing equipment, reducing by 300 yuan electricity cost per day.
High-chromium steel body: HXJQ PCZ heavy hammer crusher is made of high-chromium steel with pressure and wears resistance. The combination of steel and iron has a compressive strength of about 200 MPa. The main parts have a long service life, thus reducing the replacement rate.
Uniform particle size: The finished product of the heavy hammer mill presents non-needle shape instead of smooth shape, multi-angle design increases the pressure resistance, forming uniform particle size and high service rate. Both wet and dry materials can be used: the heavy hammer crusher uses a sleeveless bottom, which does not require moisture content of the material and does not block the sieve.
High production yield: PCZ new hammer crusher has a large particle size, high crushing ratio, and the processing capacity being between 100-3000t/h.
Low energy consumption: Without the necessity of secondary crushing, it can effectively reduce equipment input cost by about 40%, which has low energy consumption and low investment.
Green production and environmental protection: several advantaged design of PCZ heavy hammer crusher: sieve plate design, less dust generation, low operating noise, sealed production, 99% effective crushing area.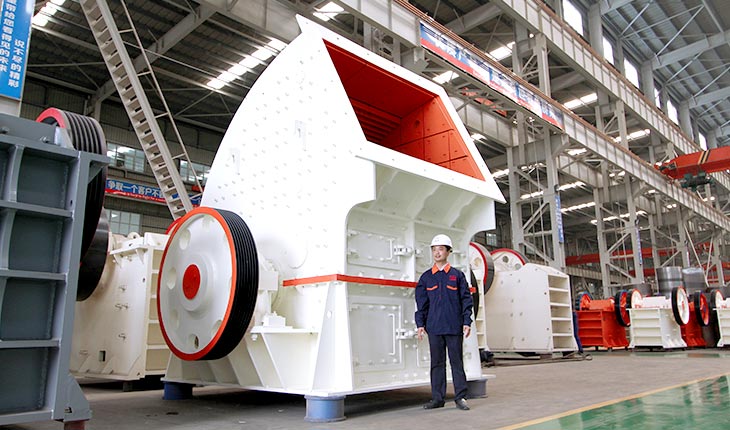 HXJQ PCZ heavy hammer crusher has a high yield, reaching 3000TPH
Different types of HXJQ PCZ heavy hammer crusher
Compare the parameters and choose the heavy hammer ore crusher that suits you. Generally, the more choices are PCZ1610, PCZ1615, PCZ1720. Why? Because many customers who choose the PCZ heavy hammer crusher mainly for its high yield. Among those three types of heavy hammer crushers, the first two have medium yield, while the latter one is used by large mining equipment.
Model
diameter
length
(mm)
Feed
length x width
(mm)
Feeding size
(mm)
Capacity
(t/h)
Power
(kw)
Total weight
(t)
PCZ1308
1300×790
910×890
≤400
100-160
132
2880×2130×2390
PCZ1410
1400×1000
1020×750
≤500
180-230
4P   160/2×90
2830×2100×2485
PCZ1610
1600×1000
1150×1000
≤600
260-350
132×2
3370×2415×2750
PCZ1615
1600×1500
1400×1000
≤600
380-550
200×2
3370×2925×2750
PCZ1716
1700×1600
1640×1300
≤650
600-850
250×2
3520×3000×3210
PCZ1720
1700×2000
1980×1300
≤650
700-1000
400×2
3670×3390×3330
PCZ1920
1900×2000
1850×1600
≤800
900-1500
500×2
3729×3300×4450
PCZ2225
2200×2500
2100×2300
≤1200
1500-3000
1250
4620×5380×4780
Price for Hongxing Machinery PCZ hammer crusher
What is the price of PCZ heavy hammer crusher? The price is one of the cores of the user's purchase desire, and you may think that buying this kind of high-yield crushing machine maybe lead to a high price. In fact, it is not. PCZ hammer crusher machines have a simple structure and mature workmanship, so the cost of the crushing equipment will be not too high while ensuring the quality of the equipment.
If you want to buy a cheap PCZ hammer crusher, we must first know clearly what factors affect the price of the crushing equipment, there is a specific analysis in the following:
Technology cost input: The higher the technical content, the better the PCZ hammer machine crushing performance, which brings higher economic benefits. However, the cost of talents and technology will be higher, so the price is also higher than ordinary crushing machines.
Labor cost investment: the more exquisite workmanship, the better the quality of the crushing equipment. If some parts are hand-built, it will cost a lot of labor costs, so the price will be higher, but the industrial value it brings can not be underestimated.
Material cost investment: the better the material used in manufacturing equipment, the quality of hammer crusher equipment will be more solid, so the cost will be higher. In this way, hammer crusher service life will be longer than the traditional crusher 3 – 5 years or more.
Market competition situation: The more competitive the manufacturers, the higher the price of crushing equipment will be. For example, the distribution of crushing manufacturers is concentrated in Henan. In order to attract customers' attention, manufacturers must start from the price point, adopting a low-cost sales strategy.
Manufacturers expect profit: the expected profit value of each manufacturer is related to the price of PCZ heavy hammer crusher, the higher the expected profit, the higher the price will be; on the contrary, some large manufacturers have a fixed profit value, so the price will be lower.
Different specifications and models: the equipment has a variety of different specifications and models, including PCZ1310, PCZ1610, PCZ2018, etc., their feed granularity, machine weight, motor power, processing capacity, etc. are different, so the price is naturally different.
According to the market research and analysis, the PCZ heavy hammer crusher designed by HXJQ Machine is very economical in terms of quality, performance, and service, and it is cheaper than other manufacturers of the same size and the same type of equipment. Part of the reason is that the HXJQ crushing equipment belongs to factory direct sales, and there are standardized R&D and production bases.
Therefore, there is no cost waste and intermediate circulation costs, so the price is relatively affordable. Another reason is that the crushing equipment sales of HXJQ are large. The profit value is relatively low, so the market price is lower.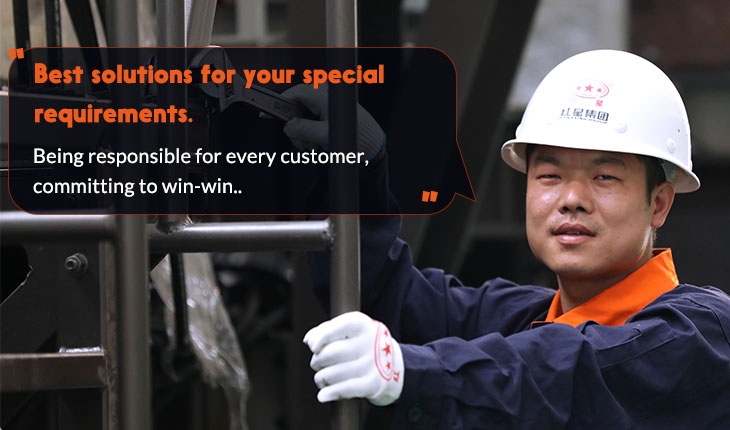 HXJQ Machine Purchase Service:
Before the purchase: one-on-one sales staff selection guidance, technical support.
Being purchase: contract signing, on-site test machine, 32 items of equipment inspection.
After purchase: installation in person, one-year warranty, daily equipment maintenance, maintenance, return visits to customers.
Our service commitment has never been a simple slogan, but culture and philosophy that roots in HXJQ. More than 40 years of crushing equipment production experience, constant innovation, and constant new breakthroughs contribute to creating more ingenious crushers, achieving win-win with customers at home and aboard!