Since the second half of 2018, strong signs of life in the world economy has stopped abruptly due to intense trade conflicts. Slower economic growth of Brazil and Eurozone caused severe influence on developing economies whilst mining products suffered sharp decline from rapid recovery,  which set an huge obstacle before  mining capital market. Most of developed countries loosened regulations on mineral resources policies coupled with higher returns pursued by developing countries on development of mineral resources. The future of global mining can be foreseen in 2019 to face two challenges caused by trade protectionism and resource nationalism.
More than 80 kinds of minerals are widely used in the world, nine of which are characterized by large output value and high global trade volume, mainly including iron, copper, bauxite, lead, zinc, nickel, phosphate, tin, and manganese. 70%-75% of world's resource exploration obviously concentrates on no more than 10 countries particularly in a few industrialized countries like two world mining giants—Russia and America, as well as secondary miners—Australia and South Africa. Besides, developing countries with large scale and excellent mining industry are China, Chile, Zambia, Zaire, Peru, Mexico, Brazil and Argentina.
Slower world's economic growth, sharp decline on metal price
Hurt by intensive trade fractions, world major economy shows slower growth, casting the year of 2019 into a shadow. The World Economic Outlook report released by IMF in October 2018 showed that in the third quarter of 2018, Brazil, the Euro Zone, Japan, Canada were caught in sharp economic decline, and the worst one is Japan dropping its GDP growth rate only to 1.1%.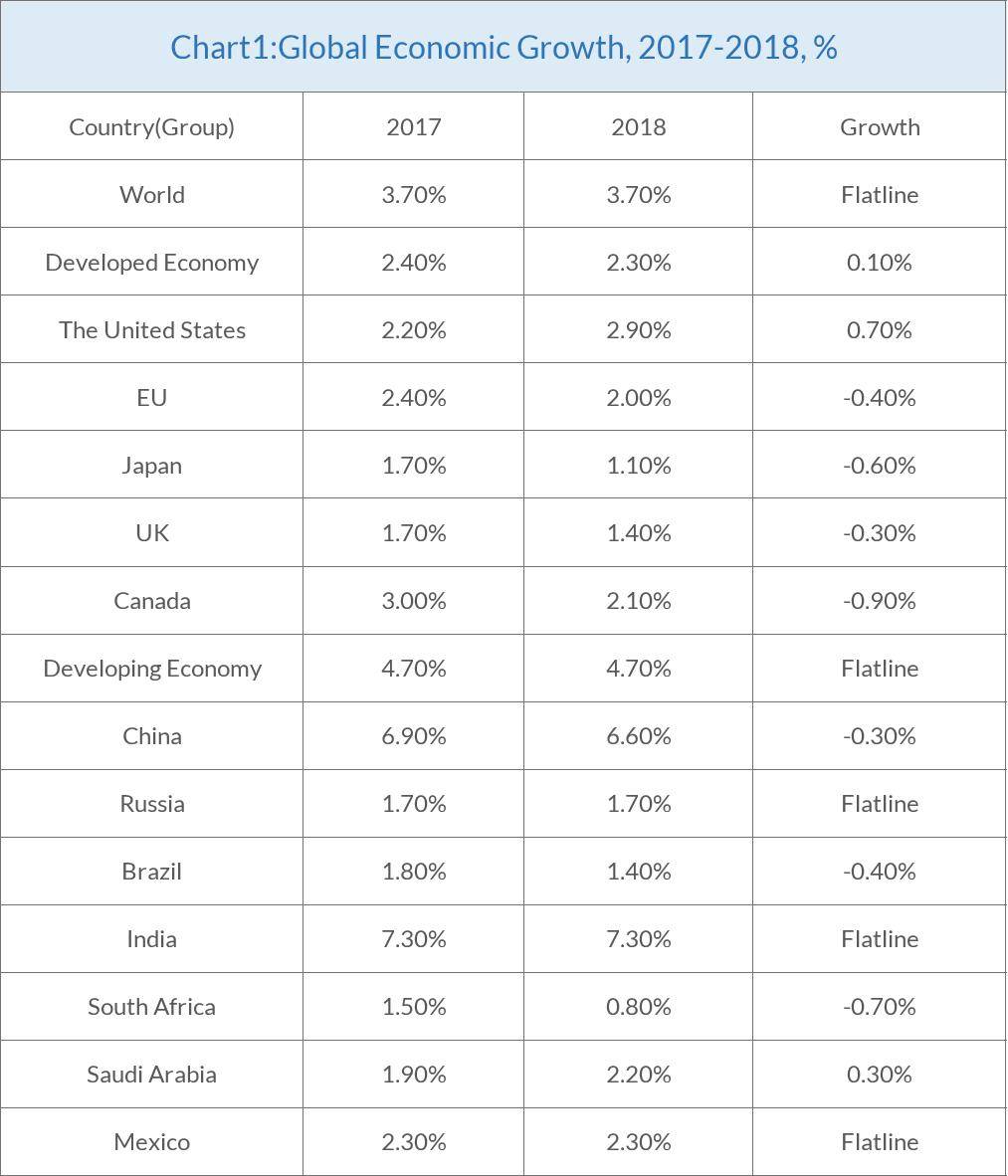 Note: data from Looking-forward Industry Institute
This depressed global trend disturbed the market of world mineral products in 2018, hitting a new high price while during the second half of 2018,  the decline of  the price resulting from escalation of trade conflicts could be seen  gradually. Taking copper as an example, it had been hitting a new high of $7348/t in four years since June 2018 but fell from the second half of the year down to the lowest point of $5773/t with a drop of 27% as well as the same trend to aluminum, lead, zinc, nickel and tin, etc.
Enterprise business benefits rebounded But growth rate declined
After a few years of sharp falling in mineral products, the global mining industry is picking up again. Since 2017,  the world's top ten mining enterprises have greatly increased their total operating income, creating growth  even by 30%  during the whole year. In addition, only in the first half of 2018, those companies had made their returns higher than half of the full year of 2017 while the year-on-year growth rate is down by half compared with that in 2017. When it comes to profit, the total net profit of the top ten mining companies in the first half of 2018 reached 18.93 billion US dollars, slightly higher than half of the previous year but the growth rate less than 1/5 of the last year. Among them, BHP, Billiton, and Vale's net profit declined sharply, which mainly was triggered by loss of Canadian Gold Company.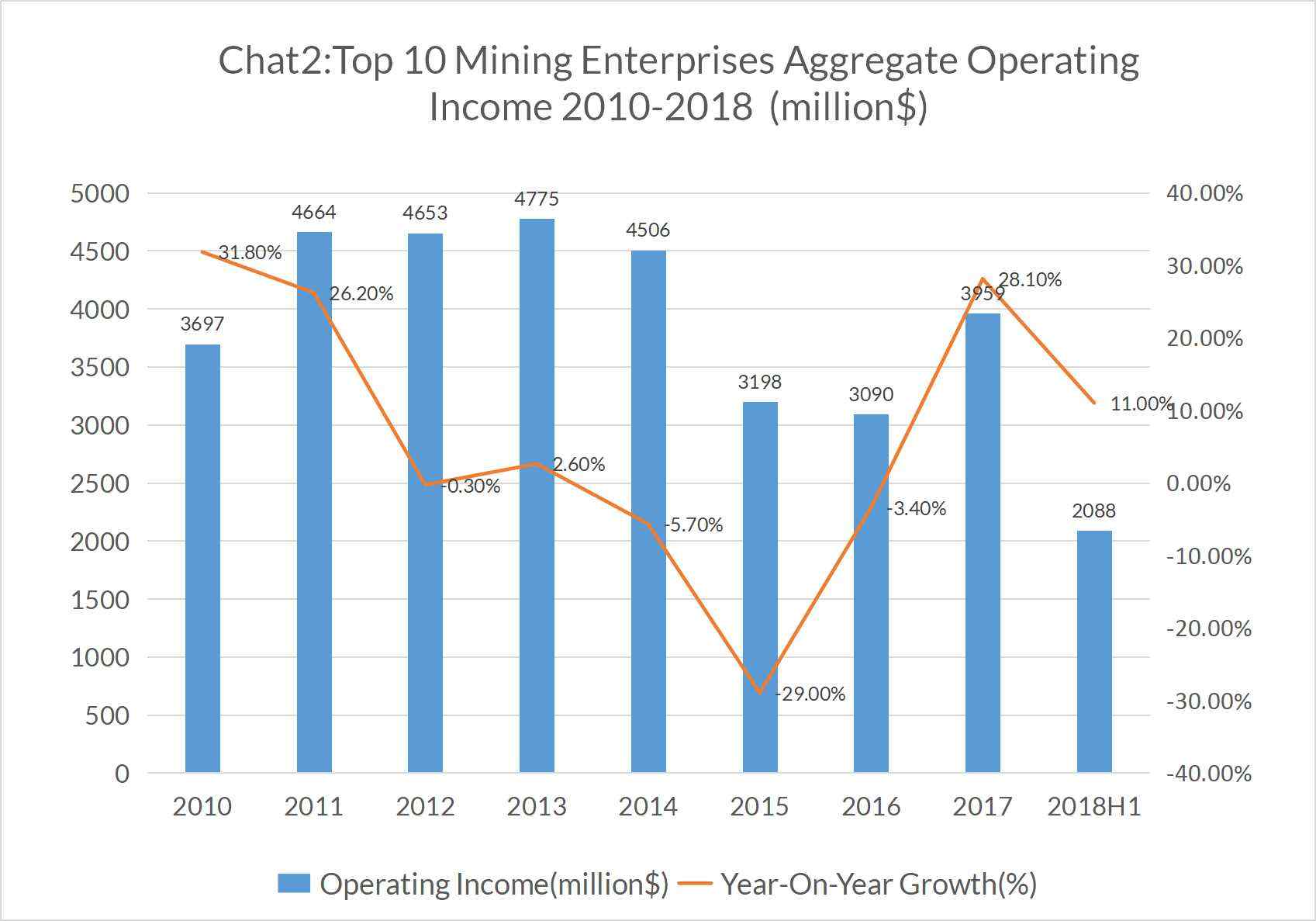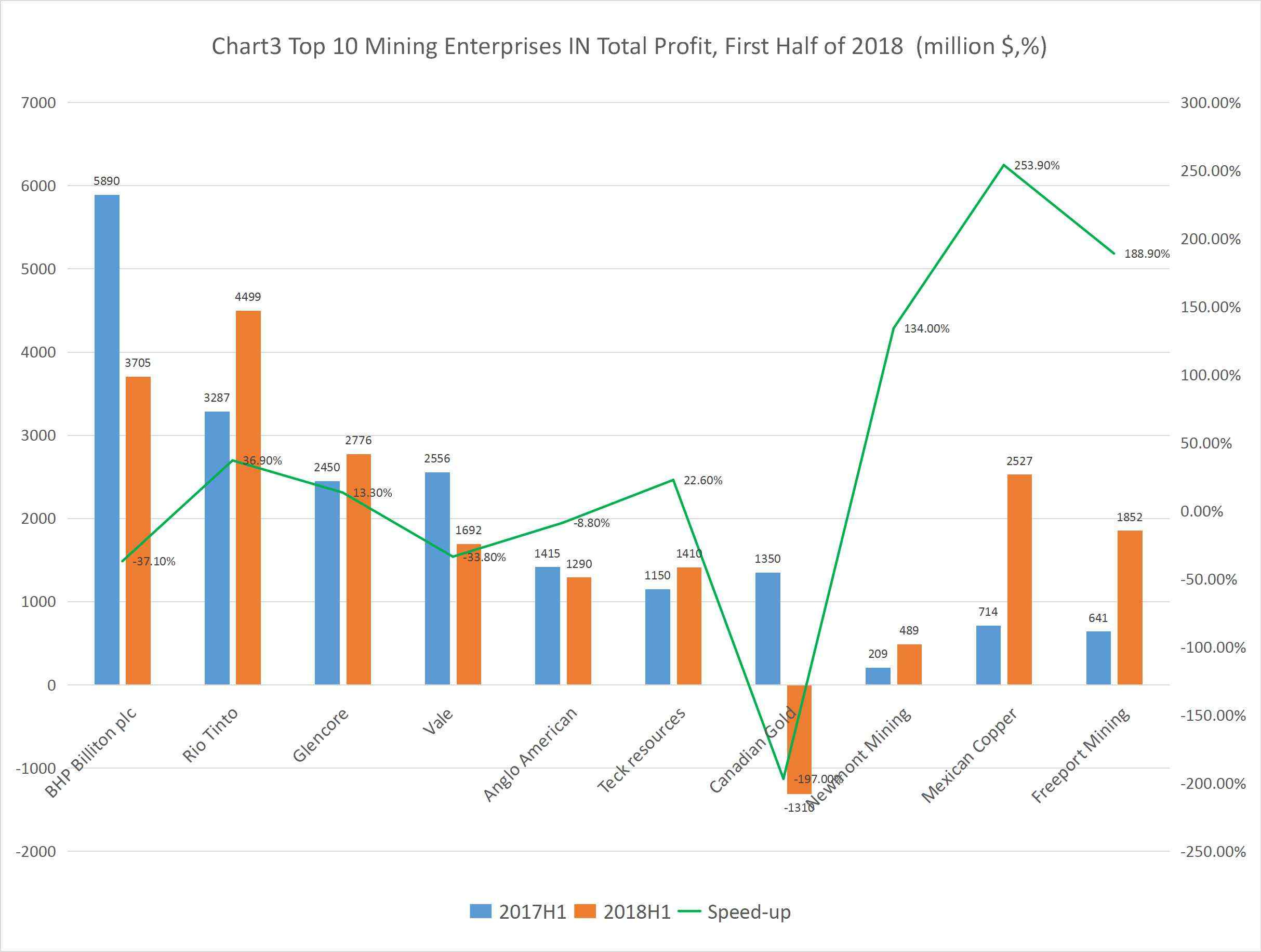 Note: data from Looking-forward Industry Institute
Significant progress was made in global exploration in 2018. At the end of the year, the Australian Mine Information Network ranked the top ten drilling achievements including Mount Magnet (Australia), Fmsterville, Kundana, Dalgaranga, Patterson Lake South(Canada), Rook No.1, Windfall, Manono lithium mine(Democratic Republic of  Congo), Syama(Mali) and Kainantu(Papua New Guinea). More than half of the above projects are gold mines especially in western Australia where conglomerate-type gold mines have become the focus to mining companies in addition to unimaginable high gold grade in western Australia such as Beta Hunt.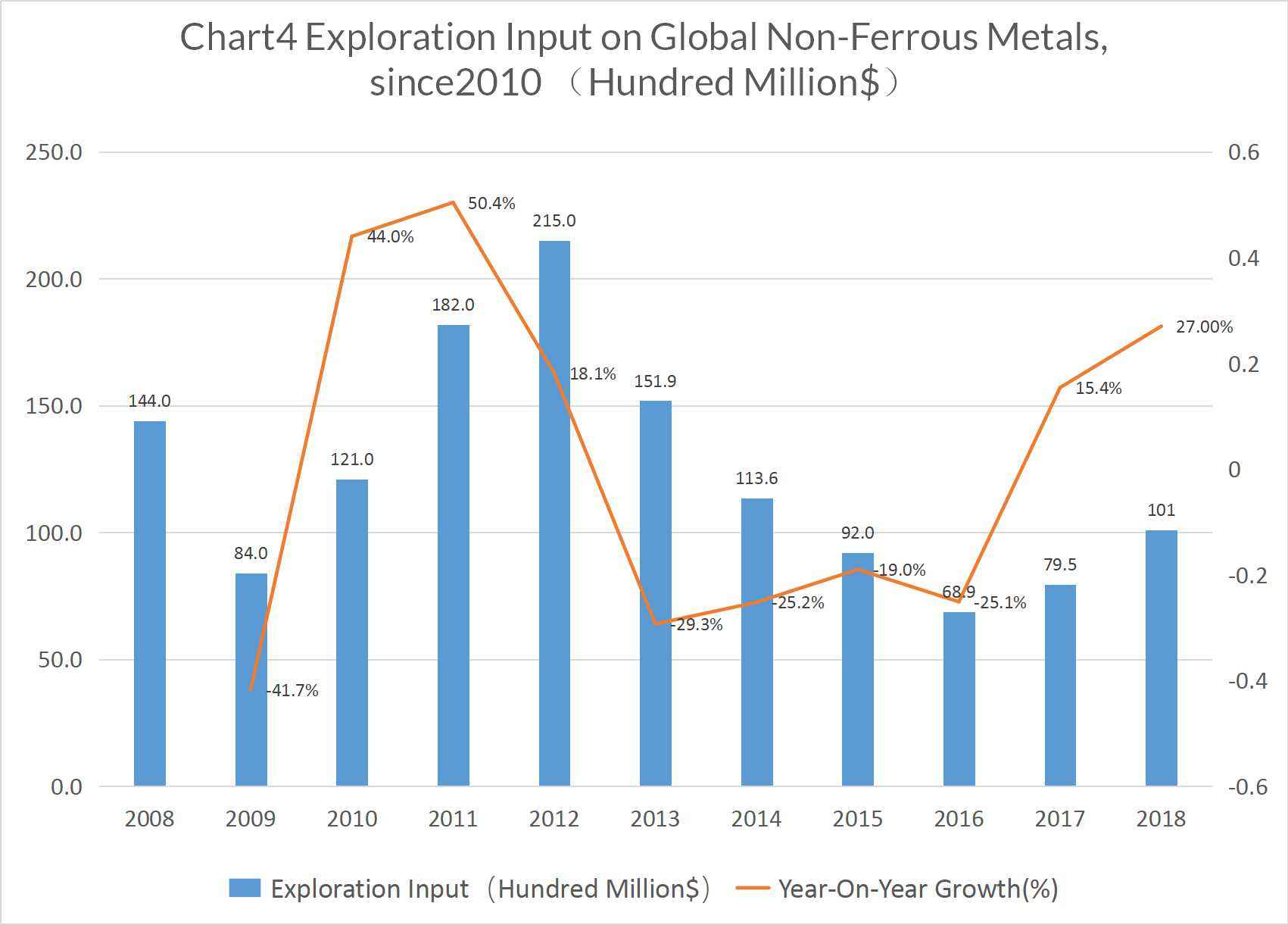 Note: data from Looking-forward Industry Institute
According to various situations of different regions,  a hot exploration would be continued by Latin  America, Europe, Asia, Canada and Australia, in which Latin America would still be the hottest spot for global mineral exploration investment and its total budget for 2018 increased 18.6% compare to 2017, reaching $2.83 billion, accounting for 28% of global exploration investment. Being the three countries with the most concentrated investment budgets, Canada, Australia, and the United States achieved rapid growth of 36%, 37%and 43% separately.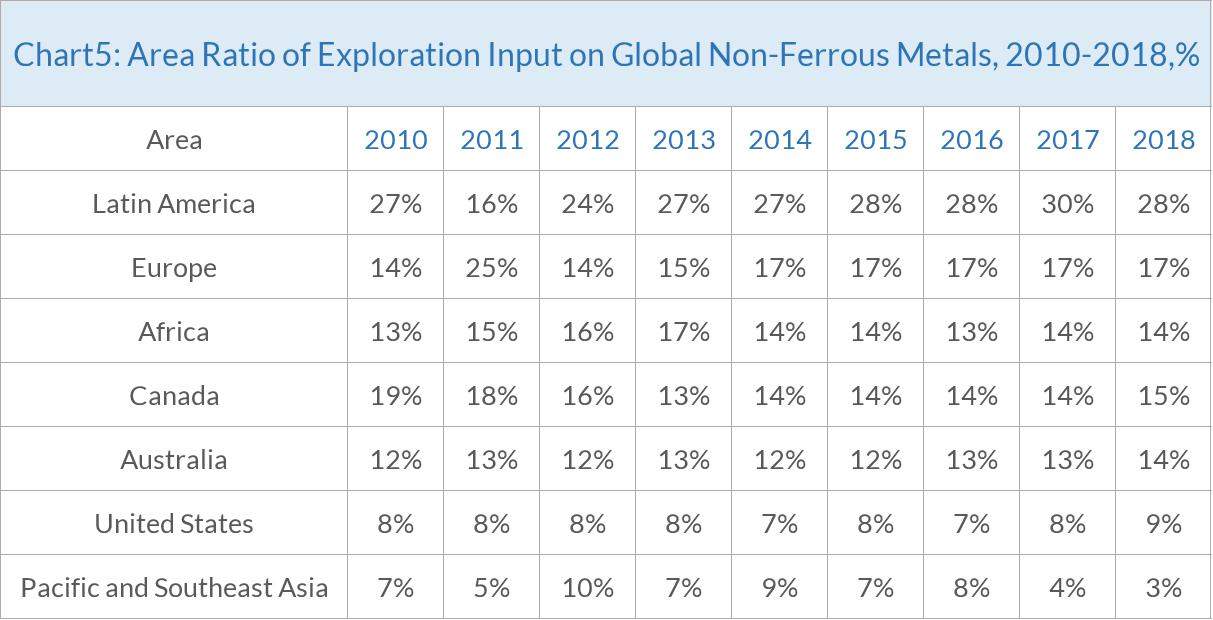 Note: data from Looking-forward Industry Institute
With active merges and acquisitions in global mining, financing difficulties have turned for the better at the end of the year. The data released by Standard & Poor's shows that the global mergers and acquisitions in the metal and minerals sector involved a total amount of 90.52 billion US dollars, an increase of more than 40% compared with 2017. It is expected to be close to 100 billion US dollars for the whole year, hitting a new high since 2013. In the year of 2018, the M&A of global non-ferrous metal minerals industry created 53.3 billion US dollars, 10% more than the growth of 2017. What's more, the giant mining enterprises like Rio Tinto will go on their adjustment of business layout and keep the coal price high, which were the major drivers of M&A in the past two years.
At the beginning of 2019, what is noticeable is that "Dr. Copper" becomes the brightest  star who always make a brilliant appearance in various countries. LME copper has accumulated more than 10%, and the main contract of Shanghai copper futures also obtain 5% growth. On February 19th, the Supreme Court of India withdrew an order from the Environment Court, which caused the fail of Vedanta to reopen its copper smelter in southern India. The news made a rise by 4.06% of copper price in just one week, breaking through the previous period of 6000 US dollars/ton-6400 US dollars/ton, stimulating the copper price expectations.
Maybe the rise of copper price indicate the improvement of economy. And being the important positionth, copper is widely used in the fields of electricity, light industry, machinery manufacturing, construction and defense industry. The demands of copper is also regarded as one of the benchmarks that directly reflect economic trend, easily influencing the price once something happens to the real economy. Experts pointed out that the rise in copper price this year would bring confidence to regroup the global economy and the rise of copper, nickel and zinc may demonstrate the end of  falling demand even expectation of higher price. Cautious expansion, protection of the environmental bottom line and prevention of overcapacity are the important things we should do.
Besides, more and more countries gradually focus on their strategic mineral resources especially in developed countries like America and EU who have established key mineral catalogs, relaxed policy restrictions, and expanded domestic supply. Congo(DRC) and Zambia did the same  thing even have increased the mining equity ratio. Other related measures and regulations drive  industries particular in mining machinery industry to transform and upgrade because it is vital  to the development and utilization of non-metal and coal resources in many countries. The advancement and modernization of the mining machinery industry reflect the stage of industrialization of the country, determining the level of scientific mining resources development and utilization,  playing an important role in national economy.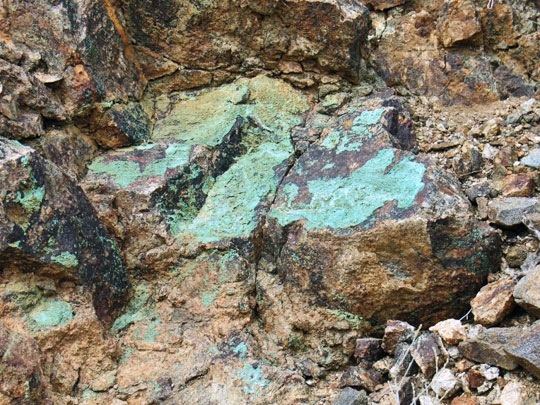 Note: picture from wickenburg-az.com
The way to make successful changes comes from two directions: The first one is to mechanize and automatize equipment and to enhance the efficiency of equipment. Second is the need for environmentally friendly equipment. By means of various advanced technologies to implement renovation in manufacturing models, resources, process and organizations,  products in the whole procedure create minimum pollution, finally achieving coordination between business returns and social benefits. Nowadays, efficient, zero-pollution fuel and electricity driving equipment is the most popular, in addition, geothermal energy as a green and renewable resource has well utilized by developed countries. The development of crustal thermal energy and the recycling of solid resources expands the service sector for mining equipment which is heading for digitization, intelligence, ecologicalization and comfortbility under the support of computer technology, the promotion of the market demands and harmonious development between nature and human.
In the coming year of 2019, trade protectionism and resource nationalism will continue to be important factors hindering the development of the world economy and global mining industry. But if trade conflicts could be alleviated, the global economy will pick up the good momentum again, stimulating faster growth of developing countries, bringing increased demands of mining products and making gradually rebounding of investment in mining exploration and development. And this is the best situation we want to see.