A comprehensive explanation of sand making machine, with a combination of professional crushing technology and mechanical manufacturing, easy maintenance, and high crushing efficiency.

Hongxing Machinery sand making plant series
HXJQ sand making machine, also known as vertical shaft crusher machine, is a kind of high-efficiency gravel crushing equipment with high and new level at home and abroad, which is introduced into the crushing principle and technology of "stone" by Bamak Company in the United States, and combined with the actual situation of domestic sand making equipment production. At present, the model of sand making machine is mainly divided into three series of sand machines, such as HX sand machinery, VSI machinery, and HVI sand machinery. These stone crushers' function is more mature and advanced according to the sequence.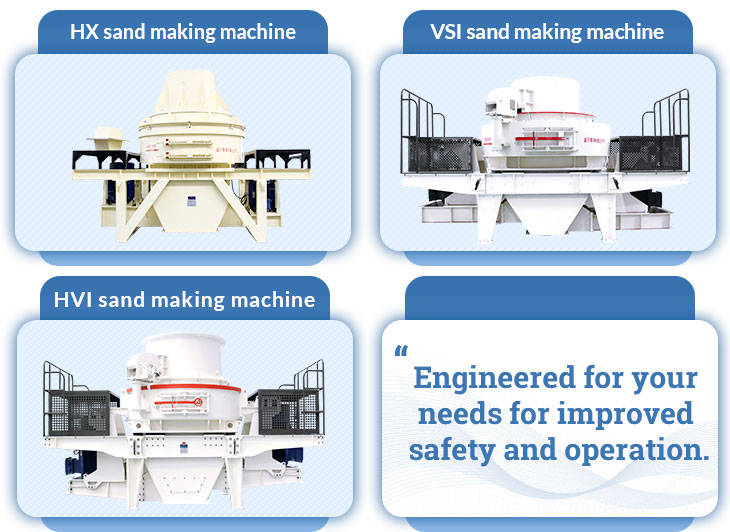 Sand making machine is widely used in many stone aggregates, all kinds of basalt, pebbles, marble, etc. And the processing effect of sand making plant is good, the grain shape of the finished product is beautiful.
Basalt is a dark, fine-grained volcanic rock that sometimes displays a columnar structure. It is typically composed of plagioclase with pyroxene and olivine. Some basalt rocks are made up of dense, black, homogeneous basalt, with no visible mineral grains, while some are igneous rocks. As we all know, China Hongxing basalt sand making plant can process stone material like basalt into the fine aggregate.
The application of basalt sand making machine price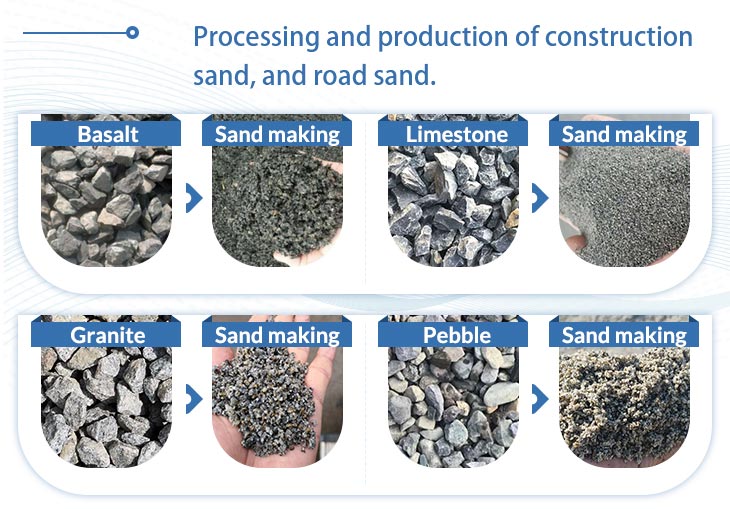 The materials that can be processed in several modes of HXJQ sand machinery
Hongxing sand making machine plant is widely applied to crushing various kinds of rocks(basalt, quartz, pebble, igneous rocks,limestone, dolomite, granite, etc.), abrasive material, refractory material, cement clinker, iron ore, concrete aggregate and other hard and brittle materials, fine crushing(sand machines). It is especially suitable for road and sand construction.
When making sand, the medium hard material with no more than 35 mm can be crushed into finished sand with less than 5mm; when used for shaping, the sheet-like material with not more than 35 mm can be shaped into a qualified material with a good grain shape; therefore, the stone material is widely applied to the river and gravel stone, the mountain stone, and the ore tailings, the artificial sand-making of the stone chips.
Note: In addition to the fixed sand making machine, China Hongxing company also produces on-board sand making machine, which can carry various types of fixed sand making equipment according to the needs, and there are dozens of models and specifications to choose from.
On-board sand making machine, high configuration, high-efficiency operation, and high quality.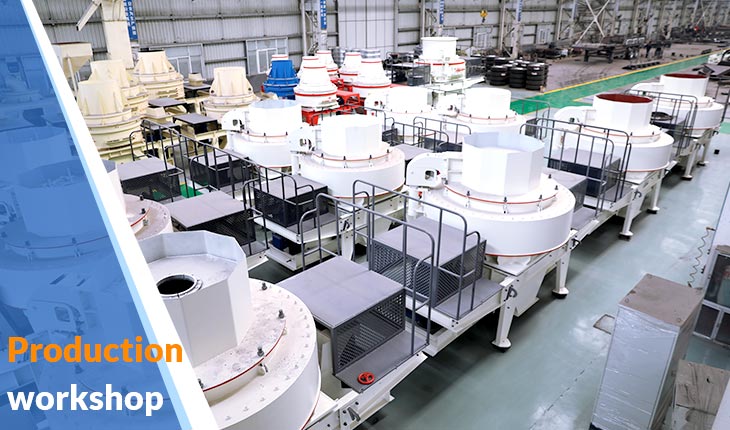 The large-scale display of the China sand making machine workshop, welcome to Hongxing Machinery to test the machine.
Artificial sand making machine set in Indonesia site
Indian customer Smile Keakile selected China Hongxing VSI sand making machine for his sand production line, and he adopted both efficient and environmentally friendly artificial sand making way for treating basalt.
The VSI sand making production line has the reasonable layout, small area, cost-effective investment, environmental protection, less dust pollution, energy-saving, and high efficiency, and the finished sand grade is reasonable and the particle size is uniform. These VSI sand machines are recognized by customers, which makes users very concerned. The following is the beauty of the customer's scene:
 How does the sand making machine work?
The series HX vertical sand making machine produced by Henan Hongxing sand making machinery manufacturer is composed of seven parts: feed, distributor, vortex crushing cavity, impeller, spindle assembly, base transmission device and motor.
When the material falls into the feeding hopper and are put into the high-speed rotating rotor, after that, the sand materials are thrown out by the emission opening, and they are firstly impacted with a part of the materials which are free to fall after the rebound, and then the materials are impacted to the vortex-like material lining (or the impact crusher block) in the surrounding vortex cavity together.
The materials are firstly rebounded to the top of the crushing cavity, then the back deflection moves downwards, and the materials which are emitted from the leaf rotating way would be impacted to form a continuous material curtain, and finally are discharged through the lower discharging port.
Feedback  of Indonesian Customer Who Purchases Sand Machinery 
Our customer is very satisfied with HXJQ sand making machine
I ordered the HVI sand making machine of Hongxing Mining Machine Co., Ltd. in 2016, the sand making machine not only has the high quality, and the failure rate is nearly zero, the fineness of discharging is uniform, the efficiency of the whole machine is improved by 25%, and is completely my ideal sand making machine.
Characteristics of VSI sand making machine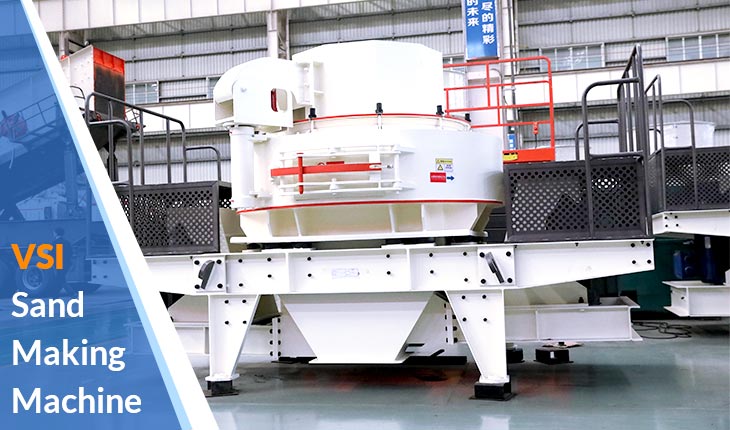 VSI series sand making machine, full of high quality, low price, high performance, uniform and beautiful grain type.
The sand making machine produced by HXJQ company is a new type of fine gravel equipment developed in the 1990s, and continues to upgrade and improve the structure in the development of the times. It is widely used in the world to replace the hammering machine, roller machine, and ball mill.
HXJQ Machinery sand making machine has a good reputation in the market, this is because our sand making machine has the characteristics of simplicity, high productivity, comprehensive facilities, convenient automation and so on. In sand machinery production, the quality of sand aggregate produced by HXJQ Machinery is also better than that of other sand making machine manufacturers. In terms of the quality of the sand making machine itself, the service life of our sand machinery also has great advantages.
High-efficiency sand making equipment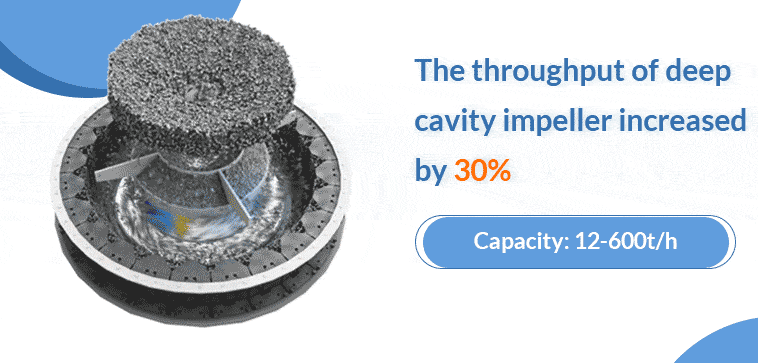 HXJQ sand machinery production capacity tends to be 12-600 TPH
The impeller cavity is deep, the stone throughput is increased by 30%, and the output is large, and it has a certain shaping effect. The finished sand grain is of good shape, and the fineness modulus is adjustable.
Durable and easy to maintain
The core parts of basalt sand making machine are carefully built, more durable, 1.5 times longer, at the same time, the hydraulic cover can be opened, more convenient for customers to check, repair, and daily maintenance.
Multiple crushing standards of China HXJQ sand machinery
The basalt sand crushing principle of "stone" is adopted, which covers a small area and is simple to make fine sand. The combined throwing head, which reduces the cost of use by 30%.
Green environmental protection, more energy saving
The airflow in the vortex cavity is self-circulating, the work is less dust, the noise is low, at the same time, the dynamic energy is sufficient, and the electricity bill is saved nearly 50,000 yuan per year.
Excellent impeller structure cost and design
The excellent impeller design of sand making machine greatly reduces the resistance of the material, improves the material throughput and crushing ratio, has higher efficiency, better grain shape, and higher output.
Hongxing manufacturer sand making machine price for sale
China Hongxing, as one of the most popular sand machinery manufacturers, is specializing in the production of various types of  products, like new sand making machine, VSI series sand machine, fixed jaw crusher, impact rock crusher, cone crusher machine, hammer crusher for sale, roller crusher, HXJQ sand washing machine, vibrating screen, ball mill and so on, Hongxing company has obtained many certifications and patents.
There are so many crusher machines for sale in HXJQ Machinery, different types of machines have different prices. And high-yield crusher machine will lead to a higher price.
What's more, the Hongxing enterprise has also been newly introduced, such as, reasonable price, factory direct sales, and after-sales service are well received and welcome to our factory for a visit.