Kenyan customer Perry seeks for portable rock crushers
Customer Case about HXJQ mobile crushing machine
December 21th 2017, we treated a foreign customer, Perry, who is from Kenya, looking for a diesel engine stone crusher, the capacity of the crushing machine is one to three per hour, and the raw materials he wants to process are ballast, granite, and gravel for building.
Here are some detailed requirements from him, for example, the size of the stone is between 3 to 8cm, then the output size of the material is 3incu, or from one to two inches.
Of course, as the loyal employees of Hongxing Machinery, we recommended many types of crushers for him, such as the jaw crushing machine, impact crusher, cone crusher, hammer crusher equipment, mobile jaw crusher, portable rock crusher, portable impact crusher, etc.  Having learned about his demand, we chose the latest version of mobile jaw crusher being of high performance for him. Finally, he accepted our proposal and bought a set of mobile jaw crusher attached with cone crusher that day.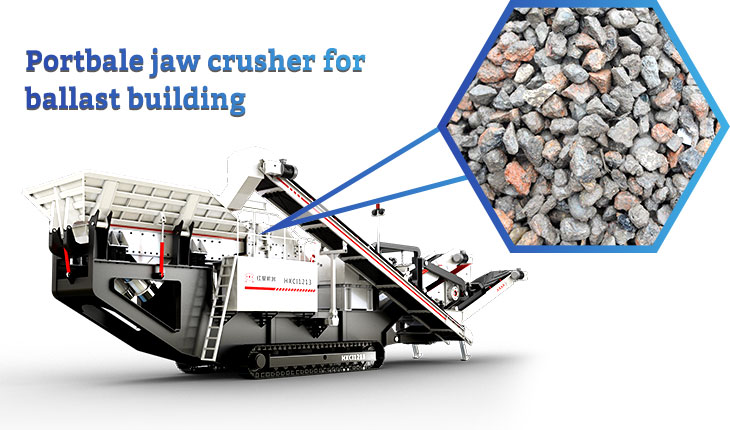 Ballast is a common track-type bed structure in railway transportation system, which is used as supporting track pillow. Mobile jaw crusher can process the ballast.
Besides, this kind of crushing equipment is both cost-effective and reliable. Mobile jaw crusher enjoys the feature with convenient movement, high quality, flexible match, environmental protection, energy-saving and other advantages in the market.
As is known to all the heavy machinery crusher manufacturers, we all learn that mobile jaw crushers price is different according to a different specification, in turn, the diverse mining industries have various needs and different productivity requirements. Science, mobile jaw crushers are widely used in the mining machinery market now. Therefore, China Hongxing would arrange the tailor-made mobile jaw crusher plant for customers.
Customer Site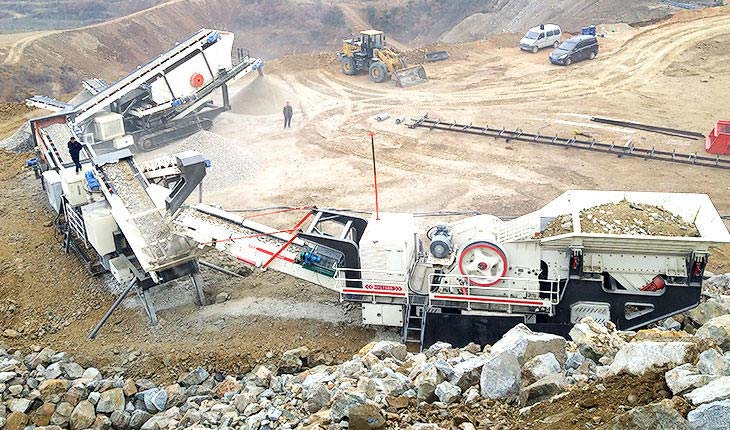 Mobile fixed jaw crusher in Kenya
March 16th, 2018 Perry' s company has arranged the mobile jaw crusher plant recommended by Hongxing Machinery in Kenya, then, the " Ballast and Gravel for Building" project was put into
practice.
Processing capacity: 200t/h
Maximum: 1500mm
Material feed particle size:1020mm
Processed material: ballast, gravel, and granite
Crushing equipment configuration: mobile jaw crushing and screening machine, belt conveyor, etc.
Customer Feedback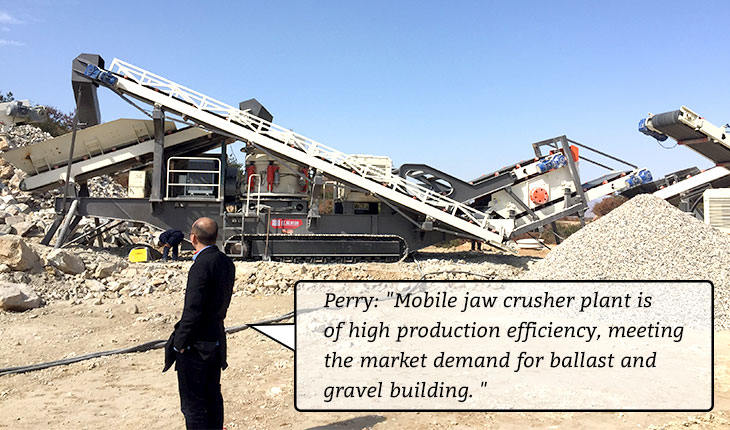 Perry is very satisfied with the mobile jaw crushing equipment plant
About one year later, we made research about Perry's product experience later, he told us that the mobile jaw crusher plant is of high production efficiency, meeting the market demand for ballast and gravel building. In a word, Perry was very satisfied with our mobile jaw crusher series and promised to buy portable rock crushers next time.
The rock crusher equipment leader_mobile jaw crushing plant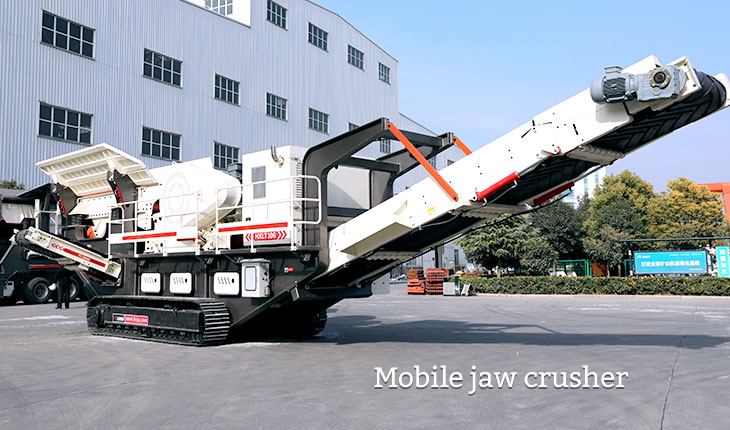 Mobile jaw crusher is widely applied as the primary crusher for different aggregate materials such as the gold ore, granite, concrete, rocks with different hardness. China HXJQ Machine provides customers with a series of mobile jaw crusher plant (also known as the portable jaw crusher plant or mobile stone jaw crusher machine)suitable for your specific application. Our jaw crusher machine plant enjoys the feature with durability and simple operation. In short, Hongxing mobile jaw crusher plant is considered to be one of the largest impact-crushing plants currently produced, as its size is in today's recovery and crushing.
What's more, the mobile jaw crushing station is one of the important crushing equipment in the mine crushing industry. The crushing host of the equipment of the mobile jaw crusher equipment is a kind of jaw crusher. China HXJQ Machine has designed crushing wear parts with high performance and low mobile jaw crusher cost of operation. The Hongxing Crushing Station has higher reliability and greatly improves the operation time. These characteristics are all derived from the fine design, and the exquisite craftsmanship is always a good foundation for sophisticated stone crushing equipment.
Besides, China Hongxing Machinery Manufacturing Co., Ltd. Produces the best crushing equipment according to customer's demand, which increases the production precision of this mobile jaw crushing station. HXJQ machine has rich technology and experience and provides hundreds of series of equipment for quarry and ore dressing plants at home and abroad. In addition, the usage of some jaw crusher wear parts in Hongxing Mobile Jaw Crushing Station effectively avoids the damage of crusher wear parts, which reduces the total cost of equipment life and improves the operation rate, energy-saving, and environmental protection equipment, which is very popular in the market.
More than 40 years of production experience makes HXJQ Machine outstanding in the same equipment field, Hongxing mobile jaw crushing station is a leader in the crushing station, the work efficiency is particularly prominent, which has been well received by customers at home and abroad. China Hongxing Machinery Manufacturing Co., Ltd. is dedicated to the development of mobile crushing station equipment with more exquisite technology.
Mobile jaw crushing machine–playing an important role in the aggregate mining machinery market. As we all know, the most critical stage in mining machinery is crushing, and the effect of crushing directly determines the utilization rate of ore. With the rapid progress of the construction industry, the demand for sand aggregate is increasing. It has greatly promoted the development of mining machinery, and the HXJQ Machine mobile jaw crusher, as one of the heavy machine in the mining machinery industry, has also been developed rapidly:
How to double the efficiency of a portable stone jaw crusher is the first choice equipment of each ore production line, the mobile rock crusher for sale is not expensive, but it determines the efficiency of the whole production line. Although the mobile jaw crusher cost is not expensive, it is much more cost-effective to use than to buy again. Do you want to know how to plan your mobile jaw crusher production plant and get the latest price quote?
Do you know the origin of mobile rock crushers?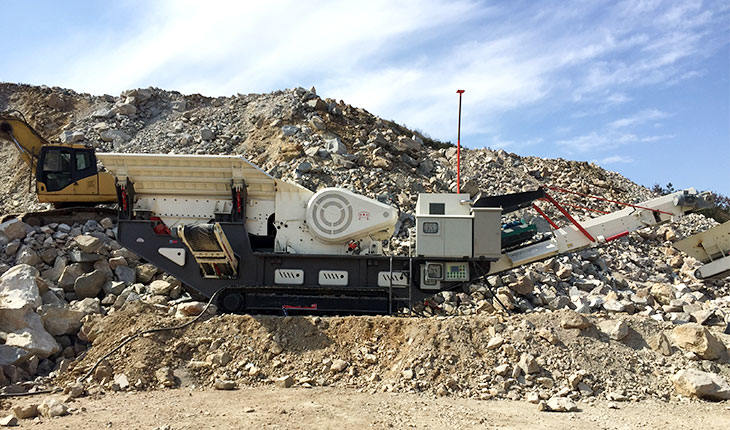 This set of mobile jaw crusher and screening crusher plant is full of high quality and large capacity
As is known to us, the host stone crusher of mobile jaw crushers is invented by the United States, Blake. Since the first crusher has come out, it has been more than 140 years of history. In this process, the structure is continuously improved. The portable jaw crushers have the advantages of simple structure, easy manufacture, reliable work, convenient manufacture, and maintenance, and it is widely used in the fields of metallurgy, mine, building materials, chemical industry, coal and so on.
Research and Development strength of stone mobile jaw Crushers
HXJQ Machine mobile jaw crusher provides higher productivity than other portable jaw crusher manufacturers in its grade. Using world-class manufacturing technology, the running state can be analyzed digitally, and the internal structure is accurate, which ensures the service life of the rock crushing machine.
China Hongxing provides you with a series of mobile jaw crushers suitable for your specific application. The whole line of portable jaw crusher plant is built for durability and simple operation. What's more, Hongxing Machinery crushing equipment is considered to be one of the largest crushing machine plant manufacturers at present.