It's no strange to everyone that reducing equipment is indispensable to beneficiation and gravel production line. The quality of the final products directly affects the interests of miners and manufacturers.
There are several factors affecting the particle shape:
Open and closed circuit cycle: the cycle can be divided into open circuit and closed circuit. The former means the process of crushing after screening. It also refers to primary crushed material being sieved firstly then into secondary crusher, which would improve the production but companies with more flat-elongated particles. While the later, process of screening after crushing, means that primary crushed material into the secondary crusher then being sieved. And the whole system of which is closed without material loss, creating large circulation load but fine-sized products.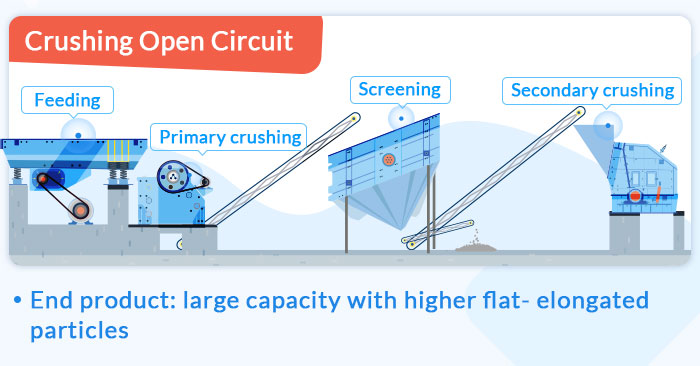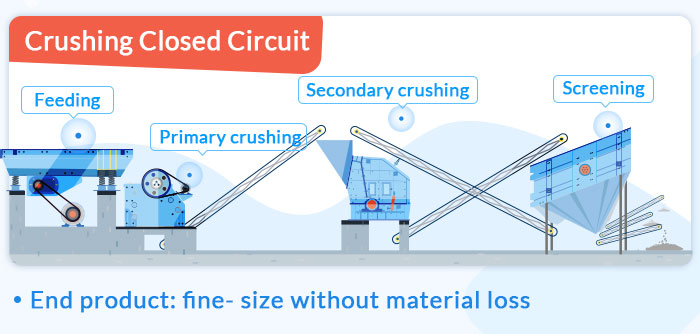 Reduction ratio: which means the ratio between feed size and particle size of the finished product. The larger the ratio, the larger the reduction ratio and vice versa. The large crushing ratio would increase the flat-elongated particles while too small ratio cutting the yield of the whole system, increasing internal circulation leading to severe abrasion of the crusher, worse economy and low production efficiency. Therefore, proper reduction ratio is very important during the whole process.
Feed particle size: according to the research, when the feeding size is reduced from 100mm to 50mm, the flat-elongated particles will drop drowning by 38%.
Circulating load: fine-sized finished products can be produced when enlarging the discharge opening and increasing the circulatory load in a closed cycle production process. Increased circulating load causes the wear of the equipment but enlarged discharge opening lowers a load of the main crushing motor thus getting a beautiful shape of final products.
If flat-elongated particles account for more than 15%, it will cause the linear increase of crushing value and the reduction of the usability of concrete during the crushing process. That shows that material with high flat-elongated particles cannot dominate the price and sales volume, directly affecting the economic benefits.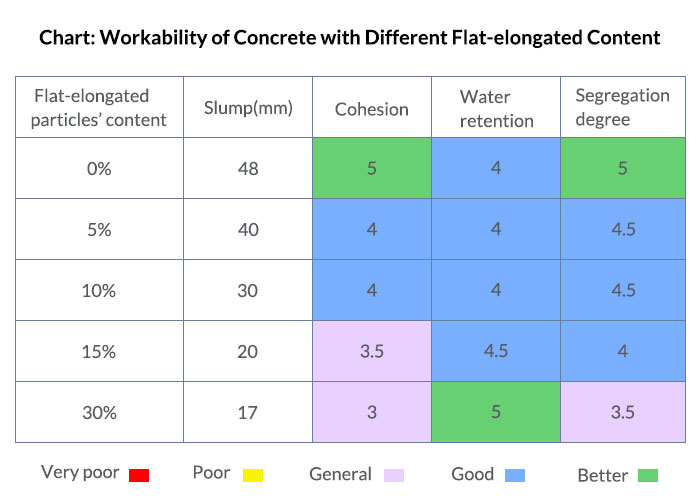 note: image from https://www.pavementinteractive.org/;
data from http://m.sohu.com/a/216552355_778958
How to reduce the flat-elongated particles?
Choose the proper model matched with a reduction ratio
Hard material with large or medium size is usually crushed by the means of reducing and impact crushing machines such as impact rock crusher, fixed jaw crusher, high strength roll crusher.
Abrasive material is generally squeezed and the surface of the crushing parts is smooth.
Less abrasive material adopts impact breaking or grinding and the involved parts have sharp teeth.
Hard material with small particle size also can be crushed by being squashed with smooth surface of the crushing components.
Ductile material is always sheared or struck by crusher such as hammer crusher.
Powder or muddy material should be reduced through grinding, impact crushing or squashing-powdering like a ball mill.
Multi-component materials can be applied in impact reducing or combined forces.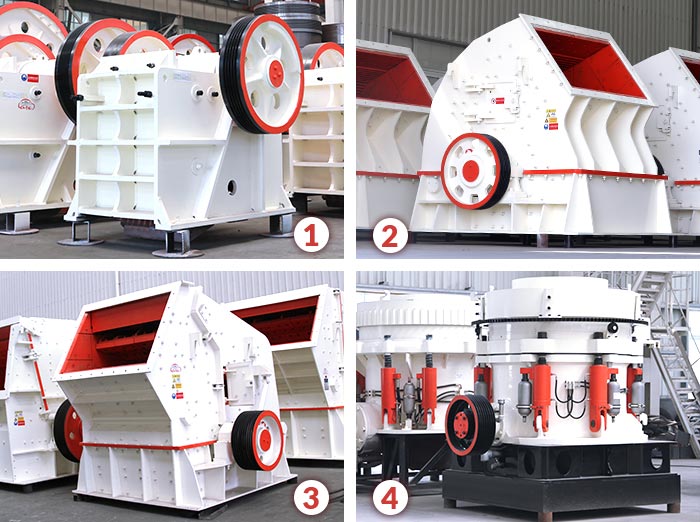 Note:1. fixed jaw crusher 2. hammer crusher 3. impact rock crusher 4. cone crusher
Control the feed particle size
The feed particle size helps you choose the desired model and proper crushing level.
When the material with much medium-coarse particles or the high ratio between the largest sized material and width of the feed opening(feeding material size bigger than that of discharge opening), crushing equipment need high reduction ratio(ratio between the raw material size and the crushed )thus reducing the productivity. On the contrary, material with much small size particles (raw material size closed to or less than size of discharge opening) creates a small crushing ratio, leading to higher productivity accordingly.
When it comes to larger feed size but smaller discharging granularity, secondary crushing or multi-stage crushing is often required. There is no need for multi-stage crushing to material with small granularity. Something important should be known that fixed jaw crusher and hammer crusher are used for primary crushing while impact rock crusher, cone crusher, high strength roll crusher are always applied in secondary or tertiary crushing.
Increase the crusher cycle load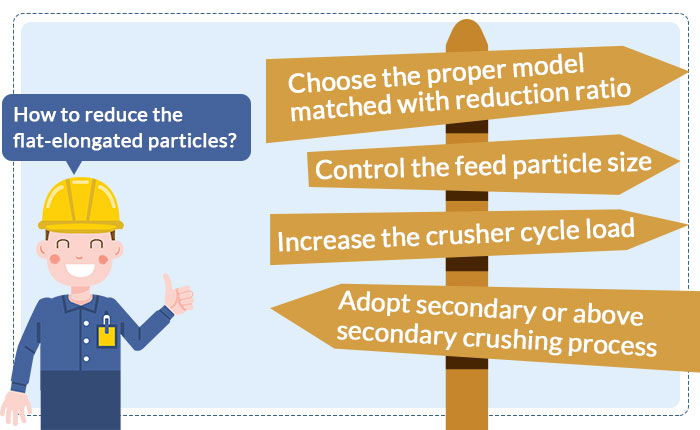 Adopt secondary or above secondary crushing process
It's so important to know what impacts final product shape. Judging from that, we can make a reasonable design for production line, choose the proper equipment and control the feed material granularity to produce a high-quality product and obtain an ideal return on investments. Impact rock crusher is widely used in the field mining process, adopts impact force to crush the material especially suitable for processing fluid rock material. For reducing various mineral resources with compressive strength less than 350MPa and its side length at the range of 100mm-500mm, impact rock crusher gradually play a more and more important role in this field. Besides, impact rock crusher is insurmountable for an outstanding character like creating excellent results for crushing material with high humidity without blockage.
What are the differences among various crushing equipment?
Principles of different equipment greatly influence the finished product shape. For example, fixed jaw crusher adopts squeezing process between mobile jaw and stationary jaw, so the final product possessing flat-elongated particles usually more than15% but with higher production capacity. Utilizing the way of squeezing between two arc surfaces, cone crushers create more even product with flat-elongated particles more than 10%. While finished product with the lowest flat-elongated particles less than 10% can be made by impact rock crusher due to the impact force of the impact plate and hammer. In a word, different principles of equipment decide sheet particle content and absolutely every device has its own advantages and disadvantages.
The most important parts involved are impacted plate and hammer which experience severe abrasion because of strong impact energy. So the first way to prolong the life of the two parts is to choose the right equipment with high-quality and wear-resisting parts. Although the material of the impact plate and hammers in different manufactures looks same apparently, it is way too different in design. The excellent design would greatly reduce the abrasion if complete analysis and upgrade implemented on mechanical property and space design. The second method is applying impact rock crusher into secondary reducing after the primary crushing of fixed jaw crusher. The development of the mining industry and construction are in full swing, which raises higher demands on various mine resources in many countries. For example, elongated and flaky particle in final products must be less than 10% in many fields, which demonstrates the crucial role of impact rock crusher.

Why fine-sized product can be produced by impact rock crusher?
Just as cone crusher widely used in the crushing process, impact crushers serve for secondary reducing. Both of them reduce mineral with soft, medium and high hardness such as limestone, clinker, furnace clinker, hard coke, coal, etc. and widely applied into mining, construction, cement and metallurgy industries. But why impact rocks are better than cone crushers when it comes to demands of perfect product shape? Here are some reasons.
With big feeding inlet and the high crushing cavity, it adopts the principle that the rotor rotates at a high speed under the driving of the motor. When into the working area of a hammer, the feeding material firstly collides with the hammer on the rotor then being thrown towards impact device for another crushing. And materials are getting smaller by repeatedly crushing until they can be discharged. That's why the finished product of impact are the uniform and square shaped size.
Cone crushers utilize the squeezing of broken walls, that is, mobile cone and fixed cone squeeze each other so that particle shape is in sheet or square sheet structure and less even than the end product of impact rock crusher.