Sandstone equipment usually refers to a whole combination of devices separately for crushing, shaping and screening stones, and are designed to produce manufactured sand and aggregates. They are commonly applied to processing limestone, marble, pebble, basalt, granite, diabase, dolomite, quartz, etc. and installed into various configurations because of different raw materials and capacities required.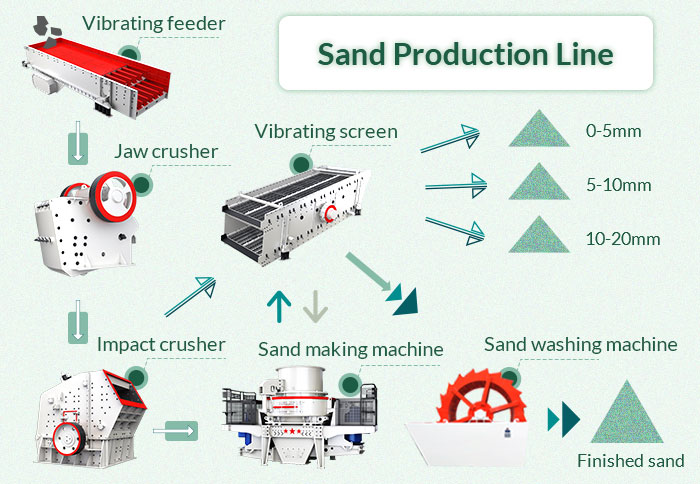 Even though mining machine manufacturers are used to making recommendations on equipment when it comes to purchasing some kind of them, it turns out not to be 100% beneficial for buyers.
Then how to make a good choice on a crushing machine without being defrauded? It's suggested to have a basic understanding of the equipment wanted in advance, which could not only prevent ourselves from being taken advantage of but also help us appropriately consider the suggestions from manufacturers to make a right decision.
General introduction of sandstone equipment

Primary crushing equipment: fixed PE jaw crusher Secondary crushing equipment: fixed PEX jaw crusher, impact rock crusher, cone crusher, hammer crusher, roller crusher, and two-stage crusher.
Tertiary crushing and sand making equipment: sand maker, high-efficient tertiary crusher.
Others: vibrating feeder, vibrating screen, sand washer and conveyor belt.
Fixed PE jaw crusher: with great capacity, it is designed to reduce large pieces of materials to approximately 10mm.
Fixed PEX jaw crusher: it is used to implement secondary crushing right after the primary crushing to process materials down to under 4mm in sand making plant. Primary crushing processing could be skipped on those materials in size of within 10mm. And the harder materials are, the fewer the end products are.
Impact rock crusher: as a kind of machine for secondary crushing, impact rock crusher is designed to crush soft minerals and get fine-sized end products. Just like PEX jaw crusher, the harder materials are, the fewer the end products are.
Cone Crusher: like impact rock crusher, cone crusher is designed to pull secondary crushing processing on minerals. What makes cone crusher different from other kinds of crushing machines is its better suitability for ores with over-medium (including medium) hardness as well as a higher price than fixed jaw crusher.
Sand making machine: as a kind of equipment for tertiary crushing processing, sand maker is mainly applied to reshaping material particles to get finer-sized products.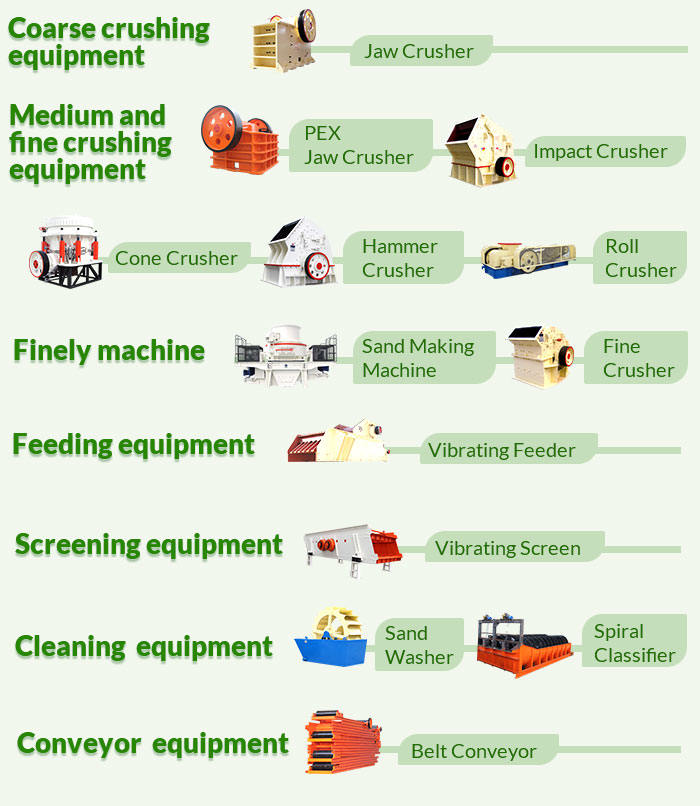 Main factors affecting selections on sandstone machines

Aggregate is a broad word and exists in the form of sandstone, gravel, stone chunk and others, which indicates there are a large variety of aggregates in different sizes around the world. However, each of stone crushing machines gets its own feeding size, for example, fixed jaw crusher comes with a feeding size of under 1500mm while impact rock crusher with under 800mm.
Different materials' hardness influence selections on equipment accordingly. For example, the option of cone crusher plus sand maker is usually applied to processing supper-hard minerals such as pebble and granite due to its greater efficiency and performance; while fixed jaw crusher, impact rock crusher and sand maker are commonly teamed up to reduce some kind relatively soft rocks like dolomite and limestone. Selecting equipment based on the features of materials will lead to an ideal result.

Commonly seen end aggregates in the sizes of 0-5mm, 5-10mm, 10-20mm and others are reasonably controlled and screened through vibrating screen whose models and layers matter a lot.
Operation size is also one of the factors people take into consideration before purchasing a kind of crusher whose installation influences people's choices on crushing equipment as well. 1. Site selection for stone production line The number of equipment installed is determined by the area of the site. If there are a number of equipment for a site, a bigger area is suggested to be prepared. Beside hardening the site at first and piling for each of machines in complete accordance with the specific written requirements on location, size, and height of piles, it's necessary to keep communicating with site planners at the same time.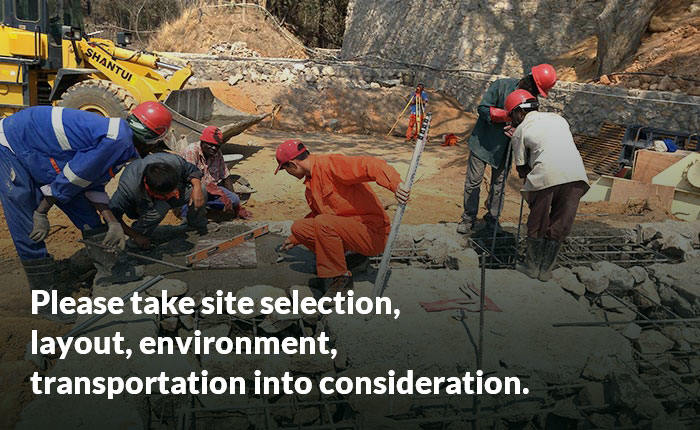 2. The layout of the stone production line At present, it's popular to install a plant in a cross layout in the industry of stone crushing line construction because such reasonable layout not only made the most use of space but also saves a lot of operating cost. 3. The environment around the operation site An operation site should be located in a solid spot which doesn't happen to be fault, landslide as well as under flood level, or relic protection lot and adverse lots of dissolution, silt, humic soil, ancient well, etc., let alone frequent seismic area as well as secondary and above collapsed loess area. Furthermore, the soil bearing capacity is supposed to be over 200kN/mz. 4. Transportation for operation site A site near the aggregate factory and with convenient transportation is a good choice to dramatically reduce freight cost because it could offer advantages for transporting materials.
Requirements on end aggregates



Stricter requirements on finished products request higher-efficient sand making machine.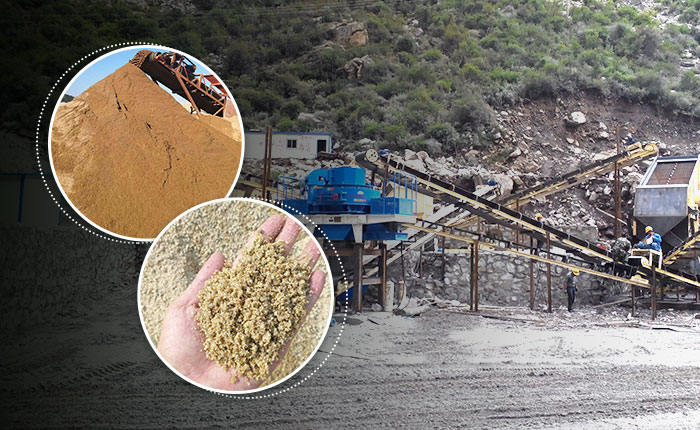 As another important norm for selecting a crushing machine, capacity is usually understood in the way that higher capacity leads to a bigger crusher model as well as increased investment and return.
When buying a kind of equipment, buyers had better make a concrete analysis of each question and do an all-around comparison on the basis of specific requirements including material feature end product shape and market demand, avoid by all means blindly follow the advice from mining machine suppliers.
Why more and more people are diving into the mining industry at the expense of money?

It has something to do with the prospect of the mining industry in the future. Generally speaking, the total investment on a sandstone factory ranges from hundreds of thousands to tens of millions even hundreds of millions of dollars, and includes certificate transaction and mine purchasing, the first part; equipment buying and factory building, the second part; manpower and maintenance cost, the last part. So spending more energy and time choosing a right machine is suggested.
As a kind of non-renewable resources, minerals resources are gradually in greater and greater demand with the rapid development of mining industry. No matter which country it is, developing country or developed country, it gives priority to resources exploiting as a strategic measure. Against such a background, plenty of safer, lower-cost and more efficient technologies and methods come into being to better mine.
Moreover, environment protection has been a crucial norm for mining, especially in a developed country. They have taken a series of comprehensive actions to regulate mines, for example, they pull strict technical standards on wastewater, waste gas, waste residue, dust, and noise. Thus, mineral resources are a kind of vital national resource and the cornerstone for the development of industry and modern society. Being dedicated to researching and developing innovative technology could do a lot of good for mining.