On 25th January local time in Brazil,  A dam, belonging to Vale SA, the world's largest iron ore supplier, and used for collecting iron ore waste located in Minas Gerais, Estado De Brazil, collapsed.  According to the latest news from France media on 28th, this accident has caused total mortality of 58 and the other 305 remain missing, which is the second similar accident for Vale to take responsibility for in the last three years.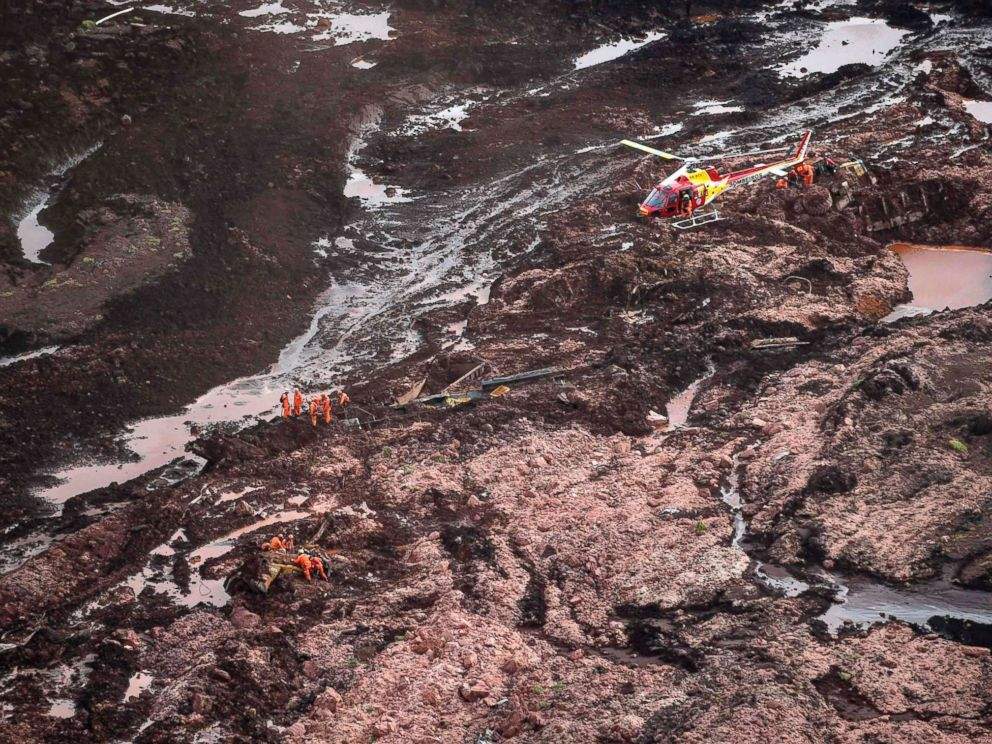 Note: image from abcnew.go.com
Undeniably, such a disaster for one of the world's largest iron ore bases will significantly impact local people's lives even the international trading of iron ore.
The production center of iron ore moves towards northern Brazil after Vale's mine dam collapse
At present, Vale is divided into four systems: north, southeast, south, and midwest, whose productions separately account for 50%, 27%, 22%, and 1% of the gross capacity of Vale.
The overall strategical management and the whole atrophic condition of the north system which is near to the populous area, especially Minas Gerais, Estado De, boost the company shareholders to shift its center to the north system.  The capacity loss of about 9.3 million and 220 million tons in the south system during the past two years could be made up for by the increased iron ore inventory piled up in the north.
Additionally,  Brazilian S11D project in 2018 generates iron ore of approximately 57 million tons, a great increase of 35 million tons, and it's predicted that S11D project in 2019 would achieve rated capacity of 80-90 million tons, an increase of around 20-30 million tons, almost meeting the heavy production reduction from the Vale.
Data reveals that a total of 14.3 billion dollars investment is put on S11D project, 6.4 billion of them are used for mining and factory construction,  and 7.9 billion for logistics system including the feeder railway with a length of 101 km as well as the expanded railway and Port of Madras in Saint Louis State.  Moreover, the project embraces three production lines which coming with a gross annual throughput of 30 million tons of iron ore.
Global iron ore supply is on an obvious decrease
Vale's mine collapsing burst out in January is far from settling down. On 15th, March local time, another mine which is affiliated with Vale provides and produces an annual capacity of 128 million tons of iron ore is forced to be shut down by the local government. This news sends iron ore features sharply higher.  Presently, Vale's iron ore supply has been reduced by 63.80 million tons, including:
* 8 million tons from Mina Feijao
* 30 million tons from Brucutu
* 13 million tons from Vargem Grande
* 12.80 million tons from Timbopeba
*  scheduled 19 million tons are on the suspension list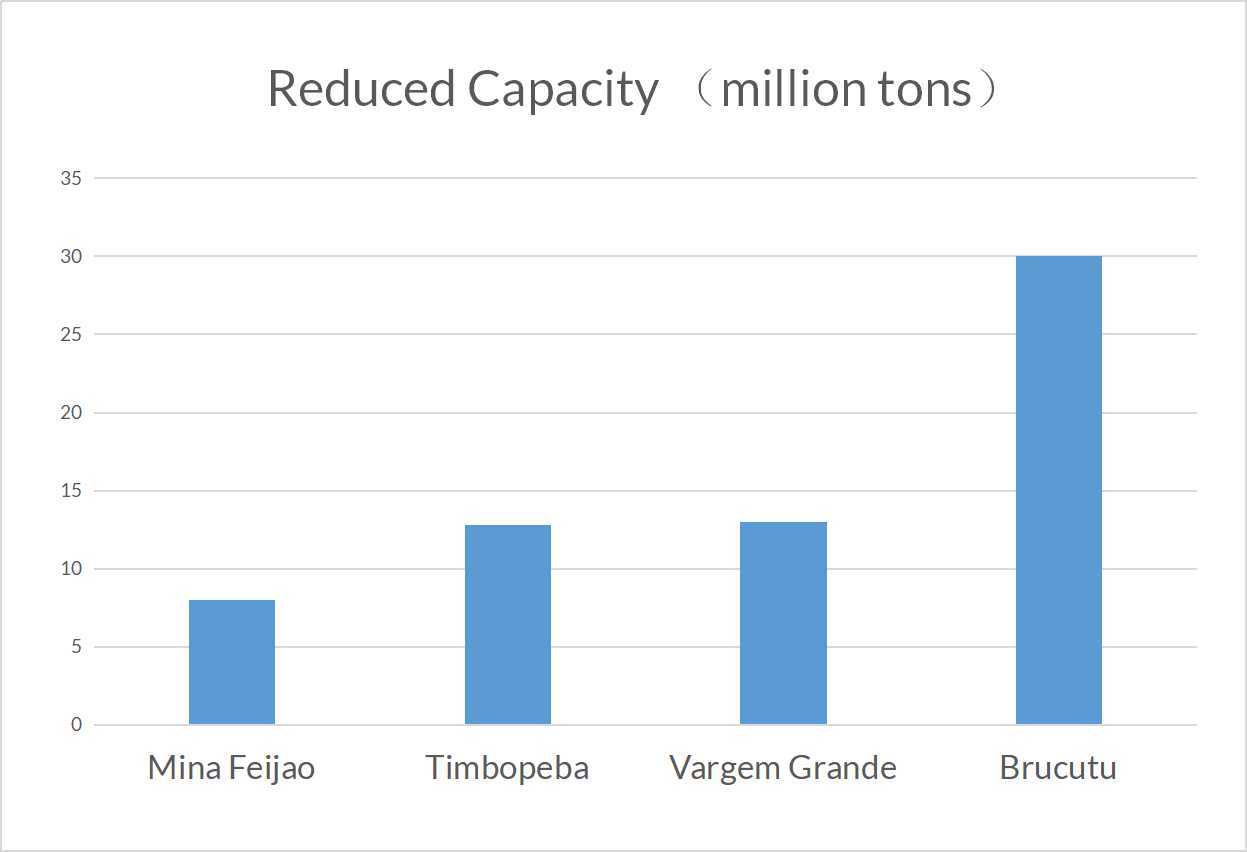 "This suspended action doesn't cradle any obviously potential safety concerns. Brazil government seems to take an one-size-fits-all attitude and gets all the mines in the name of Vale suspended without any investigation on whether they are in potential danger or not. However, this non-upstream tailing dam will be applied for operation permission once again, only the date of back to production is hard to be certain." said Gumeng, Senior Analyst, Black Industry, Dongyuan Derivatives Research Institute.
Iron ore imports slow down
According to related data,  Australia exports to China 12.544 million tons of iron ore last week, a weekly decrease of  2.12 million tons, and Brazil iron ore exports to China show a weekly reduction of 1.957 million tons down to 5 million tons. At the same time,  the landed amount of iron ore for northern ports falls on 10.7 million tons, a weekly decrease of 1.626 million tons. This condition reveals the fact that the delivery of Brazilian iron ore witnesses a ten-week low and that the supply and demand mismatch begins to appear.
Iron ore price goes higher and is expected to increase by 2-10%
Take Chinese iron ore features as an example, On Monday, with the impact of Vale, Chinese iron ore features rose by 6 percent up to 567.5 yuan/t, the highest point since September 2017, and eventually got closed at 550.5 yuan/t, an increase of 2.8% compared with the last trading day.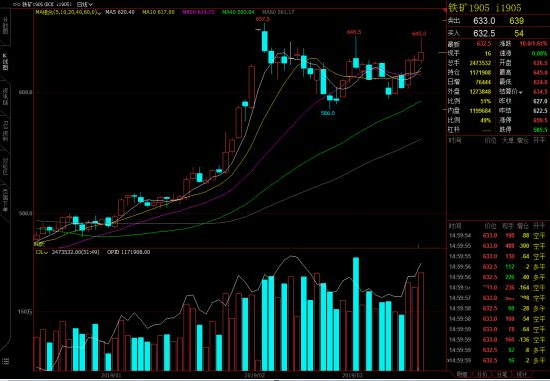 Some people hold different opinions that reduced capacity from Vale only accounts for 2%-3% of the global gross amount of iron ore and won't make such a big difference, which is actually debatable. For industrial goods are based on marginal pricing, and the complete procedure from investing in iron ore to launching finished products takes at least  5 years. Whereas the increased amount of global iron ore supply is just approximately 37 million tons this year, and the unanticipated reduction of 50 million tons in iron ore supply will lead to a marginal change in the balance between supply and demand. In addition, under the tight supply, mines with high operating cost have greater chances to get back to production and raise the operating cost of the industry in the short and medium-term. But it is still worth paying attention to whether other mines with low operating costs will get back to routine and when they will.
What Vale's mine dam collapse brings to the Chinese iron ore industry?
During the 74 years of history of Vale's development, there is always a part for China to take. From the beginning, Vale landed their ships on a port of China in 1973, then in 1994,  they launched branches in Shanghai and run a joint iron sand project with Shanghai Baosteel Co., Ltd in Brazil.
As the world's largest iron and steel manufacturer, China has tremendous demands on iron ore, adding the fact that domestic iron ore fails to meet the requirements of producing iron and steel owing to unqualified capacity and grade, so it will require more and more premium iron ore. According to the data from China Customs Service, the gross annual amount of imported iron ore and fine iron reached 1.06 billion tons in 2018. Moreover, China mainly imports iron ore from Rio Tinto, BHP Billiton, and Vale, and about 0.2 billion tons of iron ore come from Vale, indicating that 50% of Vale's iron ore is sold to China.
Lixin, vice president of China Iron and Steel Industry, adheres to that although Vale's dam collapsing may influence premium iron ore supply and raise iron ore price, it still had a limited impact on the Chinese market without resulting in any kind of shortage.
On the other hand, Rahul Kapoor,  Analyst of Bloomberg, deems that decreased iron ore shipments of Vale will pose a heavy blow on the large-scale operators shipping iron ore to China. Because iron ore from Vale needs to travel 8,000 miles more than that from Australia to get into the key market.
"The suspension of premium iron ore supply may cause that Chinese iron and steel factories begin to turn target into a low-level commodity, which will yield the most advantages for the main rivals of Vale: Rio Tinto, BHP Billiton, and Fortescue Metals," said Vivek Dhar, Analyst in Australian Commonwealth Bank.
Therefore, it is advisable and necessary for China to take prompt actions to build a good long-term cooperation relationship with  reliable iron ore suppliers.
Safety has always and will always come first for mining industry.  As the second but biggest disaster in Brazil, Vale has wiped out many innocent lives and aroused tons of tears course down those hear-broken families' cheeks. For profit-driven people, the mine is nothing but money, while for ordinary workers, the mine is what keeps his whole family's life on track. What if those profit-driven care about nothing but money?
Considering that Vale's mine has caused such huge loss, Brazil government suspends all of the related projects and tees up three humanitarian supporting bases to help local people to get through it. We all wish that it's not late at all.
Inevitably, this Vale accident poses the Butterfly Effect on iron ore industry and brings about a series of changes. Suddenly reduced iron ore supply results in supply and demand mismatch, which spontaneously lifts the price of iron ore at the end.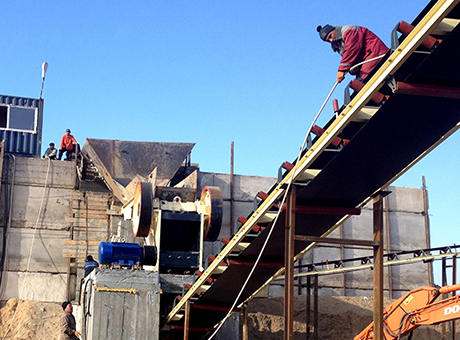 With an increase in the price of iron ore, more and more investors will seize this chance to step in the industry for quick and plenty of profits, which may be the perfect timing for some mining machinery manufacturers to offer more machines for iron ore such as magnetic separator, stone crusher, ball mill, etc. and raise their quotations at the same time. All of this indicates that mining machinery manufacturers will hold a dominant position in the market. It's suggested for consumers to collect abundant information through Google and to visit a local worthwhile business partner before purchasing any kind of machine used for processing iron ore. Win-win is the best after all.