Some people said the owners of mines used to be the symbol of being rich and envied, while those people nowadays turned out to be either more dead than alive or as poor as Job. Does it indicate that mining business comes to an end?
In order to response to the call of environment protection, closing mines, shutting down factories, as well as dismantling equipment happen one after another, which casts mining industry into shutdown across China and pulled an extreme change on the trend of the mining industry. According to the report, more than 600 mines will have been eliminated by 2019.
It is definitely a heavy blow on the mineral supply chain and price if the prediction comes true, let alone the impact on all of the workers making a living on mining. Fortunately, all of these are temporary. As a matter of fact, real-estate and land resource have been out of the mainstream, which offers a perfect timing for the mining industry to hit the trend. More precisely, a good era of mining comes into being.
The position and effect of mine resources remain unchangeable in Chinese development
Caimi, an academician of Chinese Academy of Engineering, points out that 95% of our daily living energy, 80% of our raw materials and more than 70% of our agricultural means of production are from the mining industry. The exploitation and supply of mine resources is reliable support for the development of national economy and must be implemented thoroughly. Thus, it could imagine how important mine resources exploration is.
Meng Xuguang, Director of the Land and Resources Planning Institute, also emphasizes at the China Green Mine Summit Forum that blind and consistent suspension for mining hardly does any good to strategical national safety. Nowadays most of the people's faces turn to show reluctance and negativity when it comes to mining and even some certain local related departments do nothing but closing down everything regarding mining, under which it's not surprising to say that nobody dares to start a mining business unless he has summoned tremendous courage. Whereas, as the cornerstone for revitalizing downtown and helping suburb out of poverty,  mine resources exploiting cannot be suspended even just for a day.
"It's never allowable for local government to take a one-size-fits-all attitude or arbitrary actions and we will put a thorough investigation on whatever we will have found. It's a promise we will firmly stick to," said Li Ganjie, Minister of Ministry of Environmental Protection, at a press conference.
Starting a mining business with the legitimate project rather than those people who are rich or  the first to discover a mine
Launching a mining business had to go through a serial of procedures of mine discovery and legal certificate applications, etc., which was easy to get handled as long as it had something to do with money and contacts. However, with stricter and stricter regulation on mine resources in the future, it will be more and more difficult to start a mining project in China unless with the help of innovative methods.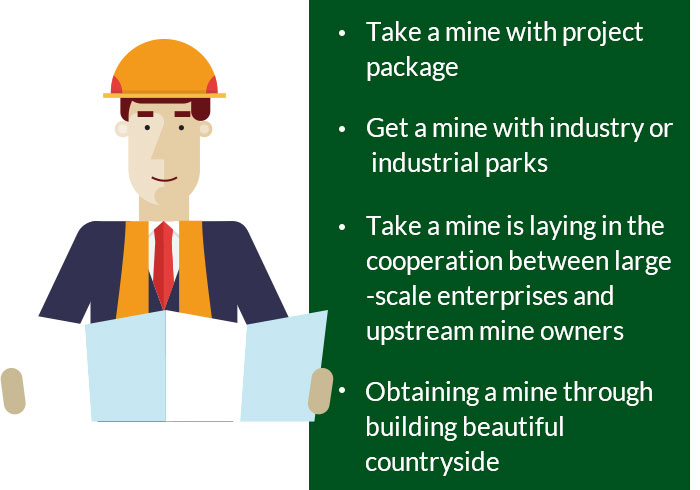 Method 1 is to take a mine with a project package. For example, if some plastic brand enterprise enters into some certain area, local government will arrange for corresponding good large-scale mine resources to those kinds of enterprises.
Method 2 refers to get a mine with industry or industrial parks. For example, in order to guarantee a stable raw materials supply for over 20 ceramics manufacturers in the industrial park ceramics in Tengxian, Wuzhou, Guangxi, China,  Local government offers a stock of hundreds of millions tons of porcelain sand without exporting them.
Method 3 to take a mine is laying in the cooperation between large-scale enterprises and upstream mine owners. Due to greater and greater demand on ores and fine ores in the future, downstream large-scale ceramics and glass manufacturers have to change the currently simple buying-and-selling relationship between upstream and downstream, if they want to retrieve a steady supply of raw materials coming with reliable quality, assuring quantity and reasonable price. Only forming strategic cooperation or becoming a shareholder of upstream mines can deep and sustainable development come into practice.
Method 4 is obtaining a mine by building beautiful countryside. Exploiting mine resources is the quickest way to help the impoverished village to get rid of poverty, developing the economy and building beautiful countryside.
Constructing Green Mine is the only way out, rather than a dispensable backup one
Green Mine will be the benchmark instead of a kind of decoration for mine construction in the future, which definitely doesn't goes as easily as planting trees and grasses, but combines mine exploiting safety, producing, managing, environment protection, resources use with corporation culture to achieve the deeper "Green" among the whole industry chain. The mining warrant could be renewed before it gets expired on condition that the mining project meets the standard of Green Mine Construction, otherwise, it will be out.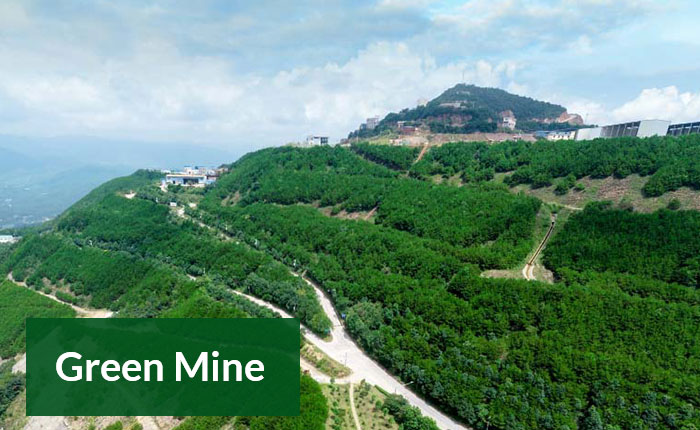 Building roads and schools for local people, and solving the problems of the local's employment and income, lead to the harmonious development
Developing a good relationship with local people is the key to achieving a long period of stability. Mining has a great deal with helping the local out of poverty. For example, encouraging local men to exploit mine, deliver ores or process raw ores bought to bring plenty of job opportunities and income for themselves.
Furthermore, take a small proportion of mining profits out to do something helpful, as in 1-2 yuan out of per ton profit for beautiful countryside construction. Both supporting destitute students and building road are suggested to well-integrating mining and local people's economic development to boost local development.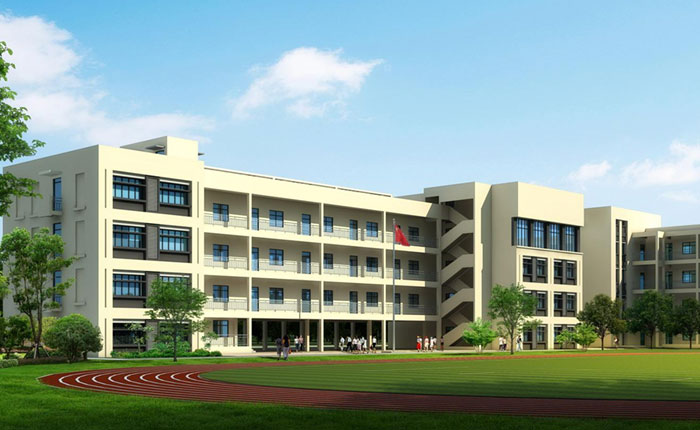 Note: image from Baidu
Hundreds of millions of mining cost teamed up with professional technology guarantees a stable development
In the past, low mining and freight cost, as well as market requirement, caused massive exploitation on good-quality ores without any professional operation.
However, it's completely different now. For example,  it takes more than 7 million dollars to get a non-ferrous warrant in Guang Dong, China, with the addition of hundreds of thousands even millions for building a road towards the mine, and all of the cost will come up to over ten million dollars.
With higher freight cost and market requirement, but lower-quality ores, it is necessary to follow geologists and mineralogists' guidances to professionally mine, sort and stack as well as  accurately test, and rely on technology to scientifically distribute and process ores, improve product added value and professionally market, which could do a lot of help for making profits.
In the overwhelming change of mining industry, the real standard to measure what an ore supplier is capable of is that either he is a self-supported owner or makes a long-term contract with mine owners.
Small-scale local non-ferrous mine exploitation cannot be ignored
Small-scale local mine is an important part of Chinese non-ferrous mine industry and accounts for 1/4 of Chinese non-ferrous minerals in terms of capacity, which objectively proves the indispensable role small mine plays in China.
Presently, the majority capitals on small local mines come from government investment while the minority from local government.
Human and society are both environment protector and environment changer. Thus, only by raising people's awareness of environment protection can we protect the natural environment in a more effective way.  It's suggested for the related local department to spread the knowledge of environment protection to small local mining projects and assist them to nail the job of protecting the environment.
Other than in China, the mining industry also holds a dominant position in other countries, which raises the standard on mining machines. More productive, energy-efficient and reliable machines are in great demand, such as fixed jaw crusher, portable rock crusher and etc., and automatical, large-scale, high-efficient and energy-saving equipment will be the focus for mining machine manufacturers to study on.
Additionally, as industry size expands and technology develops, the interest rates on eco-friendly and energy-saving equipment are on a rapid decrease. And more and more mining investors are more willing to give priority to purchasing this kind of equipment, which reveals the advantages of the eco-friendly equipment: low operating cost.
Technology level and capability of mining machinery is a crucial benchmark to measure the strength of industry of a country and has been moving towards a digital, intelligent, ecological and agreeable trend.
Either for mine owner or for mining machine supplier, it's neither a bad time nor a good one this year, but challenges always come together with opportunities.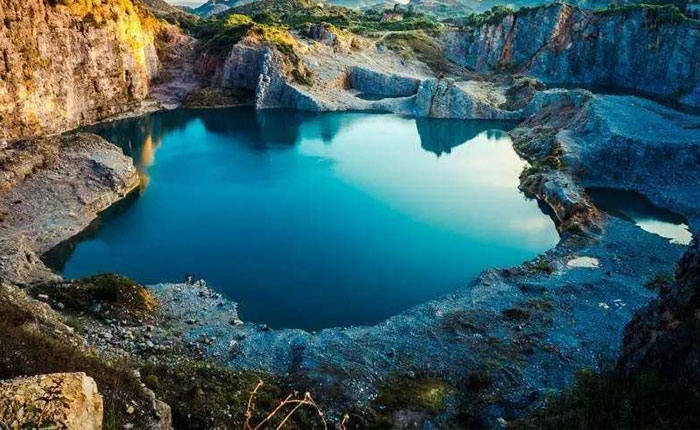 Note: image from Baidu